[caption id="attachment_8869" align="aligncenter" ]
Love at Red Seven (John and Deanna have been married for 48 years!)[/caption] Love, romance and new beginnings. "Fall IN Love" at
Red Seven Bar & Grill
this Valentine's Day. The romantic atmosphere, specialty cocktails, divine food, and refreshingly kind service sets the mood for the beauty of romance. Sweaty palms, nervous laugh and twitchy eye. This is how my first date with my husband, Marc, started when he picked me up. We both had sweaty palms, I had a nervous laugh and he had an eye twitch (which truthfully he had the first month of our dating!). He took me to Red Seven, which we both enjoyed and have come to love as it is now our official "date night" restaurant.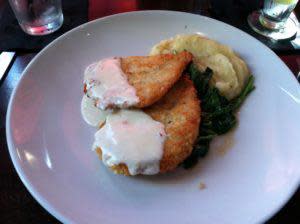 We were seated at a booth in the dining area and settled into a comfortable conversation as we discussed what types of food we enjoy. When Marc shared he loved Red Seven's
almond and parmesan crusted chicken
served with Yukon gold mashed potatoes, citrus spinach, in a lemon cream sauce, I suggested we share.  He said that comment was the moment he knew I was the one. Truthfully, I feel like I knew right away as we sat at Red Seven that something special was happening. We enjoyed a glass of the best sangria we've ever had and just talked the night away. [caption id="attachment_8867" align="alignleft" ]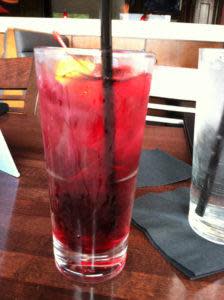 Cocktails![/caption] Major moments have taken place at Red Seven. Not only did we have our first date at this restaurant, but the night of our engagement we ate there before Marc proposed on the John T. Myers Pedestrian Bridge. A month ago, we were enjoying a family night out with our 3- year-old daughter, when we watched a young man propose to his girlfriend in front of their family and friends. Special moments taking place in a unique location. This
Valentine's Day
"Fall IN Love" at Red Seven! For more information about this restaurant and others in Lafayette-West Lafayette, visit
HomeOfPurdue.com
.
Save
Save
Save