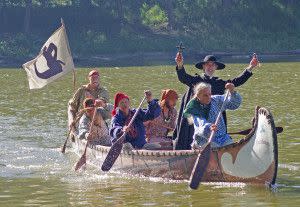 The
Feast of the Hunters' Moon Festival
drew a crowd of about 40,000 people last year into and from our Lafayette/West Lafayette community. You are probably wondering what kind of event brings a crowd that is comparable to the latest pop sensation? A historical reenactment with food and festivities, of course! The Feast of the Hunters' Moon Festival is a reenactment of the annual fall gathering during the mid 1700's at Fort Ouiatenon. The Fort was a fur trading post between the French and Wea Tribe of Native Americans along the Wabash River in West Lafayette, Indiana. Control of the Fort shifted between the French, Native Americans and the British during its almost 100 years of use. In 1970, the Fort was placed on the National Registry of Historical Places.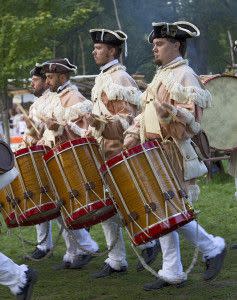 To celebrate this time in our local history, the
Tippecanoe County Historical Association
presents the Feast of the Hunters' Moon Festival. It takes place along the banks of the Wabash River at Fort Ouiatenon in West Lafayette, Indiana. The reenactment helps to recapture 18
th
century life at
Fort Ouiatenon
. This festival has created lasting memories for myself and my family. As soon as I step out of my vehicle, I can smell the wood burning in the air. I am greeted by traditional artisans demonstrating crafts in the style of the 18
th
century using only materials and methods available at that time. I hear drums beating as men and women in costume march by saluting that time in history. I learn how baskets are made, how blacksmiths created tools and taste the delicious food of that time. Merchants sell different French, English and Native American foods adapted from original recipes and prepared over open fires.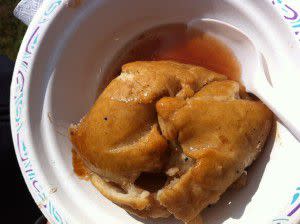 My favorite dishes are the
warm apple dumplings
, fry bread, apple cider and root beer. The root beer has a very flavorful vanilla taste to it. One year, I bought a jug of root beer and it came in a beautiful blue jug. I reused the blue jug as a decoration around my apartment. For meat eaters, there are herbed pork chops, buffalo burgers, rabbit stew, buffalo stew, turkey legs, among other delicious foods to sample. One really can't help but eat his or her way through the festival. Over the course of 2 days, there are many programs scheduled to keep everyone entertained and to learn about life in the 1700's.  Some of my favorites are the voyager landing, soap making and candle making.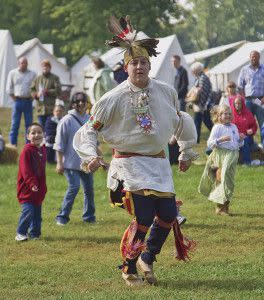 The Feast of the Hunters' Moon festival is one event that cannot be missed if you are new to the area or if you have been in Lafayette/West Lafayette most of your life.  People travel from all over to jump into clothes from the 1700's and reenact this event in our history. The Feast is taking place October 4 and 5, 2014.  Marlene, Visitor Information Specialist, shared these thoughts.  For more information about this festival and others in our area, check out our website at
www.HomeofPurdue.com
.