Call me crazy, but I love the cold weather. The chilly weather means the holidays are coming, and one of my favorite parts of the holidays is shopping for little stocking stuffers. Thankfully, Lafayette-West Lafayette is home to several local shops full of unique stocking stuffers for every type of person. For the Fashionista
Juniper is a great place to shop for those who'd love a little fashion in their stocking. Located in the Wabash Landing Shopping Center, the boutique offers trendy pieces for an affordable price. I recommend checking out their patterned scrunchies. Scrunchies are super popular this year, and Juniper's are covered in pretty patterns and colors. I also really love their fun socks. They have a ton of options to choose from, so you are sure to find a pair that matches everyone's personality. What's the best part? Both of these items will fit perfectly into your budget and a trendsetter's stocking.
For the Bookworm Von's Book Shop is so much more than a book shop. Their shelves are full of small gifts like beaded necklaces, mix-and-match stick incense, fun-shaped sunglasses, and tie dye headbands.  They also have a huge comic book section. You could check out the first edition of "Stranger Things" or something more classic like "Wonder Woman." Comic books are great stocking stuffers for those who love superheroes (and villains), action-packed graphics, and adventure. Main Street Books is another local shop that offers a wide selection of titles, both new and used, to choose from. Their selection is mainly made up of fiction, but they do have a small selection of non-fiction as well. The staff is friendly and always willing to help pick out that perfect book. For the Sweet Tooth
Kathy's Kandies is locally owned and full of fresh, homemade sweets located right on Main Street. Chocolate-covered pretzels, chocolate-covered cherries, truffles, peanut butter cups, and Oreo bark are just a few of the chocolate confections available at Kathy's Kandies. Kathy's Kandies also offers gummies, licorice, and gourmet popcorn that comes in a variety of different flavors. I recommend buying a different kind of popcorn for each stocking. This gives you the perfect excuse to snag a little popcorn from everyone on Christmas morning.
McCord Candies is another candy store located on Main Street. Each year, McCord Candies produces handmade candy canes to sell during the holiday season (they also offer candy cane tours for visitors to see the candy cane making process). Since the candy canes don't contain any preservatives, their texture is unique and completely different than the candy canes you would buy at a grocery store.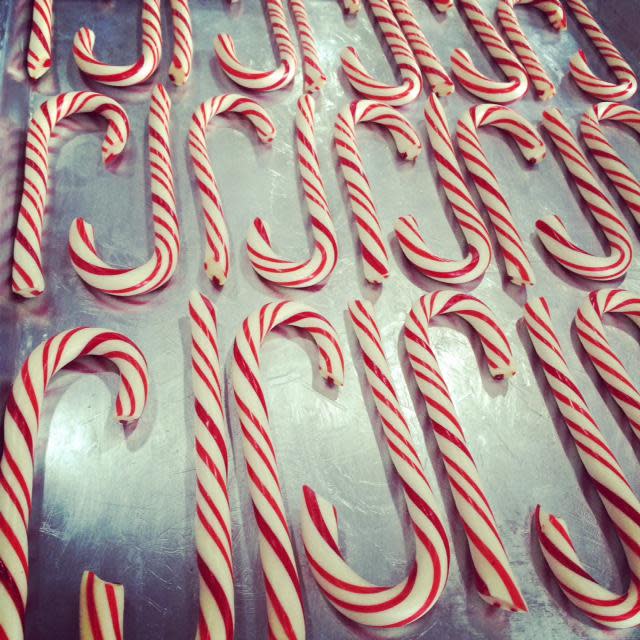 For the Purdue Fanatic
Follett's Purdue Bookstore is generally regarded as a textbook store, but it is also great place to shop for Purdue apparel and accessories. They have a number of small gifts ranging from coasters to Purdue golf balls. Follett's also carries decals for moms, dads, alumni, and current students. They are both movable and reusable, so you won't have to worry about sticking it on straight in one try. The Purdue Team Store has several categories to choose from like tailgate accessories, car accessories, and kitchenware. You can find bottle opener keychains, wine glasses, and license plate frames with the Purdue logo. There are also two shopping locations, Purdue Memorial Union and Ross-Ade Stadium, to choose from.
No matter who you are shopping for, the local shops have you covered. For more information on these local shops or other shops in the Lafayette-West Lafayette area, visit HomeofPurdue.com This blog was written by Kirsten Rhine, Purdue University Student.