[caption id="attachment_5238" align="alignright" ]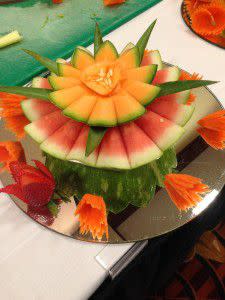 Beautifully created fruit platter![/caption] 2 Great Cities, 1 Great University, "Indiana Hospitality".  Lafayette-West Lafayette is host to many wonderful venues that offer great service, friendliness and a beautiful setting for a special event.
Four Points by Sheraton
is one location in West Lafayette that fulfills all of these things and more for their guests. Not only do they have a diverse range of event space, but a beautiful pool and guests' rooms. Recently, my husband's cousin Marcia, retired from teaching. She had taught school for the Tippecanoe School Corporation for over 40 years. (Side note, she had over 10,000 books she accumulated over those years..isn't that crazy?!). She has three children and they live in different parts of the world: Singapore, Georgia and Washington. To celebrate her retirement they wanted to throw her a
special party
and they chose Four Points by Sheraton to host her friends and family. It was a wonderful choice! [caption id="attachment_5239" align="alignleft" ]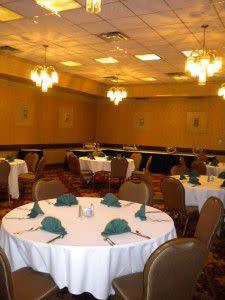 Event Space[/caption] The family rented the
ballroom,
which has gloriously high ceilings and was decorated beautifully for the event. They had a buffet of food, which makes my mouth water as I type this (and at 7am in the morning which is saying a lot!). The selection included creamy, rich spinach dip, spicy (but not too spicy) chicken wings, a fresh vegetable and cheese platter, and finely toasted St. Louis ravioli. Everything was fresh and delicious. The event space really was perfect because people came in the conference space door, walked into a beautiful lobby where we all signed a special book for Marcia and then entered the
Grand Ballroom
where Marcia greeted guests and we were free to grab some food and have a seat at one of the many tables. We were excited because we saw cousins we only visit with every three to five years and they shared how glad they were to throw this party and were really happy with the service provided by Four Points.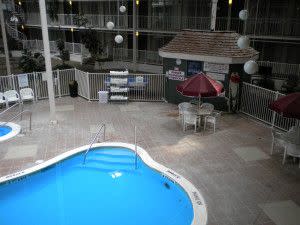 Four Points by Sheraton has a diverse range of event space, so if the Grand Ballroom, which can seat up to 500 banquet style or 800 theatre style, is too big for you, they have a total of
14 meeting rooms
totaling 13,500 sq. ft. Their on-site facilities include; 171guests rooms, indoor and outdoor pools, a restaurant / lounge and a game area. Whether you are hosting a small group of 10 up to a large party with 800, you will receive the same great customer care. They value their customers and show off their "Indiana hospitality" well! For more information about the Four Points by Sheraton and other great
venues
in Lafayette-West Lafayette visit our website at
www.HomeOfPurdue.com
.