Need a gift to take to a party, looking for that great wine for your dinner table, or just enjoy wine? Check out the Wildcat Creek Winery in Lafayette! Currently Wildcat Creek Winery features 12 different wines, many of which are award winning. My favorites are the Traminette and the Aunt Minnie's Cherry Tree. Traminette is the Indiana State wine and you will find many varieties as you visit wineries throughout Indiana. It's very light and fruity, great for a spring or summer day outside. Very refreshing. Aunt Minnie's Cherry Tree is like Cherry Pie in a glass! Great to enjoy in small quantities, but my favorite way to enjoy it is with a side of brownies. Or even better, use it instead of the water in a boxed brownie mix for cherry brownies!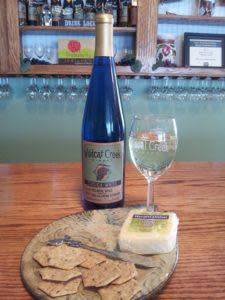 When visiting the winery, step up to their beautiful wood bar and enjoy a sample in their tasting room. Purchase a bottle or a glass to enjoy in their sun-room or on the grounds and then be sure to purchase some to take home. The winery also offers a variety of other gift items, many locally made. When you are done at the winery or maybe before, make an afternoon or day of it and be sure to go around the corner to spend some time exploring Clegg Memorial Garden. It makes for a relaxing afternoon adventure. Also, don't miss their BBQ, Bluegrass, & Blueberry Wine this Saturday, May 20! Enjoy their Wine Garden and food by D&R Market. Listen to music by Branded Bluegrass, Scott Evan Freeman, and Trabeler's Dream. Get ready for great wine, great food, great music and lots of sunshine to start your summer off in style!

Ashley Gregory, Director of Sales, shares this blog.  For more information about this winery and other attractions in Lafayette-West Lafayette, visit www.HomeOfPurdue.com.