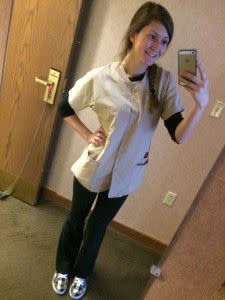 As a student in hospitality and tourism management, it excites me to think of all the amazing opportunities such an industry holds for me. I mean, look at me right now! I get the remarkable chance to share all of the wonderful aspects and my own personal experiences Lafayette-West Lafayette has to offer to visitors and locals alike. Hospitality and tourism is just such a fascinating, ever-changing and adventurous career path. To further expand my knowledge in the field, I have been given the honor to intern at Purdue's very own Union Club Hotel. Being the only hotel officially on Purdue's campus, it is in high demand and an icon to Boilermaker country since 1924.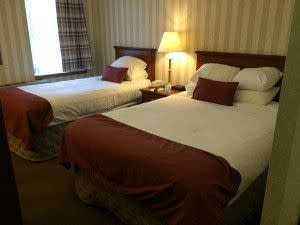 So what is the buzz all about? Well, the classy and historical Union Club Hotel features 192 hotel rooms including 8 luxury suites and 58 deluxe lodging! The minute you step into the hotel, you're greeted by the friendly front desk staff who assists you in checking in. Once you have your key, you head through the winding corridors of the hotel to find your spotless room. Within each room, there is an assortment of amenities to make your feel right at home. Each room features a work desk, private bath, air conditioning, hair dryer, coffee maker, iron/ironing board, electronic locks, two-line speakerphone with voice mail, televisions, and free high-speed Wi-Fi. Within the hotel, guests can find an exercise facility, breakfast room service, and coin laundry facilities. Traveling from afar? The hotel offers a variety of airport shuttles from both Purdue University Airport and Indianapolis. Driving yourself? There is a convenient parking garage across the street that is free of charge exclusively for guests. You are sure to feel at ease with the quick and efficient housekeeping staff to care for your environment and the bellhop staff to serve you and your family. A big part of the staff is students such as myself, and we are always eager to help in any way! Enclosed in the landmark Purdue Memorial Union building, the hotel is close to all! There are a variety of restaurants, lounges, and activities all in one central location so you never even have to leave the Purdue Memorial Union in order to have everything you need while having an unforgettable time! The Union has a large array of places to grab a bite to eat for breakfast, lunch and dinner. Start your morning right by grabbing a cup of coffee at what is rumored to be one of the most popular Starbucks in Indiana! Fill up at Urban Market by picking from a mixture of different cereals that are their very own unique cereal bar! Other quick service restaurants great for breakfast, lunch or dinner include: Ah•Z Sushi and Noodle Soup, Flatbreads, Freshens, Tasty Bite Indian Masala, La Salsa Mexican Grill, Lemongrass, Pick and Mix Salads and Villa Fresh Italian Kitchen. For a place to gather and dine, head to the Sagamore Restaurant for a finer side of dining or Pappy's Sweet Shop or Oasis Café for a more relaxed and quaint atmosphere. My personal favorite is grabbing a chicken Caesar wrap from Oasis Café. While a guest at the Union Club Hotel, all dining charges can be made directly to your hotel bill for a handier all-inclusive check. Surrounded by the college vibe and lively campus, there is so much to do during your stay! Head upstairs to the Purdue Welcome Center to talk with students themselves as they guide you through a map of campus and tell you all the major spots to visit. Later, head downstairs for a fun-filled night at Union Rack and Roll! You'll be enticed by the bright colors, fun lights and bumping music while bowling in one of their 12 lanes or playing billiards from 10 p.m. to 1 a.m. on weekends for Xtreme Bowling. You can also head there during your free time throughout the day from 10 a.m. – 12 a.m.

The Union Club Hotel is also the perfect location and size for any small or large occasion! The Purdue Memorial Union itself can host up to 1,000 people within their elegant space for banquets, meetings, exhibitions, and other types of events you wish to hold. The rooms vary from large ballrooms to a small classroom setting. Just bordering the Purdue Memorial Union is the Stewart Center to host even more events! This building was specifically built with conferences, banquets, and meetings in mind. Within its 23 meeting accommodations, it can host a versatile number of groups from 10 all the way to 500 people. Stewart also has large auditoriums to fit the needs of large presentations or ceremonies. Fowler Hall auditorium can host up to 400 attendees while Loeb Playhouse can hold up to 1,000. Whether it's a wedding or a large lecture, there will be plenty of space to hold guests in the central location of the Union Club Hotel. Hosting your event in the winter? There are extremely convenient underground tunnels that connect together the nearby parking garage, the Purdue Memorial Union, and Stewart Center so you never have to step out into the cold! With a welcoming staff, spotless rooms, and a step and hop away from nearly everything you'd need, the Union Club Hotel is a truly good value. By interning at the hotel, I've learned so much in a short amount of time, and I've grown to appreciate the hard work put in to ensuring guests enter the hotel in good hands and leave completely satisfied with irreplaceable memories. Plan your next visit today to experience it all for yourself! Kaley, Visitor Information Specialist and Purdue University Student shared this blog.