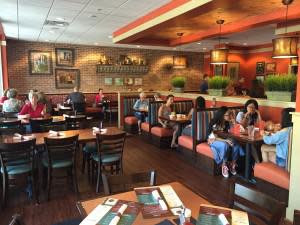 One of my husband and I's favorite weekly traditions is
Sunday morning breakfast
! Whenever there is a new restaurant in town that serves breakfast, we always make an effort to give it a try.
Another Broken Egg Café
had been on our list for a while and I am really glad we finally ventured out to try it! They serve breakfast all day! This cafe is open Monday-Saturday 7am to 8pm and Sunday 7am to 2pm. The parking lot to Wang Hall was a little difficult to find. It is on the back side of the building. It is easiest to turn from Northwestern Avenue on to W Stadium Avenue and then turn on to Hayes Street where you will find the parking lot. [caption id="attachment_7592" align="alignleft" ]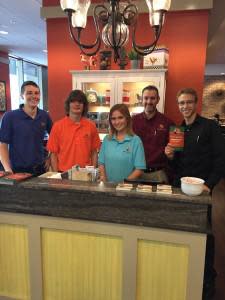 The friendly staff[/caption] The menu at Another Broken Egg Café is mouth watering! My husband is from the South and one of the first things he pointed out to me on the menu was the
City Grits
. He is used to cheese grits, so when we saw that the City Grits had roasted garlic, onions, smoked Gouda, bacon, tomatoes, and green onions, we knew that Another Broken Egg likes to add their own twist to breakfast favorites. [caption id="attachment_7587" align="alignright" ]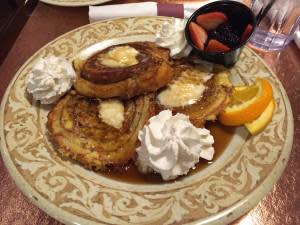 Cinnamon Roll French Toast[/caption]   After much contemplation, he decided to save the City Grits for another visit and ordered the Cinnamon Roll French Toast. By the time he was finished with his meal he was in a sugar comma. To make the
Cinnamon Roll French Toast
, they cut a cinnamon roll into 3 slices, dip in in french toast batter, put it on the griddle, and then add cream cheese icing, Bananas Foster sauce and whipped cream. He got the mixed berries on the side. It is a must try if you are a cinnamon roll fan. [caption id="attachment_7590" align="alignleft" ]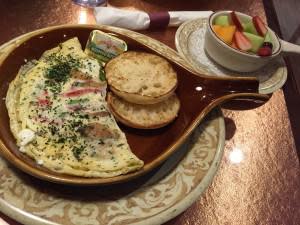 Skinny Omlette with Fruit and English muffin[/caption] I contemplated the Potato Sensations where you choose 3 different toppings such as sausage, bacon, asparagus, mushrooms, etc. to go on top of wedge cut red potatoes and cheese. It was challenging to say no to that. I decided to find the healthier side of the menu. I ended up ordering the
Skinny Omelette
and I am so glad that I did! Yum! It was herbed egg whites with blanched asparagus, roasted red peppers, green onions, goat cheese, and roasted garlic cloves served with an English muffin and fresh fruit. It was the perfect amount of food and a fabulous lighter option. All of the flavors meshed very well together.  Why didn't I ever think of putting goat cheese in an omelet?! The next time we do Sunday morning breakfast at Another Broken Egg, I need to keep this on my short list of great selections for when we return. [caption id="attachment_7591" align="alignright" ]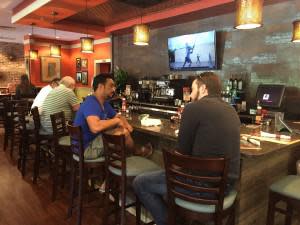 The bar![/caption] If you like a drink with your meal, they have many options for you! They have Mimosas, Absolut Mary and House Infused Mary. You can even liquor up your coffee with some Baileys, Kahlua, and Amaretto for a Café Rouge! The coffee IS something to write home about. I am now a big fan of their mugs! If you are up for a more traditional drink, they have many different juice options, cold and hot tea, hot chocolate, and of course soft drinks. If you haven't been to Another Broken Egg Café, give it a try! It is Eggcellent! ;-) Marlene, Visitor Information Specialist, shares this blog.