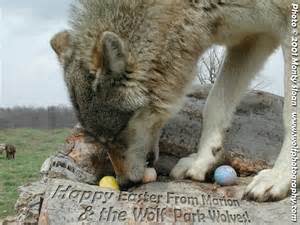 Easter is this upcoming weekend! Check out the fun activities around Lafayette-West Lafayette for you and your friends and family!
Easter Bunny at the Tippecanoe Mall

Come to the Tippecanoe Mall and welcome the Easter Bunny for the Easter season!
The bunny is at the mall through April 20, 2019.

Passion Play

Enjoy an Easter Musical presented by Faith Church at the Long Center for the Performing Arts. Join in this annual presentation of The Lafayette Passion Play! With soaring live music and a company of more than 100 actors, singers, and musicians, you won't want to miss this family-friendly celebration of the life of Jesus!
April 18-20, 2019

Wolf Park Easter Party

To provide wolves and humans with enrichment, Wolf Park hosts an annual Easter Egg Hunt! With the help of the Easter Bunny, visitors can help hide treats for the wolves. Wolves enjoy marshmallow peeps, eggs, sausage, cheese and more! After the wolves have had their party, the kids will have their egg hunts (with candy treats instead of meats). The day's activities often include crafts and games as well.
April 20, 2019

Easter Eggstravaganza

There will be thousands of eggs for hunts for children up through fifth grade. Separate egg hunts for toddlers and children with special needs. Vendors available at a cost. FREE pony rides, games, bounce houses, tattoos, face painting and maker space area.
April 20, 2019

Easter Event at Burnett Creek Elementary School

Easter service starting at 10:30 am with an Easter egg hunt following for kids up to fifth grade. Free bounce houses.
April 21, 2019
Restaurants featuring Easter Specials:
The Trails

Easter Sunday Brunch w/ Reservations 9:30am, 10:00am, 2:00pm, 765-742-6478

Courtyard by Marriott

Celebrate Easter, Sunday, April 21, 2019 with the Courtyard Marriott!  Enjoy a delicious Easter brunch buffet with the whole family. They will have two seatings for the event, the first at 10am and the second at 1pm. Call to reserve your spot now! 765-400-6840.
For more information about these events and others in our area, please visit HomeOfPurdue.com.