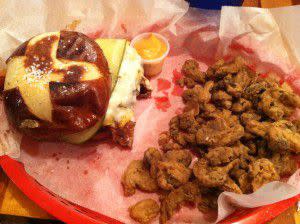 Dive bar1 1. A well-worn, unglamorous bar, often serving a cheap, simple selection of drinks to a regular clientele. – DT Kirby's website, thebestdivebar.com When I moved downtown in 2011, I knew DT Kirby's was going to become one of my regular spots as it has been for so many from the time it was a hidden hole-in-the-wall across from the Lafayette Theater to its expanded location just up the street at 644 Main Street. Whether you go for the food, drinks, sports, atmosphere or all of the above, it's impossible not to find something you'll love. The menu goes beyond typical pub fare and also won't zap your wallet of every dollar, as everything is modestly priced. Better yet, Kirby's has a full kitchen until 3 a.m. for those of us that prefer good late night food. The bar takes great pride in the art of crafting some of the biggest, best and most extreme burgers and hot dogs in town.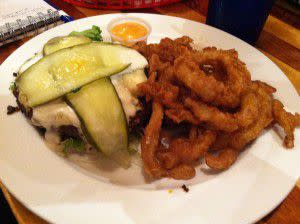 The first time I sunk my teeth into a Kirby's burger, I was hooked. There are so many great menu options that sometimes it's nearly impossible to choose. I seem to love the messiest choices. For me it usually comes down to two favorites – a Deep Cut Dog (loaded with jalapenos and cheese) and chips or the Bacon BBQ Cheddar Burger with fries and house sauce on the side. I know a few people who even get a side salad to go with the burger. Kirby's menu now features a full selection of salads to choose from – but just don't expect them to always be the healthiest ones. One burger I recently fell in love with is the Bacon Egg Burger, another messy but amazing creation. I never thought an over easy egg on a burger could do so much for my taste buds, but it adds addicting flavor! Another favorite of mine is the Mac N Nap, which smoothers macaroni and cheese all over the burger on a pretzel bun. I love sticking with chips as the side with this burger because when excess mac n cheese inevitably falls out, I can scoop it up with my chips. I could go on forever about the menu, from the simple yet satisfying Breaded Mushrooms or Spicy Chix Sandwich to the mountainous Grilled Cheese Cheeseburger or Bar Burger. This is a bar though, so let's talk drinks a moment.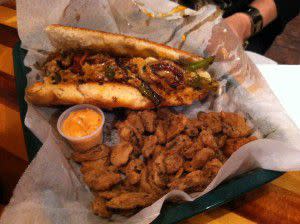 When the signature drink is a shot of Jameson, it should go without saying that Kirby's isn't exactly known for making fancy cocktails, but it does offer a full selection of spirits to suit anyone's needs. Many of the bartenders are extremely creative and have discovered some great shots or mixes you might enjoy. As far as beer, you'll always find Old Style on tap. Guinness, Goose Island's 312 and several People's Brewing Company options are staples. Ten beers are always on tap, however, so there are plenty of choices. Kirby's also has great daily specials; my current favorites are People's pints for $3 on Wednesday and mugs for the pint price on Thursdays. One current special that won't last forever is the Triple Play, which features the shot and beer of the day plus 3 wings for $7.50. Now that's a deal!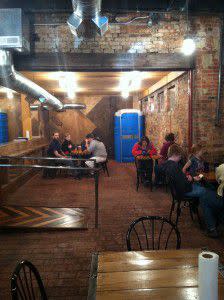 Kirby's relocation in October 2013 greatly expanded the available seating, allowing for an all ages restaurant side dining experience and increased bar size. Kirby's went from tightly seating 42 people to now comfortably seating 110 customers. While remodeling the new building from the ground up, Kirby's management worked hard to transfer its "dive bar" feel from the old location and still modernize the new venue. Believe it or not, one of the best examples of this décor is the restroom with its portable bathroom door entrance. Don't be fooled, however, as you're not actually reliving a Purdue football tailgate! I've heard it described by several people as "Narnia." Any first timers reading will just have to go uncover the mystery for themselves. Kirby's also expanded its number of televisions to 13 to fill the larger space, including two 84-inch televisions on the restaurant side. The chains that hang several of the TVs were a great touch to the bar's feel. Need to step outside for a moment? Don't worry, you won't miss the big game as Kirby's has two TVs facing outside, including audio. Plus, the huge front windows completely open up when the weather is right, so other TVs will be in view. And for those of us who remember the old location, the AC is an especially welcome addition. Cubs and Bears fans will enjoy the team décor, including the bar's own version of the outfield wall and ivy at Wrigley Field. I love being a regular at DT Kirby's, but I don't love DT Kirby's because I'm a regular. I keep coming back because it's a new experience every time. I've gained countless friends and made plenty of memories there. You don't have to be a regular to fall in love with Kirby's, but it's definitely a place you'll want to visit again. It's a place where anyone can come in and feel at home. When it opened in 2008, Don and Trish Kirby established the bar as one of the signature stops on a visit to Lafayette-West Lafayette, and the staff continues to stay true to the traditions that have made it a dive bar you simply can't pass up. Oh, and when you do visit, try to follow some of these guidelines: absolutely no ketchup on a hot dog, don't ask for silverware to cut anything in half, and Jameson is not to be mixed. Visit DT Kirby's at 644 Main St. or on the web at thebestdivebar.com.
Mention you read this blog about DT Kirby's and receive a free fry upgrade on a meal until September 1, 2014!
This blog was shared by Visitor Information Specialist, Stephen Smith.