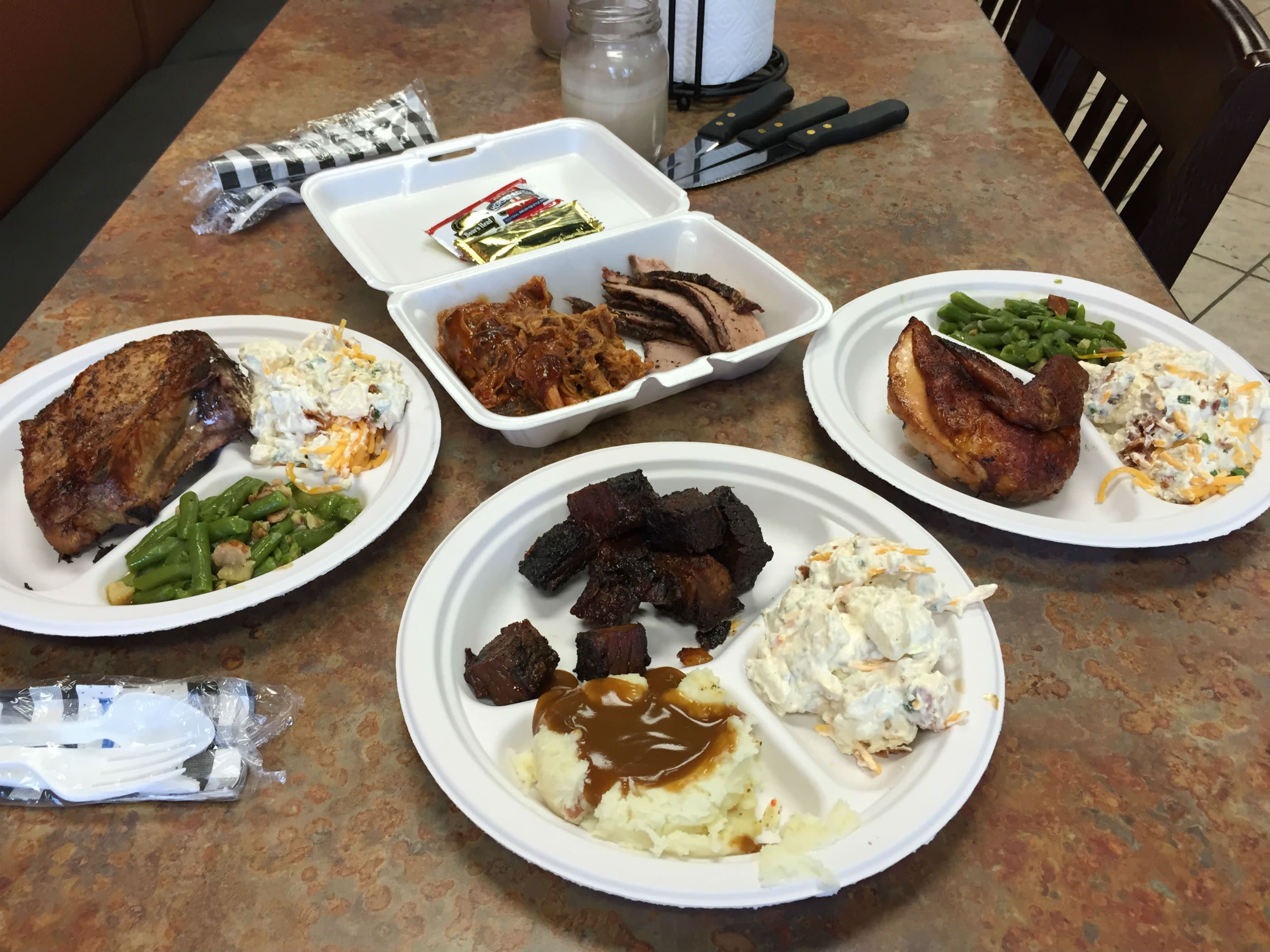 Looking for something for your tailgate, cookout or other party this fall? Check out D&R! They have been known for years around this area for their Meat and Produce Market located at Creasy Lane and South Street just across from Lowe's. Did you know that they have a restaurant? They do, and they cater! If you like BBQ, you have got to try D&R! The restaurant is in the same plaza as the market, just a couple doors down, and they recently just expanded so now they can seat up to 80 people (with advance notice for large groups) in their restaurant!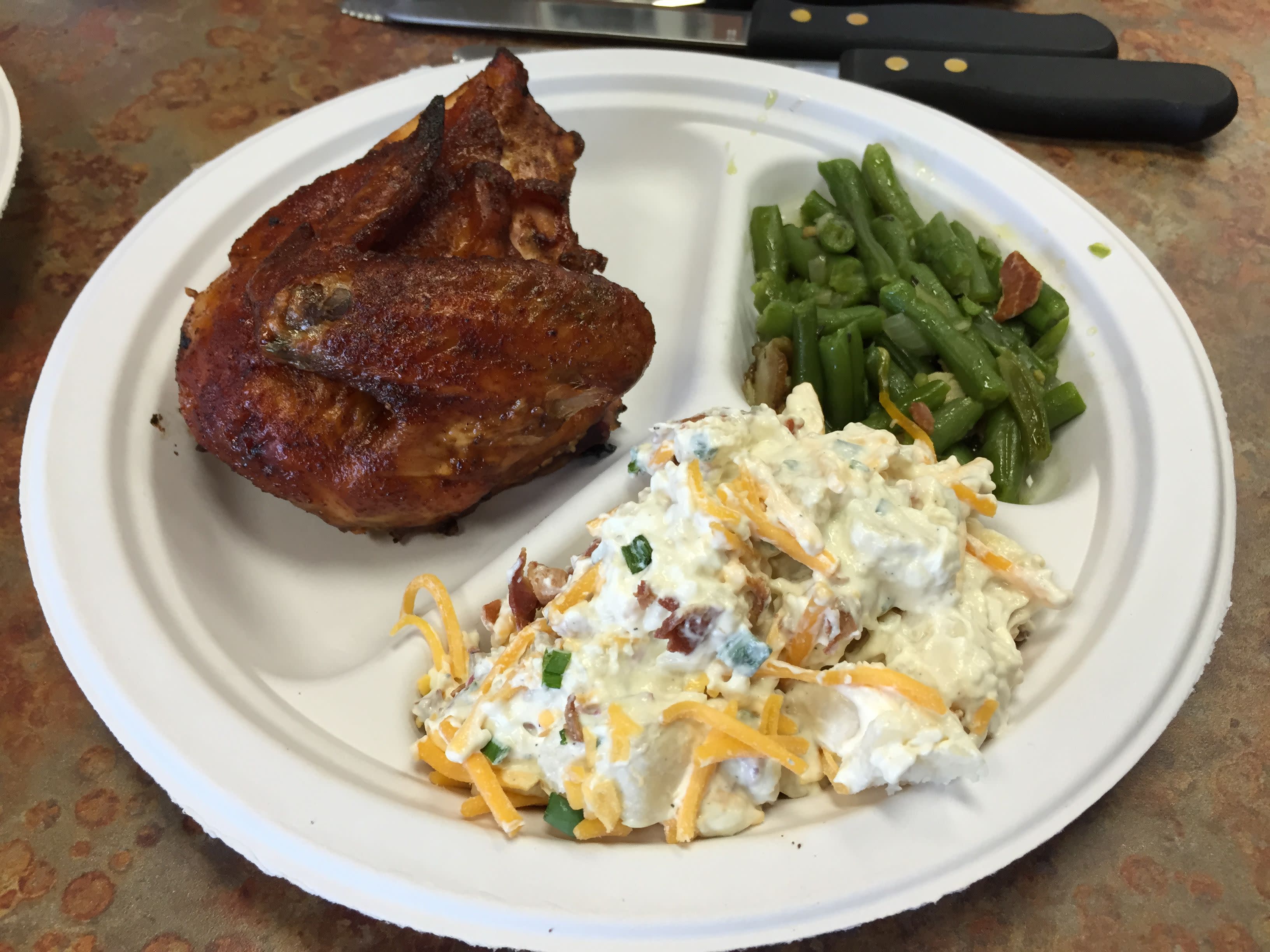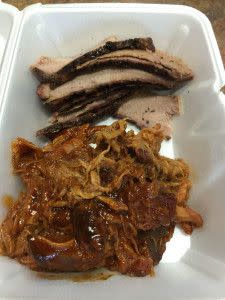 A couple of my friends and I recently visited the restaurant and were amazed! We have had D&R BBQ for years at different parties and events around town and love buying the meat at the meat market to cook at home but had no idea they had this amazing restaurant! As you first walk in the door, you can smell the amazing BBQ and smoky scents (smells are free by the way!) Everything is smoked onsite! If we weren't hungry before, we were for sure when we walked in the door! They have a variety of meats and warm or cold sides. Well, we couldn't decide, so we had to try a bit of everything! Literally! We shared, but we had lots of leftovers. We were in awe of everything! The two meats that really impressed me though were the pork chops and the brisket tips! First, the pork chop, they had two different kinds that day, and we couldn't believe how huge they were! One was one pound, the other two pounds… in ONE pork chop! They were both, either as big or bigger than my head! Wow! Two people could easily split one as a meal. We decided on the smaller of the two, and it was so thick but still juicy, and the flavor was out of this world! The other meat that amazed me was the brisket tips. [caption id="attachment_6795" align="alignright" ]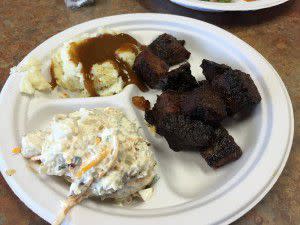 Burnt Ends[/caption] Typically they only have this meat on Wednesdays, but they had a few on this Thursday. They were little squares of meat that were so black they looked like a marshmallow someone had just stuck right in the fire, caught on fire and burnt to a crisp, but let me tell you, they were not burnt at all! They were juicy and flavorful! A great smoky but sweet flavor! Next time I go back, I'm for sure going on a Wednesday to get these! They were so awesome! We of course had to have their amazing pulled pork (we all have had before and still love it!), and we tried the brisket, ribs and chicken! Oh my! It is all so good! All perfectly smoked and so juicy! They get as much locally as they can as well, which makes me feel good! All the pork comes from right here in Indiana!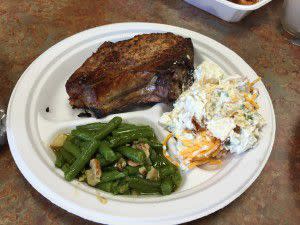 I haven't even gotten to the awesome sides yet! We all had our eye on the loaded potato salad, so we all had that, but there were so many others to try, I could have made a meal for several days out of just the salads and sides! We also tried the macaroni and cheese (extra cheesy and creamy- just perfect!), mashed potatoes (so well seasoned, you really wouldn't need gravy) and the green beans (what's BBQ without green beans?!? And these were perfect! Had a bacon and onion flavor without being over powering). Other sides to choose from were broccoli salad, macaroni salad, corn, pasta salad, pea salad and I'm sure a lot more that I missed because my mouth was watering over all the things I've already mentioned!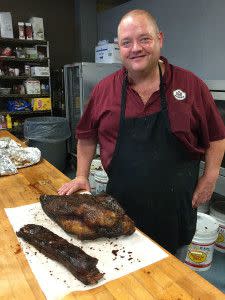 The service was very friendly, and they were willing to recommend their favorites and explain the food in great details! Very helpful! Makes me want to visit again very soon! For those of you with groups of friends, church groups, etc. that like to go out to eat, they do a great job. My Grandma's church group had one of their "mystery dinners" here a couple months ago (no one except the organizers know where they are going until they get there), and they were all floored by the excellent food and service! Grandma has been raving for months now! Every time I see her, she's asked me if I have visited. It will definitely become one of my go-to spots now! Her group had 40 people, and they were all very comfortable in their new seating area. [caption id="attachment_6791" align="alignleft" ]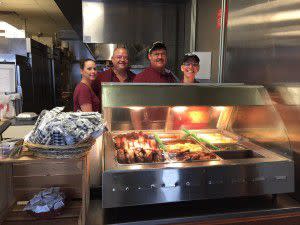 Service is exceptional![/caption] Make a trip to D&R Market and Restaurant very soon! Trust me, as long as you like meat, you'll love it! Enjoy! Ashley Gregory, Group Tours & Meeting Manager, shares this blog.