[caption id="attachment_1677" align="alignright" caption="Double Charco Cheese Burger and Onion Rings"]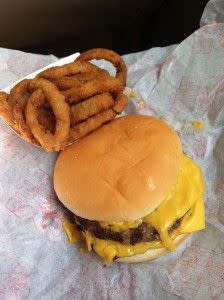 [/caption] 2 Great Cities, 1 Great University "Midwest Hospitality".  To experience "Midwest Hospitality" at its finest visit
Dog n Suds
, where visitors can sit back, relax in their cars and eat foot long coney cheese hotdogs and drink cold, creamy root beer!  There are two great locations, one in Lafayette and another in West Lafayette, we are excited to boast about. Dog n Suds is a restaurant that holds a special place in my heart and I know in many others hearts.  It brings to my mind so many stories to tell.  The hard decision is which to share!  I could start with sharing how as a child my father would always order their
root beer
that is served in a large frosted mug and he would share this refreshing beverage with me and my sister.  We would fight over the last sip! I always wanted to order a
foot long cheese dog
because I was a kid and for some odd reason it delighted me to eat their classic foot long.  My dad was a proponent of me ordering the foot long, because if I couldn't finish it, he got the happy chore!  The idea of eating in the car was fun and adventurous also.  I was a pretty easy to please child! As an adult, I love Dog n Suds for many reasons.  First, the food is always piping hot and fresh.  My husband is a creature of habit and always orders their
double charco cheeseburger
and onion rings.  I always snatch a bite of his sandwich and an onion ring.  For me, I try to switch it up by ordering different things off the menu, but currently I crave their
grilled tenderloin sandwich
 and fries.  Second, their West Lafayette location is two minutes from my home (with gas prices these days, proximity is important).  Last, but not least, my husband and I have been renovating our home and we can drive over to Dog n Suds quickly and grab a delicious meal and we do not have to get cleaned up.  The young lady who's job title is "car attendant" is always friendly and quick so we can fill our bellies and get back home to work. What is your favorite memory at Dog n Suds?  If you could choose anything from their menu, what would you choose?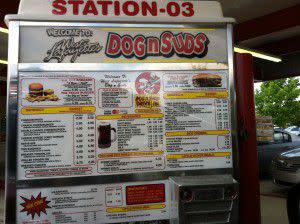 Living in
Lafayette-West Lafayette, Indiana
, one thing we value is customer service and appreciating the times we receive great customer care.  Midwest Hospitality is Lafayette-West Lafayette, Indiana.  We are proud of our local businesses, including Dog n Suds, who provide gracious and friendly service. For more information about this restaurant and other
fun activities
in the area, visit our website at
www.HomeOfPurdue.com
.