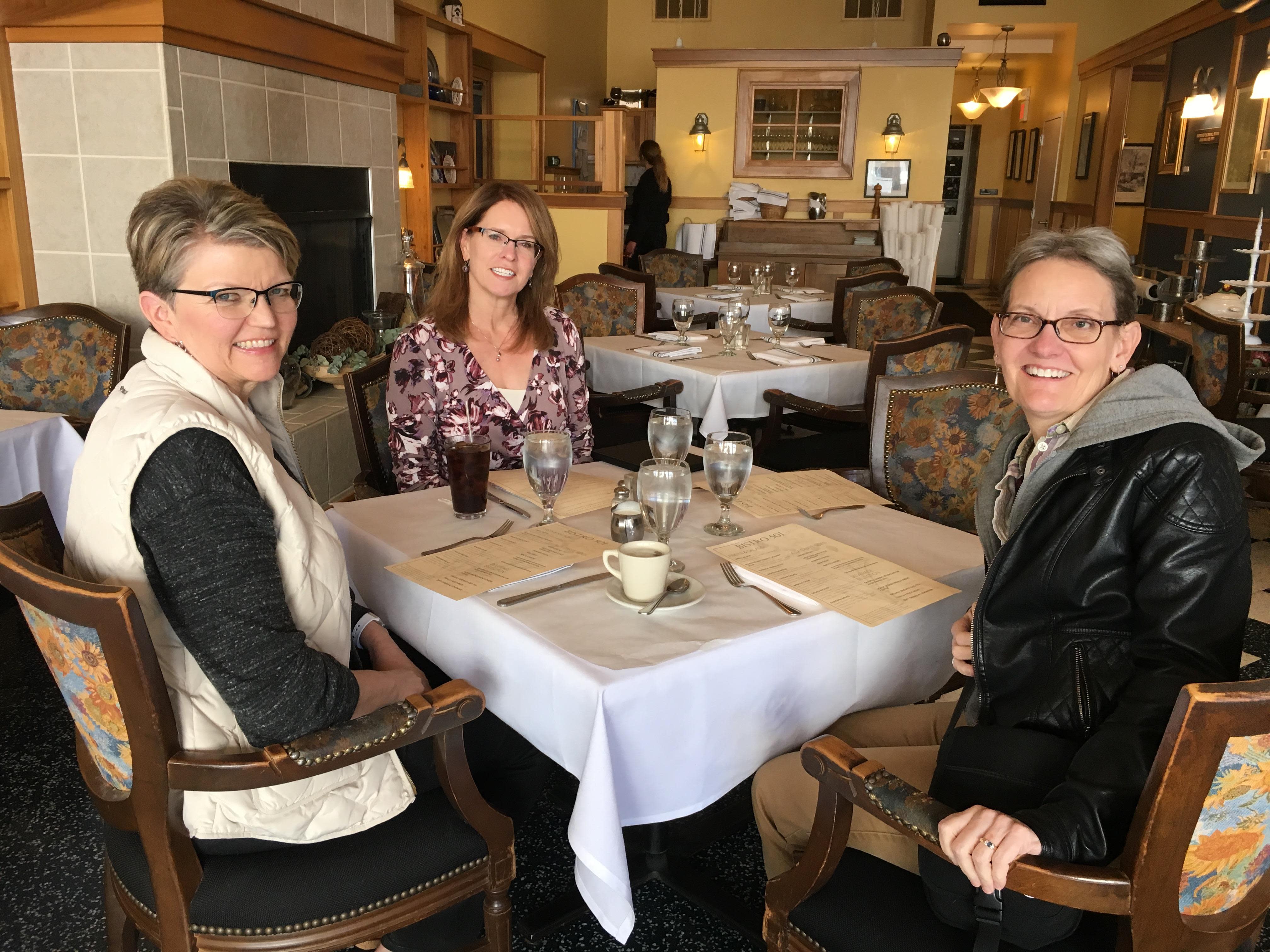 Welcome back to Dining Divas, traveling the globe with a menu & napkin instead of a suitcase & passport. Last time we met, we sampled Texican-Hoosier at 6
th
Street Dive. This time we dined on French fusion at Bistro 501, on Main Street in the heart of downtown Lafayette. Serving up both a culinary and cultural experience,
Bistro 501
has a warm urban vibe with large windows overlooking Main Street, outdoor seating and French decor complete with roosters. To the occasional diner,
Bistro 501
is a 15-plus year fixture at the corner of 5
th
and Main. But their regulars know a shift took place roughly a year and a half ago when Theresa Buckley, the restaurant's general manager, convinced her mother and twin sister Cheyenne, to purchase the business from her boss and owner Gabrielle Meyer. Mary, Theresa's mother and veteran of the hotel restaurant business, tells how the trio decided to give it a go and "shine up an old penny" which meant that she and Cheyenne, then a chef in Vermont, would move back to Lafayette. The Buckley's goal when purchasing the business was to keep the favorites for their regulars while adding a few fresh ideas to keep it interesting and entice new locals to come try them out. The menu is seasonal now, changing four times per year with the biggest difference coming between winter and spring. The day we visited, Micayla was our server -- new to the Bistro but not to the restaurant industry. She expertly helped us navigate our lunch options and diet restrictions. Jo chose [caption id="attachment_9774" align="alignright" ]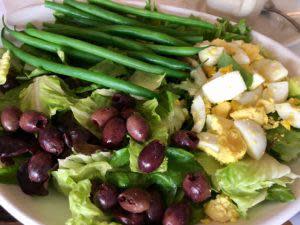 Salad Nicoise[/caption] ($11). Micayla did a great job handling the keto salad request, removing the tuna and potatoes. "Their blue cheese dressing is one of the best," Jo said.  "I love the Nicoise olives."  The olives, fresh green beans and hard boiled eggs over mixed greens made the salad both attractive and filling. "It was nice that I could just say 'keto' and the chef knew how to change their standard menu item." They even brought heavy whipping cream for Jo's coffee! Kay decided on
Livers Normandy
($12) which is made up of sautéed chicken livers, shallots, bacon, dried cherries, with pasta, and a brandy cream sauce. "This is actually delicious and chicken livers aren't usually one of my favorites." Kay said between bites. "The chicken livers are mild and you really notice the brandy sauce. Usually with pasta you get too much but this is a nice lunch portion." [caption id="attachment_9777" align="aligncenter" ]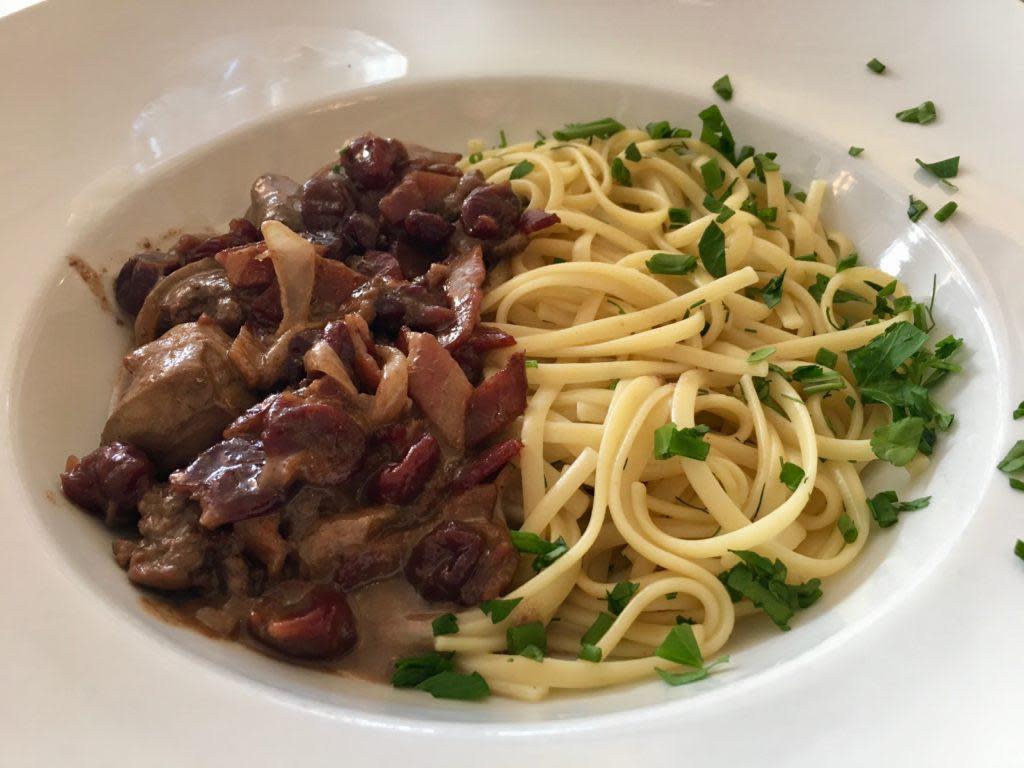 Livers Normandy[/caption]   [caption id="attachment_9781" align="alignleft" ]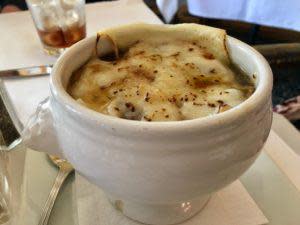 French Onion Soup[/caption] Bev ordered a bowl of
French onion soup
($7) (someone had to, right?). Bev also chose one of the two daily quiche options which that day was ham, apple and Brie for $8.  The soup was warm and tasty topped with bread and cheese. "The house made Caesar dressing is creamy and interesting. The quiche changes each day which adds variety to the menu. It's a nice lunch combination."   Margy decided on the r
oasted butternut squash soup
($4.50) intending to compare it to her own recipe. For a side she added hand cut pommes frites for $8. The soup had maple in it which gave it a distinctive flavor. The yogurt swirl, candied pepitas (a variety of pumpkin seeds) and sage on top made it both beautiful and flavorful. Margy had to agree it was better than hers. The frites were nicely prepared and came with the curry ketchup, an interesting twist to the old standby. [caption id="attachment_9775" align="aligncenter" ]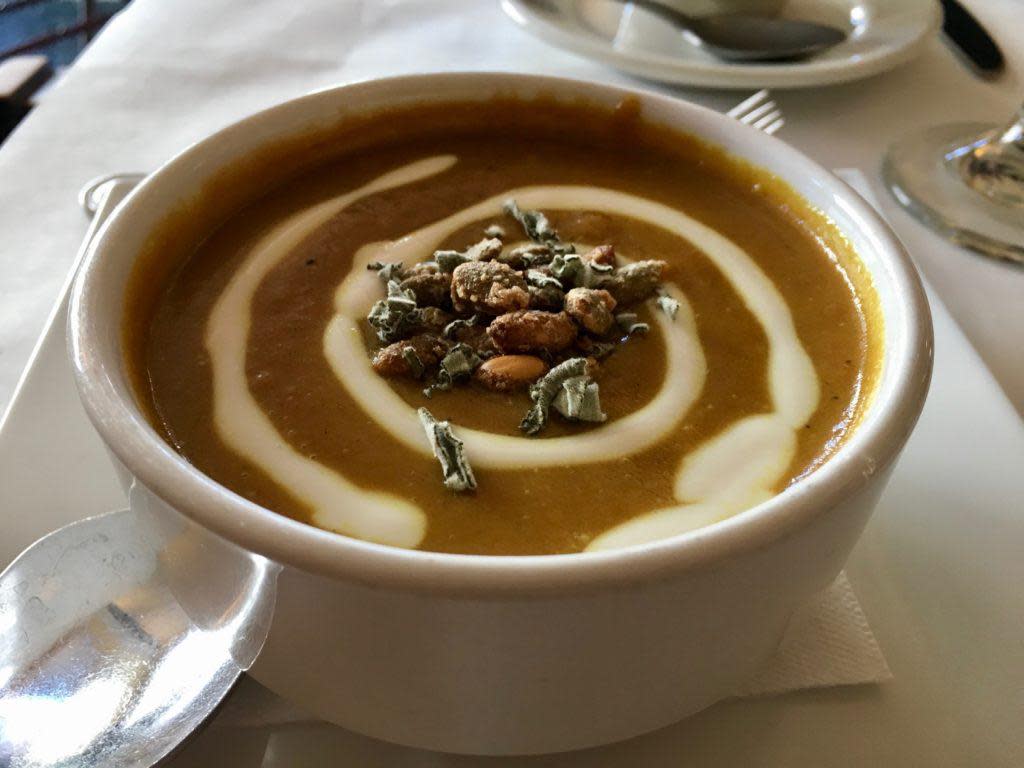 Roasted Butternut Squash Soup[/caption] All this plus we shared a basket of wonderful crusty French bread. Each of us enjoyed our lunch and we still needed to try some desert. So when the to-go containers had to come out we were happy to see eco-friendly packaging instead of Styrofoam. Merci!! Lucky for us, several deserts at Bistro come in spoon sized portions. Jo ordered
Pot au Chocolat
. "If you like chocolate, you've got to love this! It's chocolate heaven." [caption id="attachment_9780" align="aligncenter" ]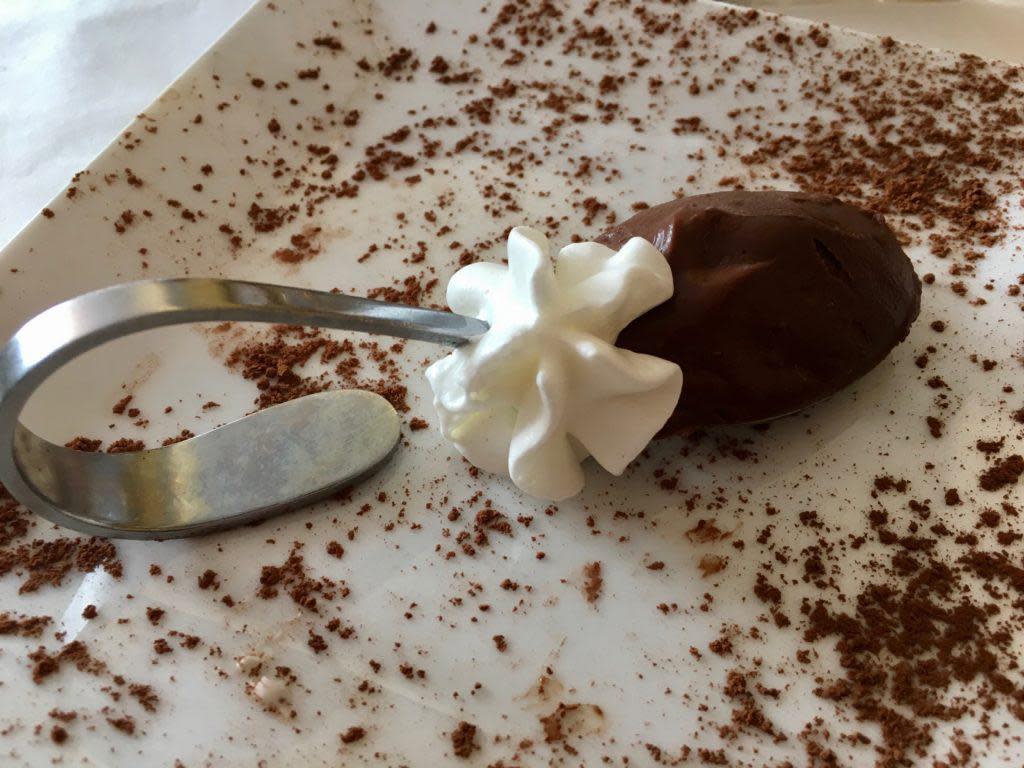 Pot au Chocolat[/caption] For Bev, it was Vanilla Bean Crème Brûlée with caramelized sugar. "This is perfectly done with a lovely crust on it." Kay's Cheesecake 501 spoon was chocolate and coconut, "A great combination with a graham cracker crust and the cheesecake options that change daily. How do you say brilliant in French?!" It's Sticky Toffee Carrot Cake for Margy. Unfortunately this desert was only available in a full serving size (really, did we just say unfortunately?). It is served warm, soaked in toffee with Medjool dates, and cream cheese-buttermilk ice cream. Warning, it is very sweet so you may want to share! "The ice cream is wonderful and the buttermilk flavor is really unusual!" Margy said. "The cake is super moist with lots of carrot and cinnamon. Seriously, if you need to, you can count this as a vegetable …" [caption id="attachment_9778" align="aligncenter" ]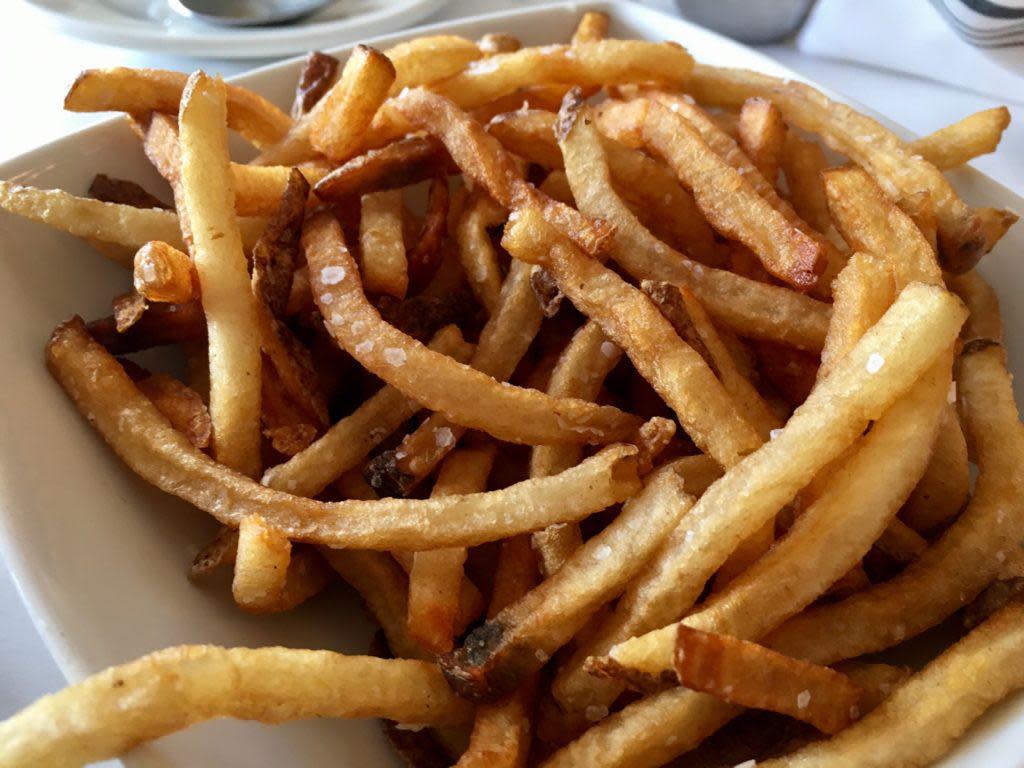 Frites[/caption] Can't make it downtown for lunch you say? No worries, the Bistro's dinner menu includes many great options including an appetizer of mussels which Kay has had before.  Another friend comes for dinner to have the escargot (flown in from France) and steak tartare.  We have heard great reviews about their slow roasted duck legs. And Bev stopped by on her own after our group lunch to have what she described as "THE most incredible burger ($14)-- a short rib beef patty that was incredibly tender topped with goat cheese, roasted mushrooms, and bacon with garlic aioli," she said. "It was really one of the best burgers I've had!"   Ok, but what if all I have time for is a
drink
with friends after work or on the weekend? Spend some time with one of the Bistro's skilled bartenders. It's a quite complete bar with a good wine list. That's what we call full service!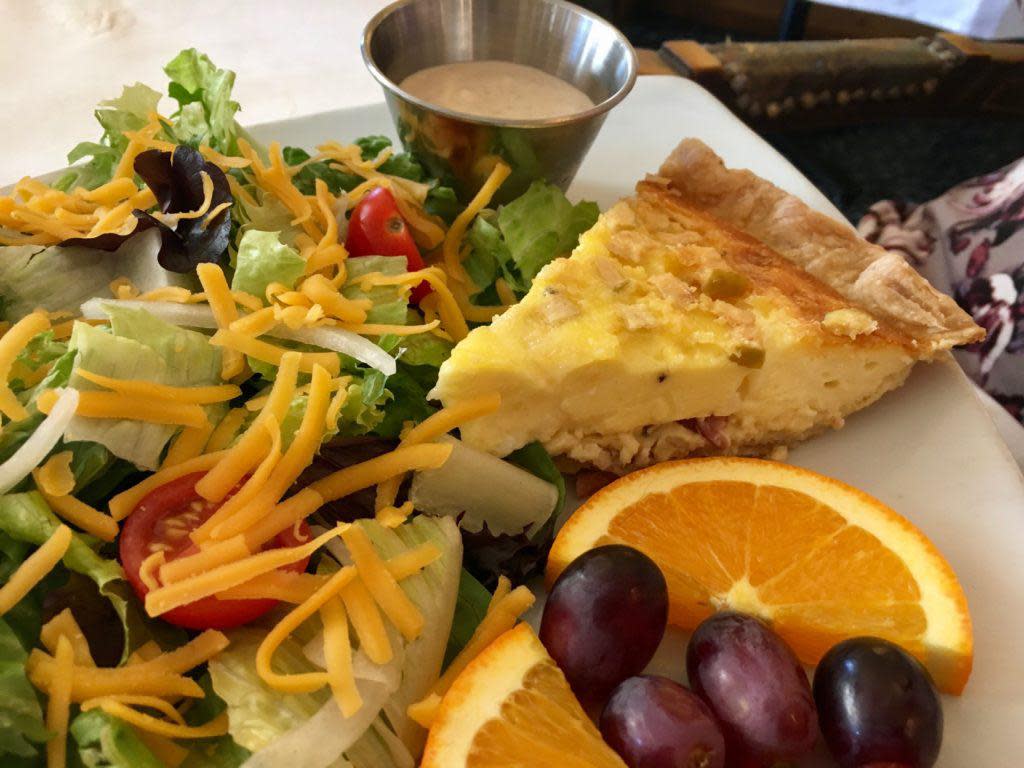 Other updates we learned about during the visit: in addition to their weekday schedule, the Bistro now serves a Sunday brunch 10:30am-2:30pm which has been a great success, advertising primarily by word of mouth and social media. Tuesdays they have a raw oyster bar & live music. Expanded seating on the patio offers more outdoor options for diners. Lunch is served Tues-Fri 11-2pm; Dinner on Mon-Tues 5-9pm and Wed-Sat 5-10pm. On 3rd Thursdays enjoy live Jazz with two seating options: with a dinner reservation at 6:00pm, or with cocktails at 8:00pm - $30 min sale per person due to limited seating. [caption id="attachment_9782" align="aligncenter" ]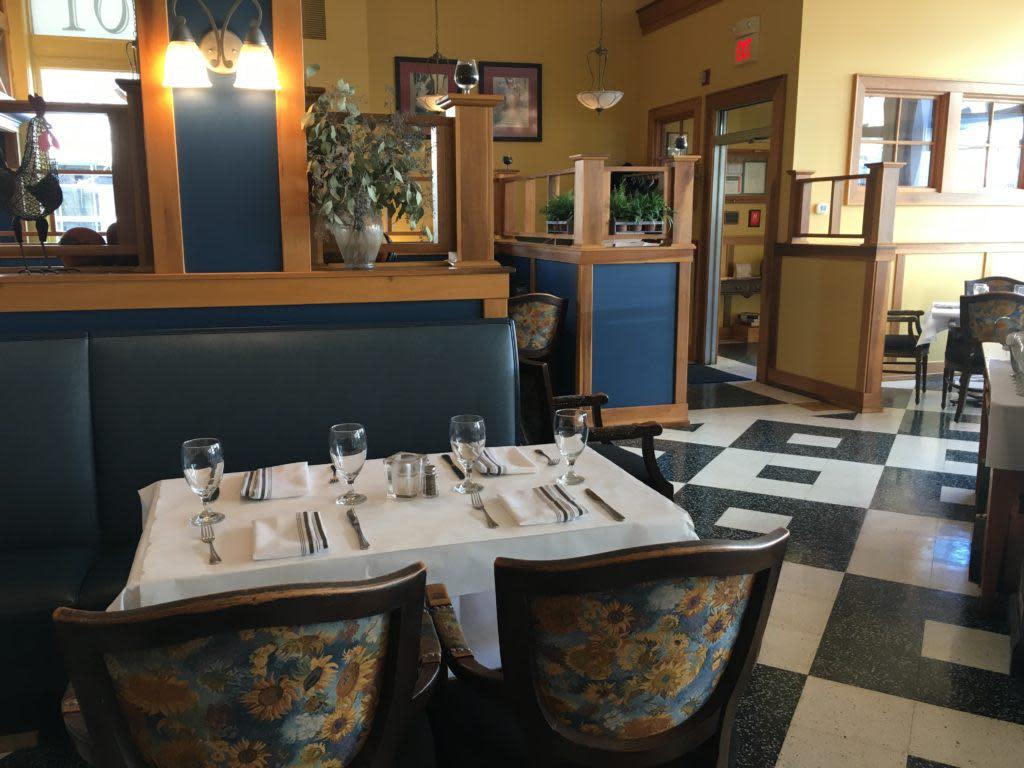 French Decor[/caption] The Buckley's feel their new ideas are being well received among regulars and newcomers alike. In the eight months prior to our visit,
Bistro 501
reviews on Trip Advisor were 4.5 of 5 and its standing moved from #17 to #6 among 234 greater Lafayette restaurants! If you haven't been to the Bistro before, now is the time. And if you haven't been back for a while, what are you waiting for? Bon Appetit! Kay Conner, photographer, seafood superstar Margy Deverall, author of Lafayette articles, dedicated vegetarian Beverly Shaw, author of West Lafayette articles, bring on the beef (or chicken or pork) Jo Wade, founder of this food blog, very veggie