It's just a hop, skip, and a jump further from downtown than I personally anticipated, but situated at the corner of 9th and Kossuth. "Krug" is a German word for stein or jug and Krug Corner Pub is a place for neighbors and friends to gather round a stein or two with some German-inspired grub."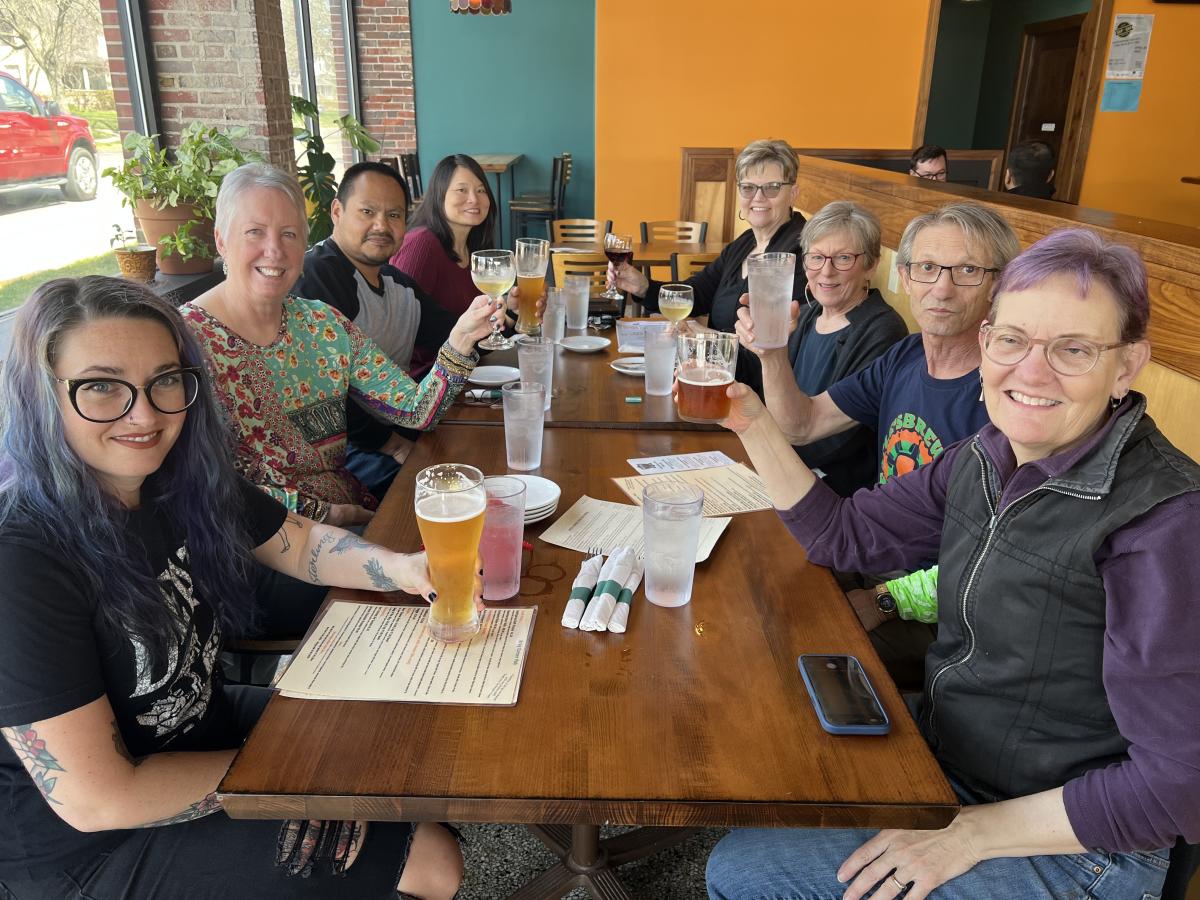 Be warned, if you meet with the Diving Divas and Dudes on the day that happens to be your birthday, you will be accosted with the loud chants of the birthday song upon entry. You will also be treated to a beer from what, at first glance, appears to be the same beer menu as my beloved People's Brewing Company. You may notice the subtle differences, such as the addition of the German style Weissbier Eckkneipe Weizen and a wine menu! You should also take note of the beautiful woodworking by Dunkle Custom Building, the bar is absolutely stunning!
     We started off with a round of drinks, it is national beer day after all, paired with the Bavarian beer balls and bratwurst bites. Everything disappeared quickly, and although the gang yammered on discussing which was the winner, we never did come up with a definitive conclusion. You'll have to go see for yourself. We were equally divided in the battle between the house made mustard and the beer cheese. I stand on the side of the mustard, but am usually classified as "salty" more frequently than "cheesy", at times I can be quite both.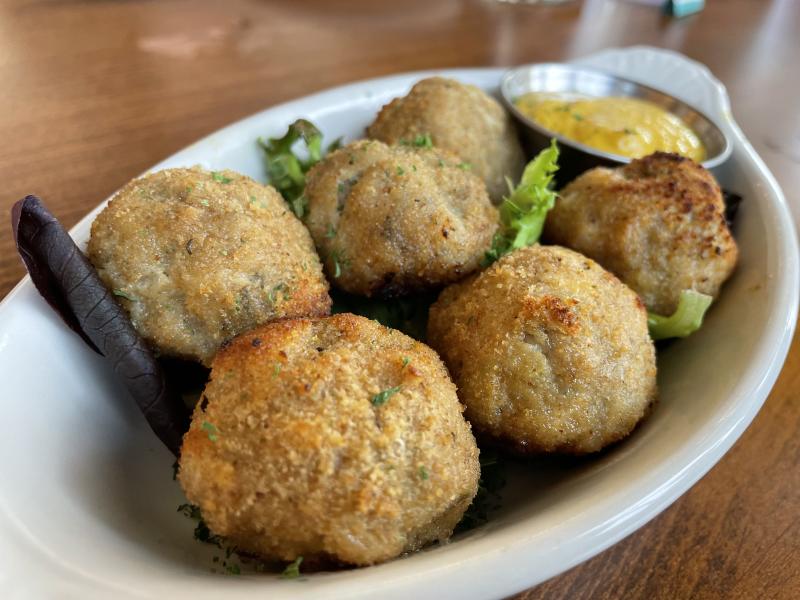 Tetia ordered the bratwurst, which is simmered in the Ol' Tavern Beer and served with sauerkraut and horseradish mustard on a bun. Her side was creamed spinach. The sauerkraut was amazing with just the perfect amount of tang. The bratwurst was fresh and the portion sizes were perfect. The creamed spinach was delicious and certainly good for her. The mustard is wonderfully savory and pairs well with the sauerkraut. Jess is her favorite chef, so she came in here with the utmost confidence. Her expectations were exceeded!
     Iseral got the Strammer Max which features Great Harvest Caraway Rye Bread, prosciutto, sunny side up eggs, and chives. Let me tell you, that bad boy was one of the most beautiful things I have ever laid eyes on; and I have children! 'Twas a sight to behold, and it drew us all in with its beauty. It was delicious, the egg really made it shine. Perfect ratios of everything. The carrots and potatoes were delicious, as expected, with a bit of German flair!
     Linda went with the Braunschweiger sandwich from Beutler Meats, and chickened out on the pickled onions. The serving of meat was substantial and hearty. The Great Wall of braunschweiger, if you will. The potato bacon soup was excellent, it has a nice texture without being too thin, and she has a feeling it will stick with her and keep her feeling full at length. I believe the phrase she used was "it's something that will stick to your ribs!"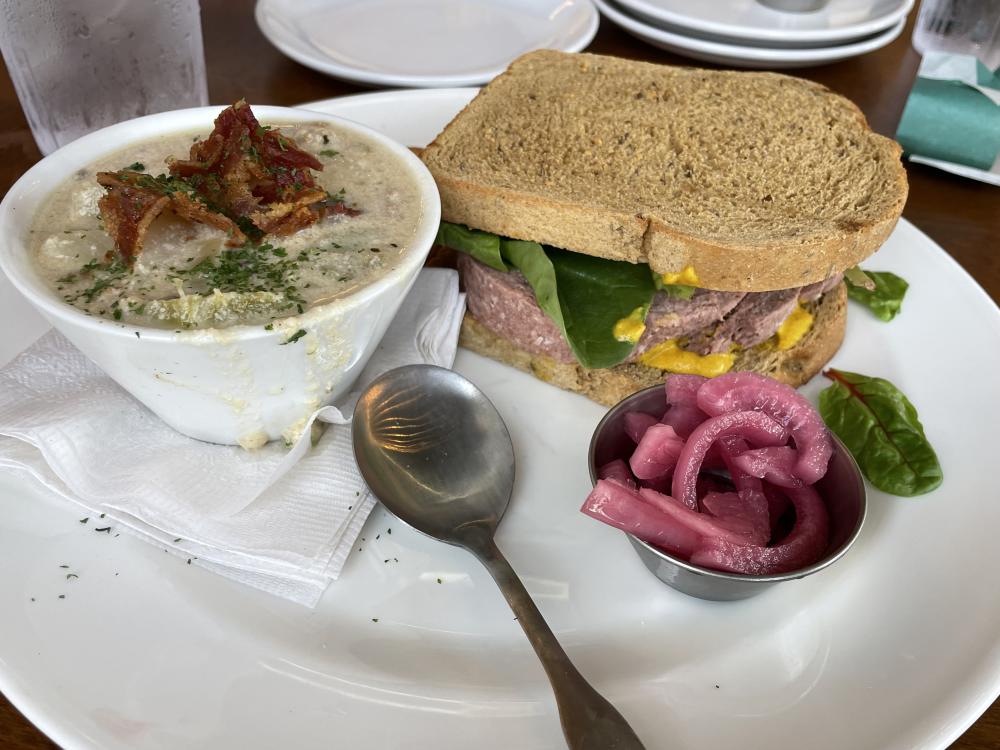 Margy opted for the German white bean and pea salad vegan style, with no meat or cheese. It's a beautiful presentation of color, with balanced flavors to boot! To be honest, I've never seen anything like it and I for sure would like to go to there one day.
     I had the corner pub salad. Margy has a friend who recommended the cranberries be cut in half, and I'm here to tell you to ignore that monster, this baby is perfect as is. A heaping abundance of cranberries, candied walnuts and goat cheese perform a delicate dance on the tongue that brought me to my knees. Of course there were mixed greens, green onions, and celery; but I only had eyes for that heavenly trifecta. You have your choice of German or lemon vinaigrette, and despite our location, I am a total sucker for all things lemon so I made the only choice I knew how. It was a party. Yes. Yes. And yes.
     Jerry had the brat and potato salad. He shared that his flawless technique of spinning the brat prevents the deposit of mustard upon one's nose. He actually ordered the brat as a means to really get to the German potato salad, which he loves. He cleared his plate and was blissfully happy, and it should be noted his nose was mustard free.
     Kay, forever in the interest of sharing, blessed us with the traditional pizza. She really appreciated the cracker crust. It's light and better than the other German foods she's had! I noticed that it didn't go uneaten and we all seemed to really enjoy it! This is something I think everyone will enjoy.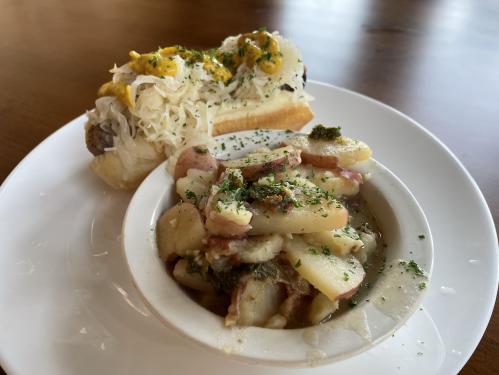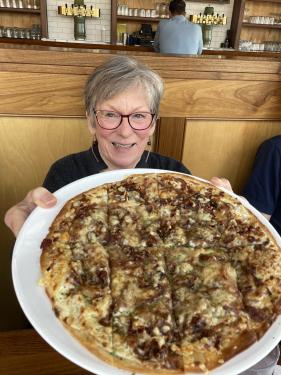 Word on the street is that the beer cheese soup is to die for. Jo ordered it and can confirm that the rumors are true. It has the perfect level of spice to it.  She also insisted we get dessert, for my birthday of course. Who am I to refuse the boss lady's wishes?
    Holy cannoli! I don't know who Ira is, but I am ready to propose marriage to them in the name of their Dream bar sundae. It's the whole package and a dream vacation on top of it. A house made praline cake is topped with vanilla bean ice cream, boiler black caramel sauce and brickle bits. We don't know what half of those things are, but we do know what love is, and this is it.  The German chocolate brownie is as decadent as any kitchen could allow. Traditional and excessive in nature, it's the epitome of dessert and all it can be. We should all strive to be as rich and decadent as these desserts.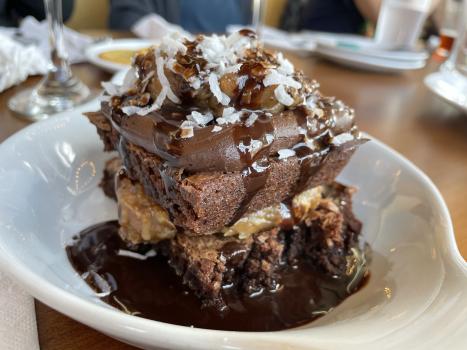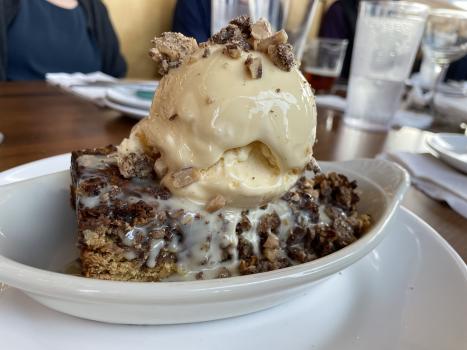 Dining Divas and Dudes thoroughly savored their visit to Krug Corner Pub. Visit and share your experience on our social sites, #homeofpurdue. Enjoy!
Check out more family friendly dining in Greater Lafayette!
It's dinner time and you have a busy night with no time to cook. Where do you take the whole family? We have just the list for you. Here is our top family friendly places in the Lafayette-West Lafayette...
Continue Reading