[caption id="attachment_8762" align="alignright" ]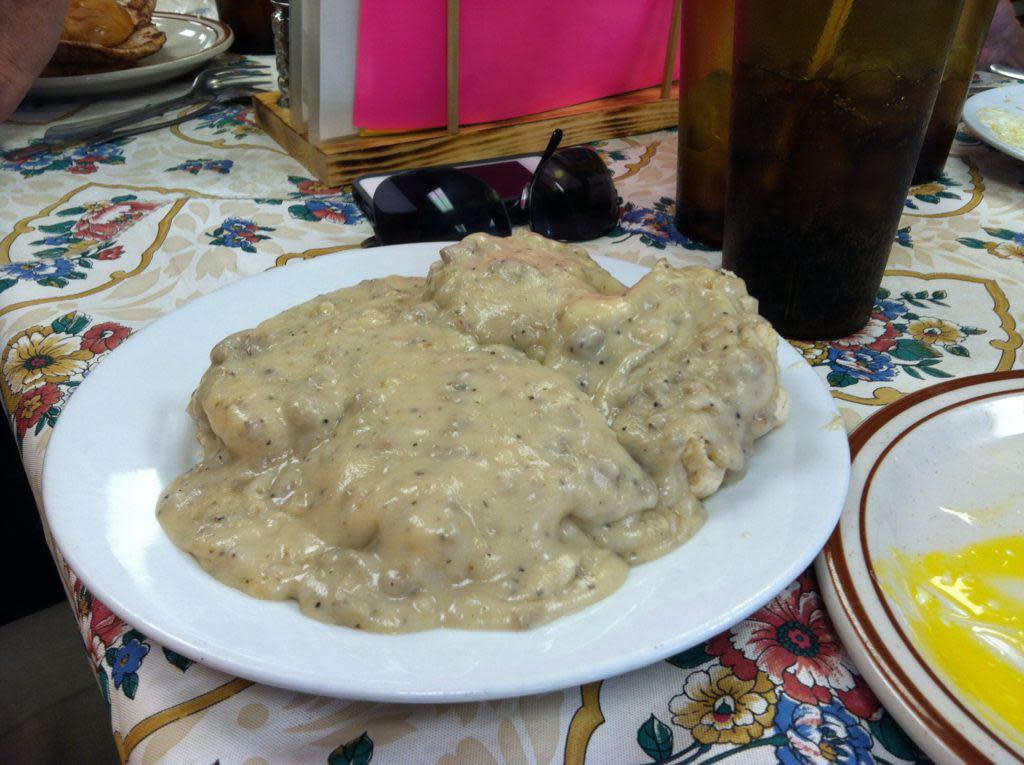 Biscuits & Gravy[/caption] Battle Ground, IN is filled with local attractions to visit; Tippecanoe Battlefield, Wolf Park, Prophetstown State Park,
The Farm at Prophetstown
, The Battle Ground Golf Club, but where to eat? Look no further than the Eye Opener Café! Nestled on the corner in the small downtown of Battle Ground is this great local restaurant with amazing food! Some might call it a dive but if you want to go where the locals eat, for sure check this place out! My favorite time to eat at the
Eye Opener
is for brunch. My personal favorite is the Western Omelet (without the onions). The egg is somewhat thin but it's stuffed with ham, peppers, tomatoes, mushrooms and don't forget the CHEESE! [caption id="attachment_8763" align="alignright" ]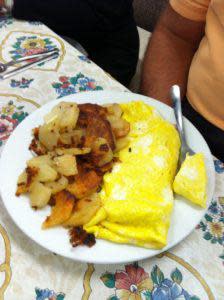 Omelet and fried potatoes[/caption] Their cheese is so smooth and creamy (maybe Velveeta?). Whatever it is, it keeps me coming back for more! My husband loves the
Gut Buster
. It's a gigantic breakfast burrito! My husband has a hefty appetite and even he can get two or three meals out of it! Definitely one to share or take home as left overs. When it comes, it always amazes me as it is as long as the oval plate it comes on and I'm guessing about 4 inches tall or so. It's just jam packed with ingredients as well. Some of my friends also rave about their biscuits and gravy. We love the others so much we haven't tried that yet, but for sure its on our list. Typically, I'm in a breakfast mood when I go, but on the occasion, I want lunch items, I've never been disappointed, I especially like their burger and the BLT.
Don't expect anything fancy and be sure to bring cash because they don't accept credit cards. But you will be sure to have a satisfying meal and friendly service when you visit this restaurant. You might even luck out and have some live entertainment while you eat, I know Scott Greeson and his band, The Trouble with Monday play here occasionally. Be sure to give it a chance the next time you are in the area. Ashley Gregory, Director of Sales for Visit Lafayette-West Lafayette, shares this blog. For more information about this restaurant and others in Lafayette-West Lafayette, visit
www.HomeOfPurdue.com
.
Save