[caption id="attachment_10316" align="aligncenter" ]
Cellar 422 Cheese and Meat Platter[/caption] When
Cellar 422 Wine Bar
opened in September 2015 the owners/sisters, Michelle Wise & Marla Milner, wanted to offer something they felt was lacking in downtown Lafayette; a comfortable place to meet, enjoy a good glass of wine, and purchase a bottle to take home. Since then the menu has matured to include local and
craft beers
, appetizers and entrees, seasonal specials, and international cuisine. For Michelle and Marla, the business is a real family effort. Ethan Wise, Michelle's son, is the Cellar's chef, trained in Santa Barbara at City College Culinary Program. The eclectic vintage décor and natural wood wine bar were influenced by Michelle and Marla's parents and give the restaurant a familiar cozy feel.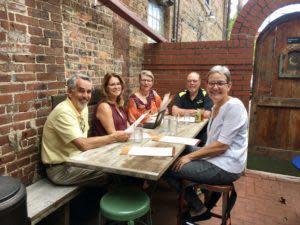 Best for small groups; the Wine Bar can seat 30, while the patio accommodates another 10 during warmer months. We chose to sit on the patio during our October visit. The exterior arched brick doorway and overhead string lights give an added charm to the space. Our server, Colton, started us out with a large appetizer board that easily served our group of seven (Divas plus husbands Dan, Dick and Jeff). We combined the
large cheese board
with four cheeses, apple slices & green grapes, crackers and fig jam: $20, with the charcuterie board adding three meats and olives: $10.
White cheddar, not too sharp; Gorgonzola camazole from Germany, with a smooth creamy blue cheese flavor; Gruyere from Wisconsin; and Butterkase from Germany, Bev's favorite – smooth, highly pleasant cheese, soft, creamy and delish.
Delaware fireball, definitely has a peppery kick said Jeff; Gin and juice (lamb persimmon orange), delightful taste, you can definitely pick up the orange; Sopressatta, a great basic next to the other two stronger flavored options.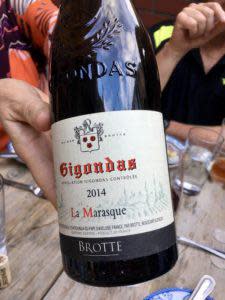 After taking Dan's beer order, Colton lead us through an extensive wine menu offered both by the glass and bottle. It felt like a travel show with red and
white wines
from all over the world. The four red wine members of our group selected one of Colton's favorites: Fernandez Gomez (Crianza) 2013 from Rioja, Spain with red fruit, baking spices, soft tannin, balanced acidity and not overly dry. A very drinkable choice and good for a new red wine drinker. It was a great value at $20/bottle. Our second shared bottle of red was The Ned, a New Zealand, Southern Valley, pinot noir, 2014. Bev reminisced about Eddard Stark (Ned) from Game of Thrones so she was biased to like it but it really was a good bottle of wine. Colton pointed out its flavors of "ripe cherries, and a reasonable amount of backgrounds of earth like a forest floor, kind of mushroomy and quite smooth." Another good value at $28/bottle. The white wine drinkers selected a
South African Sauvignon Blanc- Rustenberg
, "It's a perfect drink for a warm night on the patio," said Kay at $8/glass. Dick had the California Greystone Cellars Chardonnay at $7/glass. It was an incredible value for the experience, fairly dry and a generous pour! With our appetizer plate emptied, we selected one last bottle of red wine to enjoy with our dinner order. Colton suggested one of their best, Gigondas, a French Rhone Valley blend, very potent, dry, with concentrated flavors at $42/bottle. This wine is slightly sweeter. "It's a subtle, smooth and satisfying sip," says Jeff. "I don't like the French, but this is good," added Brit Dick. [caption id="attachment_10322" align="alignright" ]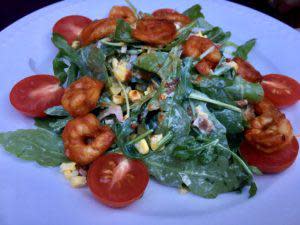 Blackened Shrimp Salad[/caption] For dinner, Bev chose the
blackened shrimp salad
made up of arugula, roasted sweet corn, cherry tomato, bacon, shallots and sage dressing (gluten free) for $12. "I love the dressing-- it's inventive and refreshing," she said. Jo ordered the salsa verde swordfish with tomatillo salsa and sweet corn sofrito, roasted Anaheim chilies, poblano cream and toasted pumpkin seeds for $21. "It's a beautiful presentation with the fish perfectly done," Jo said, "and the pepper and pumpkin seeds and sauce are perfect for this dish." [caption id="attachment_10319" align="aligncenter" ]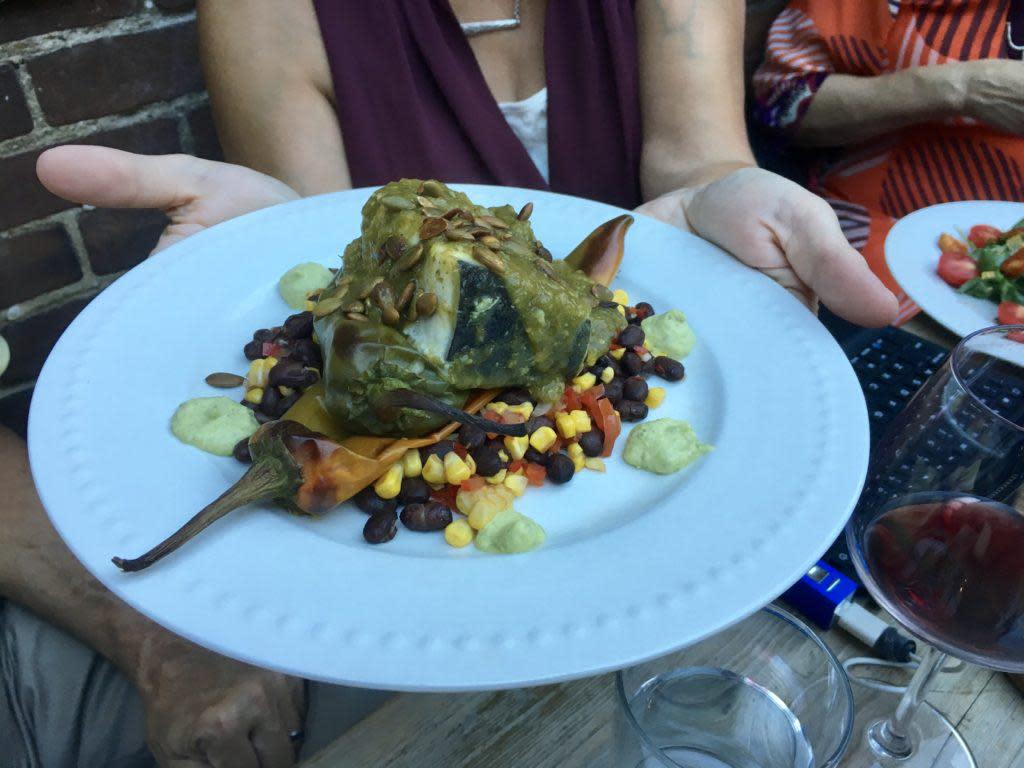 Salsa verde swordfish[/caption] Dick ordered up the
spicy shrimp mac & cheese
which featured blackened seasoned shrimp, cavatappi, white cheddar Moran sauce, with panko crust for $12. "I don't usually like mac and cheese but I love theirs. It's spicy and fun to eat," Dick said. "I'm not really keen on blackened things but it's well done with tons of shrimp." [caption id="attachment_10321" align="aligncenter" ]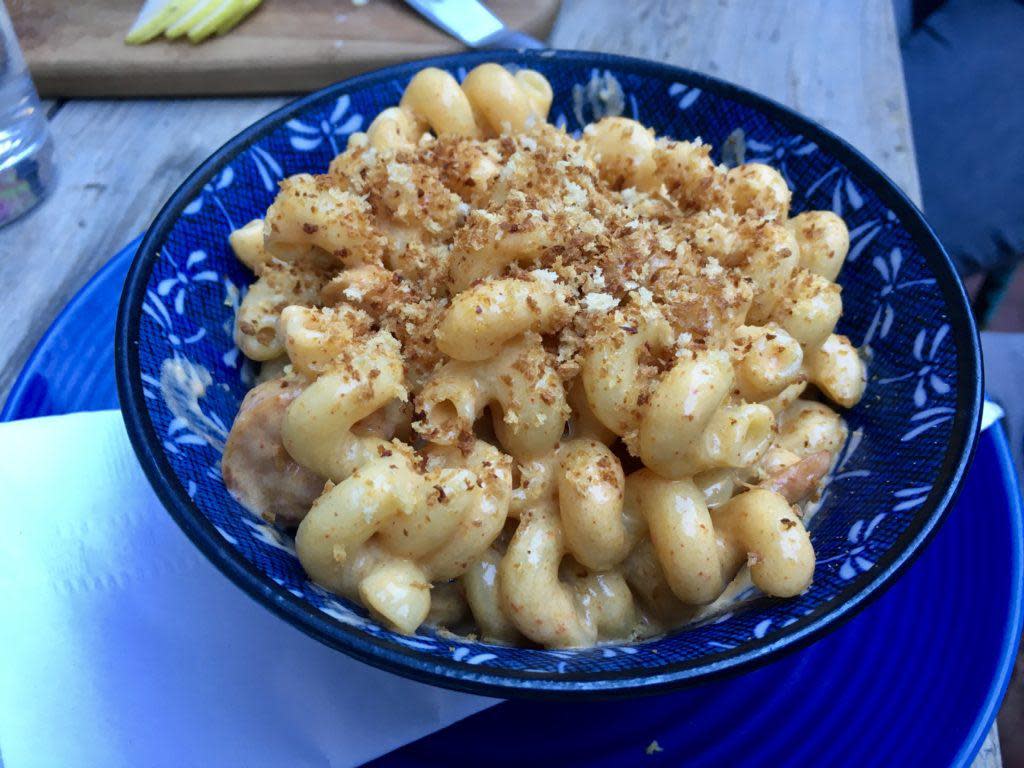 Mac N Cheese[/caption] Kay ordered the
smoked salmon plate
served with sliced cucumbers & cherry tomatoes, capers, garlic hummus, dill goat cheese and artisan crackers for $14. This is part of the appetizer menu but works well as an entree. The salmon is mild and tender and delicious. There are two spreads-- a garlic hummus and dill goat cheese-- both are good.  "That's a hunka hunka salmon," said Jeff. [caption id="attachment_10325" align="alignleft" ]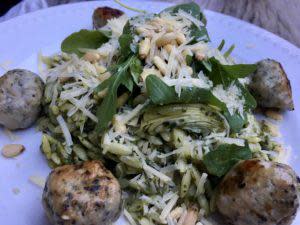 Pesto Orzo & Meatballs[/caption] Jeff opted for the pesto orzo & meatballs with artichoke hearts, parmesan, pine nuts and arugula for $18. "Anyone can make a meatball but these are a cut above," said Jeff. With a crisp exterior and moist inside, Jeff was pleased by its hearty flavor. "The dish is balanced beautifully by the pesto orzo, and tender artichoke heart, with a nice crunch from the pine nuts. It's delightful." Dan decided on the ginger pork gyoza featuring ginger marinated pork wonton dumplings, steamed napa cabbage and ponzu for $8. "Very tasty," Dan said between bites. "The light noodles with the ginger sauce makes for a nice flavor. It's excellent." Margy opted for the
risotto alla mulligatawny
including Granny Smith apples, curried, red lentils, parmesan and toasted almonds for $14. "Incredible," Margy reports, "There is a little sweetness because of the apples but it's also savory. The chef was not timid with the spice." A new favorite for Margy! "Did anyone leave room for dessert?" Colton smiled. We soon learned all the desserts are house made and include a truffle board, cheesecake of the day, and
crème brulee
. In the end we
shared
a slice of dark chocolate peanut butter cheesecake for $6. "Wonderfully creamy" said Jo. "The dark chocolate and peanut butter mix is just awesome on a very thin crust. It's not overly sweet.  It's fabulous." [caption id="attachment_10323" align="aligncenter" ]
Dessert![/caption] Altogether, it was a delightful experience. Everything was very well prepared and presented. The food prices were reasonable and in line with other restaurants in town. Our final impression? Wonderful, but next time, dessert first! Kay Conner, photographer, seafood superstar Margy Deverall, author of Lafayette articles, dedicated vegetarian Beverly Shaw, author of West Lafayette articles, bring on the beef (or chicken or pork) Jo Wade, founder of this food blog, very veggie