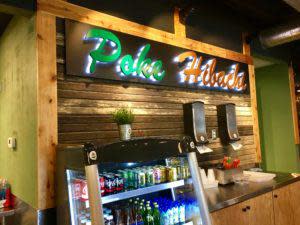 West Lafayette has joined the national trend in offering the wildly popular Hawaiian dish, Poke (pronounced POH-kay). Poke is from the Hawaiian word meaning to section or to slice or cut and is a raw fish salad served as an appetizer in Hawaiian cuisine, and sometimes as a main course.  Think of it as sushi deconstructed in a laid back Hawaiian way!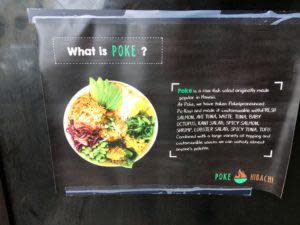 At Poke Hibachi in West Lafayette, you can now get poke bowls as well as grilled meats and fish (the hibachi part).  The Dining Divas, accompanied by poke expert Julia Zuchov (Julia went to college in a town with multiple poke options and is thrilled that it's finally come here), tried it out on a beautiful day.  The decor is clean, modern, and whimsical. While there is some seating and a large stand-up table, poke bowls are perfect take-out food, and that's what we did with ours. [caption id="attachment_10159" align="aligncenter" ]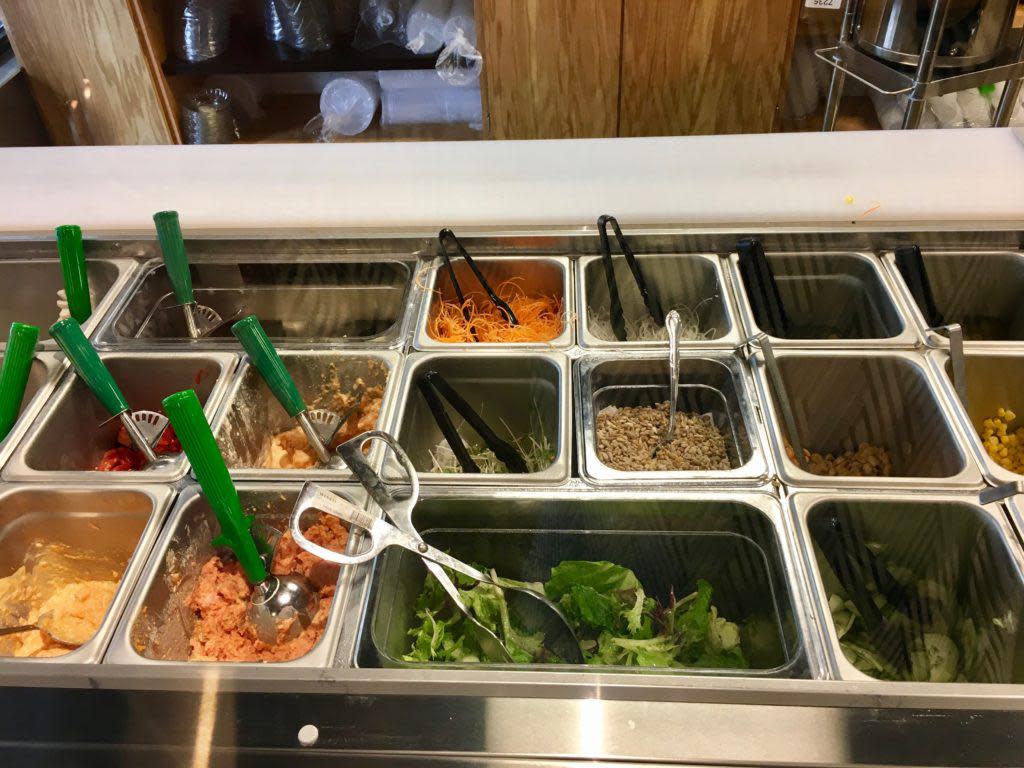 Bar of food choices[/caption] Poke is often customizable and the West Lafayette version is no different. It's like building a burrito in many restaurants where you order cafeteria style. Go through the line and select a base, toppings, sauce, and garnishes. The base can be organic rice, brown rice, or mixed greens. The raw fish choices are fresh salmon, ahi tuna, white tuna, baby octopus, kani (a food product made from fish) salad, spicy salmon, shrimp, lobster salad, and spicy tuna. Tofu is also available. Toppings include edamame, cucumber, carrot, corn, celery, pickled cucumber, pickled jalapeños, lettuce, peanut, white radish, and pineapple. For 50 cents more you can add either avocado, masago (fish roe), asparagus, cherry tomato, mango, seaweed salad, tamago (Japanese omelet), sunflower salad, or dry banana. The delicious sauce options are: ginger, yami, sweet wasabi, eel, spicy mayo, ponzu (like a citrusy vinaigrette), sesame, or fruit. Finally, the garnishes: sesame seeds, scallion, seaweed, tempura crunch, or ginger. If this seems daunting, seeing the bins of super fresh toppings and sauces makes it easy to design your own unique poke bowl. Regular bowls are $8.99 and large bowls are $11.99. We all ordered regular size and felt we could have handled the large! The hibachi menu is smaller. Each grilled platter includes mixed vegetables, brown rice, and teriyaki sauce. Grilled meats are chicken ($8.99), shrimp ($9.99), steak ($9.99), chicken & steak ($11.99), chicken & shrimp ($11.99), steak & shrimp ($12.99), salmon ($10.99), and eel ($10.99). [caption id="attachment_10160" align="alignright" ]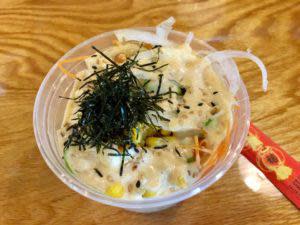 Tofu meal[/caption] Margy went simple with brown rice, tofu, and ginger sauce. She was impressed with the generous portion of tofu, and said, "The ginger sauce is hard to beat—it has plenty of spicy flavor." Julia was bolder and ordered fresh salmon with jalapeños, seaweed salad, and spicy mayo on rice. "The flavors come from the surrounding ingredients and add to the fresh salmon taste," she said. "I think it's my new favorite! There's nothing else like it in the area." Bev's bowl was lobster salad on greens with spicy mayo and seaweed and declared it delicious. "The Dining Divas actually have some complicated dietary restrictions," she said, "and just about anyone can eat here. It's so customizable!" [caption id="attachment_10158" align="aligncenter" ]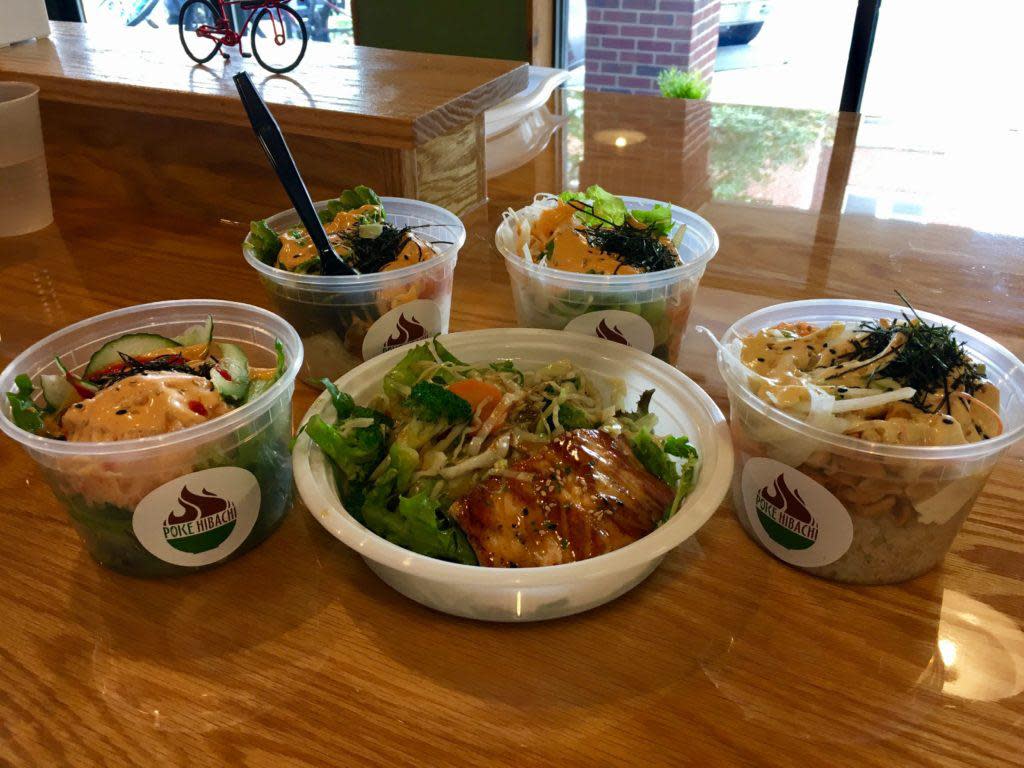 Poke Hibachi Food[/caption] Kay, normally our only enthusiastic fish eater, was skeptical of a raw fish salad in Indiana, but she was pleasantly surprised by the fresh spicy salmon on greens with avocado, edamame, white radish, spicy mayo, and seaweed-- a delicious combination. Jo was our only hibachi eater. She enjoyed the spicy salmon with greens and mixed vegetables. "The cauliflower and broccoli are extremely fresh and crunchy and add a wonderful texture to the spicy grilled salmon," she said. "And it was made to order which is awesome!" Jo also added, and we all agree, "It made for a great lunch, which was so enjoyable to eat outside on a nice day in the Village." [caption id="attachment_10157" align="aligncenter" ]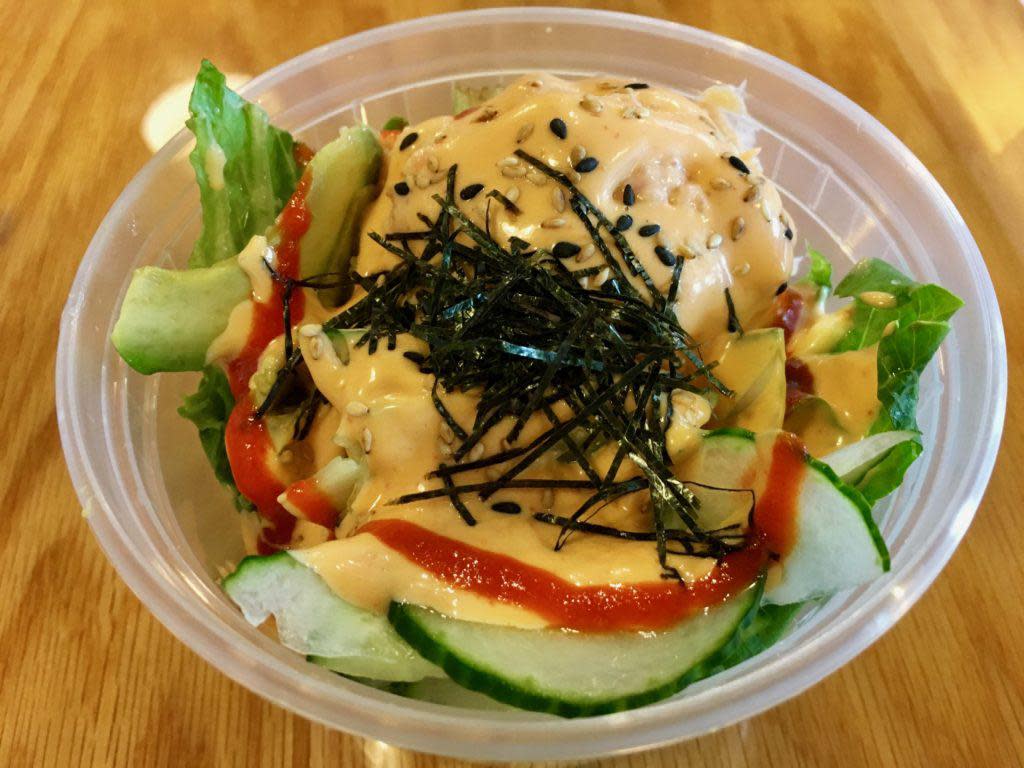 Raw Spicey Salmon[/caption] One recommendation is that if you are with a group and some are having poke and others hibachi, let those getting the grilled food go first. It takes a bit longer than the poke bowls since it is cooked to order. It's going to take many return trips in order to try all those delicious sauces. Find Poke Hibachi at 112  Andrew Place, tucked behind Mad Mushroom. See you there!