[caption id="attachment_6281" align="aligncenter" ]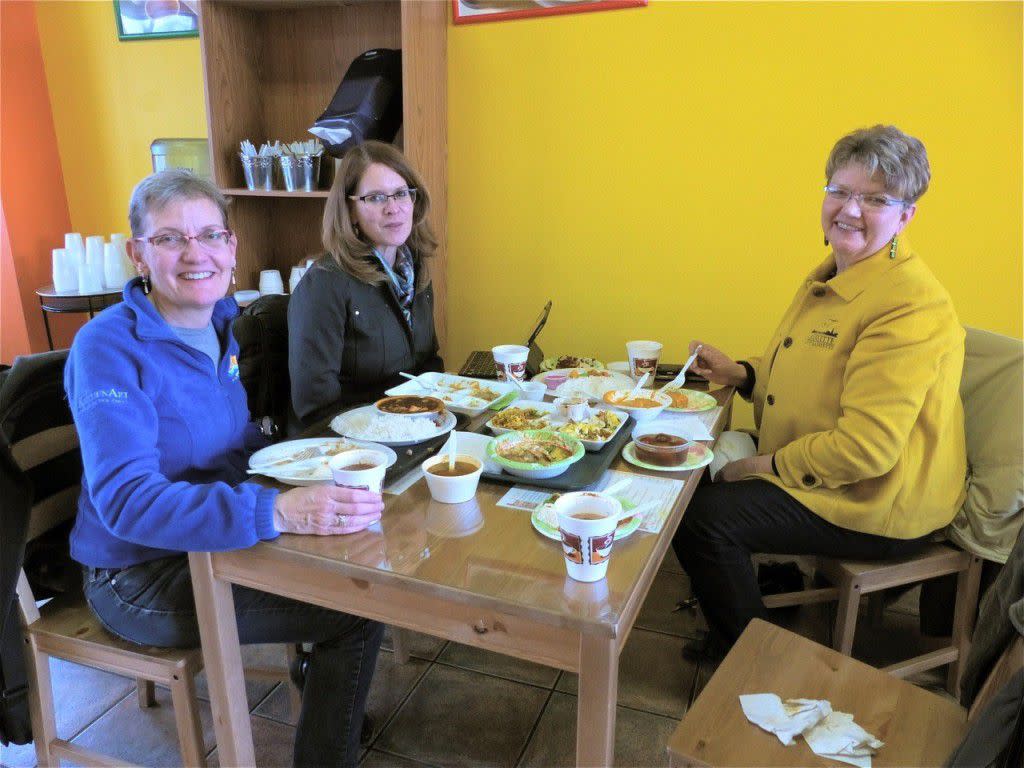 Dining Divas visit Shaukin[/caption] If you think you've had Indian food but haven't had Indian
street
food, then you've had an incomplete experience. The Dining Divas were thrilled to munch their way through the menu at
Shaukin; Indian Fast Food
in River Market on River Road. Street food is popular throughout India but most especially in the west where a huge variety of small snacks can be found, often for very reasonable prices. Luckily for our community, the owners, Himanshu & Minal Bhatt, brought street food to West Lafayette. [caption id="attachment_6282" align="alignleft" ]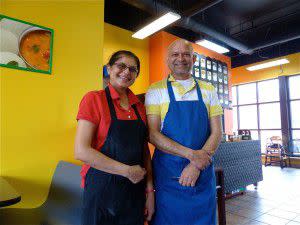 Himanshu & Minal Bhatt[/caption] They came from India to Orlando, FL where they started as dishwashers, moved on to cooking and opened a restaurant there. Their son was a student at Purdue and he let them know there was nothing like Indian street food in our area. They moved to town, opened Shaukin, and we are so glad they did. Colorful photos of the menu options--plus numbers if you're shy about uttering foreign words-- make ordering a breeze. We started with
Hot Masala Tea,
which was sweet and milky like a spicy hot chai. Next up, the Chaat Platter #18 ($7.99) featuring sampler portions of five chaats which means a savory snack. The word is derived from a word meaning to lick, to devour with relish, to eat noisily. The Divas are too polite to lick or eat noisily, but we did devour the delicacies with relish! [caption id="attachment_6289" align="alignleft" ]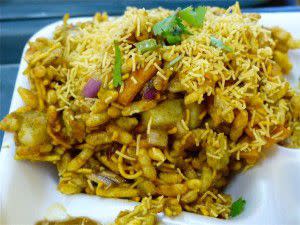 Bhel puri[/caption] Here are a few more vocabulary words for you.
Puri
is a flat crunchy bread and sev is a seasoned crunchy noodle. Mix those with spices, potatoes, onions, chutneys, chickpeas and yogurt in various combinations and you have a multitude of chaats to enjoy, each with a distinct flavor and texture. #14 Papdi Chaat is Kay's favorite. "The combination of colors and flavors and the solidity of the chick pea and the crunch of the chips—there's really a lot going on in your mouth!" All the Divas liked #15
Samosa Chaat
($5.99). Under all the goodness of chickpeas, onions, chutneys and yogurt, there's a piping hot samosa (fried pastry typically stuffed with savory things like potatoes, lentils and peas) waiting for you. [caption id="attachment_6285" align="alignright" ]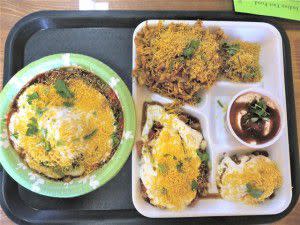 Samosa chaat and chaat platter[/caption] "Samosas alone are delicious, but samosas swimming in yogurt and sauces are even better," said Margy. The samosa is crunchy when it's served so eat it right away to enjoy the textures. We moved on to #6 Idli Sambar ($5.79), which consists of steamed rice cakes served with sambar (
a spicy lentil-based vegetable stew
) and coconut chutney.  We loved the coconut chutney, which is not the sweetened coconut most Americans know. It's creamy and delicious. We put it on everything and would probably order a side of this even if we didn't get the idli! [caption id="attachment_6286" align="alignleft" ]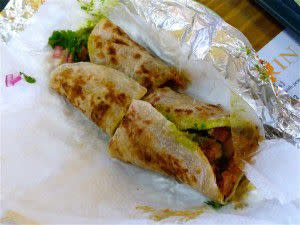 Aloo frankie[/caption] Next up, the #9
Aloo Frankie
(($5.79), a flat bread stuffed with spiced potatoes, onions, vinegar & chutney. This is spicy hot and one of Margy's favorites. She says it freezes well, but we didn't leave a scrap so we'll have to try that another time. You will have noticed a repetition of ingredients by now—onions, potatoes, chutney, yogurt—but in the hands of excellent cooks with great knowledge of spices, no two dishes taste the same. [caption id="attachment_6287" align="alignright" ]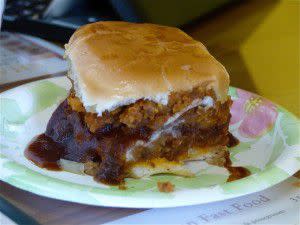 Dabeli[/caption] #17 Dabeli ($3.99) was a selection that we might not have chosen based on the description—mashed spiced potatoes in a bun. In the U.S., we don't often eat potatoes on buns—but served with 3 chutneys, onions, nuts, sev, cilantro and—get this-- pomegranate, it was amazing! Wow! Spicy and every flavor of these varied ingredients danced in our mouths. [caption id="attachment_6290" align="alignleft" ]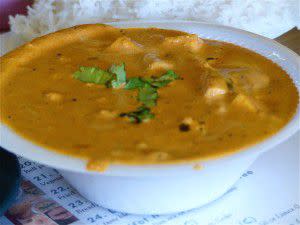 Curry paneer[/caption]   Another of our very favorites is #19
Curry Paneer
($7.99). Cubes of tender paneer (a fresh non-melting cheese) in masala sauce are served with rice. It is incredibly savory with a complex blend of spices. This can be ordered with chicken instead of paneer. We don't want to know the calorie count of this creamy goodness. The #20
Chilli Chicken
($7.99), made of bell peppers, green onions, soy sauce, vinegar and chicken (paneer can be substituted) had nice complex flavors and is very different than the other dishes. [caption id="attachment_6288" align="alignright" ]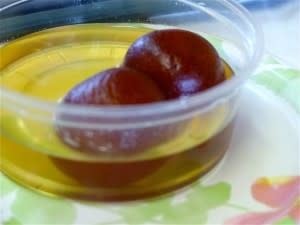 Dessert cake balls[/caption] When we were too full to appreciate it, we were given a complimentary portion of Gulab Jamun, a
dessert
of deep-fried balls of dough soaked in a sugary syrup. Happy sigh… The Bhatt's son has graduated now but they are staying put and have just signed a lease for another five years. They expressed thanks to everyone in West Lafayette, from the building inspector and fire department to the students who love Indian fast food, all were so helpful when they started their business. Since Bev works with the City of West Lafayette, she ate that up as happily as the Dabeli! On an
Indian food
high, Bev reached out to friends who know plenty about the cuisine. Sundeep Rao said Shaukin's Batata Vada, Bhel Puri, Dahi Batata and Sev Puri are simply phenomenal and extremely authentic. "Their Frankies taste just like what I used to have near my house back home (a spot renowned for local foods) in India," he said. "They have, by far, the best Bombay street food ("Chaat") that I've ever had in the US." That's high praise! [caption id="attachment_6291" align="alignleft" ]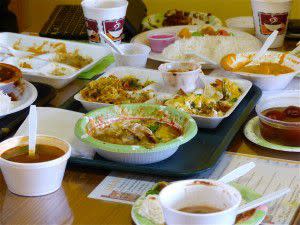 After...[/caption] Still on a mission to keep talking about the food even though she was too full to actually consume anymore, Bev wrote another Indian foodie, Richard Fudge, who said, "Recently, I had a masala dosa from the 'specials' board. A
South Indian specialty
, it's more substantial than a snack: enough food for a meal. The dosa is a large (15 inches or so) crispy crepe made from rice flour. It contains a mildly flavored potato filling and is served with sambar (a flavorful vegetable and pigeon pea soup) and a side of coconut chutney. The sambar at Shaukin was superbly flavorful and fresh tasting. The crepe is cooked just before it's served, so it tastes freshly cooked--unlike too much Indian food in restaurants." Sundeep also recommended the vada pav, another potato/bun combination with a blend of chutney and spices so on a return visit, Bev picked up an array of savory treats to go and headed across River Road to
The Pint
, a craft beer bar with an open food policy. Great idea for a date night, the vada pav was as good as Sundeep said it would be, and it was the best $3.49 she spent all week.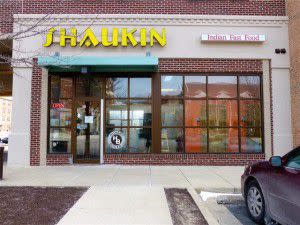 Currently,
Shaukin
is open Tuesday to Thursday from 4-10 PM, Friday to Sunday from 12-10 PM and is closed on Monday. Himanshu said they plan to add staff so they're open more days for lunch in the near future. The Divas soundly approve that plan!  In the meantime, it's a great stop on weekends or to pick up an easy and wonderful dinner on your way home from work. Step away from the rut you're in and give Shaukin a try!