Banh Mi Eatery, located at the corner of S 4th Street and Owen in Lafayette, is a Vietnamese restaurant and catering business owned by Tina Minjares. Tina previously owned Greenleaf in West Lafayette, which was a favorite of many in the Dining Divas & Dudes group who visited Banh Mi recently. Tina, who is charming and welcoming, arrived in our area by a circuitous route. Escaping Viet Nam with her family as some of the many boat people who left after the end of the Vietnamese war, Tina went to Malaysia, the Philippines, California, Massachusetts, and Indianapolis, before landing in West Lafayette, when her daughter went to school at Purdue. Margy, one of our charter members, was a frequent visitor to Greenleaf and was impressed that not only did Tina remember her name when she first visited Banh Mi, she also remembered Margy's favorite, #21 on the Greenleaf menu, a rice noodle bowl with tofu. Banh Mi has been more successful than Tina expected, doing lots of take-out business, as well as catering for Purdue and IU Bloomington, among others. The restaurant is small, but there are a number of tables for eating in. Business was brisk while we were there.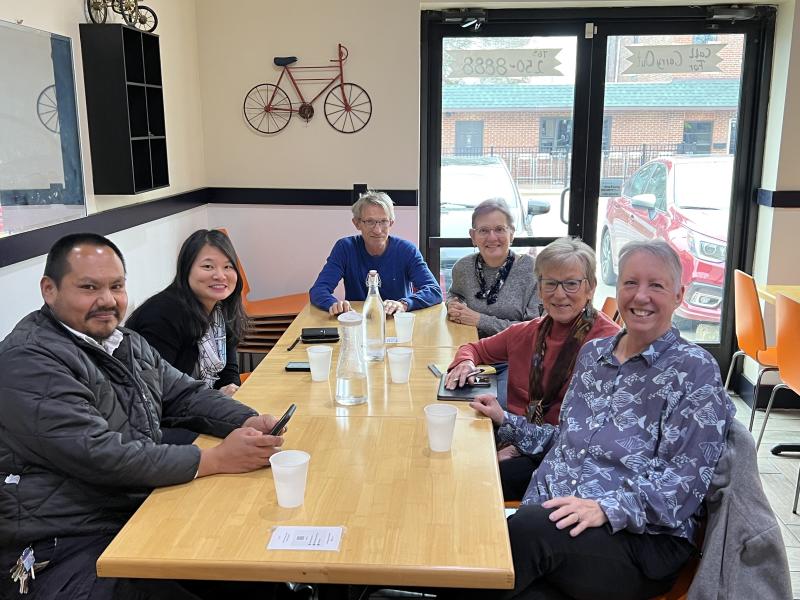 Checking the definition of Banh mi in Wikipedia suggests Banh can be used for several kinds of bread and mi is wheat. The term generally refers to a Vietnamese sandwich and that was the shop's original specialty, subsequently adding a variety of the noodle, rice, and side dishes popular at Greenleaf. The bread in a Banh mi sandwich is reminiscent of a French baguette, a crisp crust with soft insides. Fun fact, the French baguette has just been granted UNESCO World Heritage Status! The use of the baguette in Vietnamese cuisine reflects the colonization of Viet Nam by France starting in the 1860's.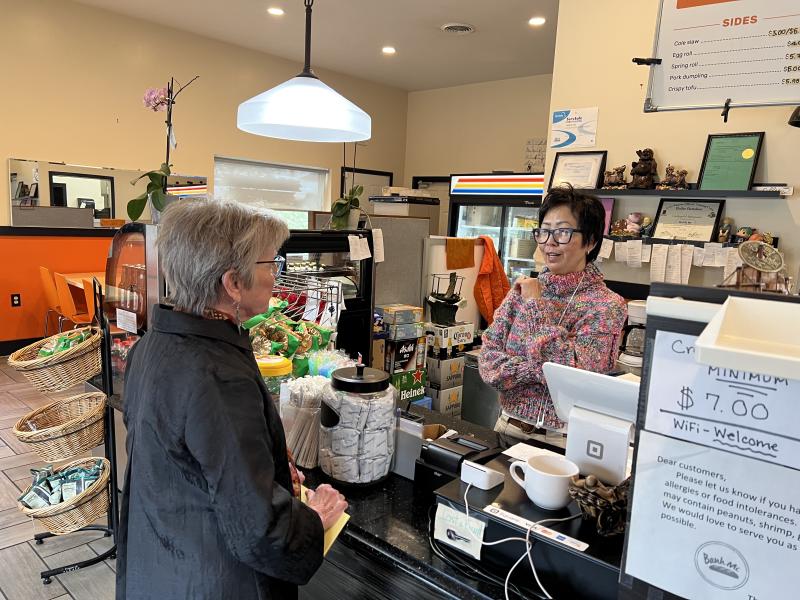 So what did we eat?

We started with Crispy Tofu, Pork Dumplings, and Spring Roll Pork & Shrimp. All were delectable. Iseral reports that when he goes to Banh Mi, he orders the spring rolls as his meal. "It makes me feel good—it's a healthy meal with a bright, herby, refreshing flavor". Tetia thinks Banh Mi has the best crispy tofu in town, crispy outside, smooth inside. Some of us prefer the crispy outside part best (more on that later). And the dumplings were perfect. All are accompanied by dipping sauces.

Iseral had the Classic Banh Mi, a sandwich with cold cuts and vegetables, spiced just right. "The thinly sliced jalapeños brought out the flavor!" The freshly baked baguette-style bread was a delicious compliment to the filling.

Linda loved her Sauté Shrimp and Pork Salad. As a fan of Greenleaf's Shrimp Salad, she was impressed with the addition of thinly sliced, perfectly seasoned, tender pork to the mix. The shrimp was cooked just right and the Vietnamese dressing (fish sauce, vinegar, lime, garlic, chili, sugar) enhanced the salad. "And they left off the onions, just like I asked!"
Margy has several favorites at Banh Mi, but decided on the Tofu Banh Mi. "I like having a sandwich with my peanut sauce!"  She grudgingly shared some of her large portion of peanut sauce with Jo, who reported it was great with her shrimp. For the sandwich, the tofu is sliced thin and fried, making the ratio of crispy outside to soft inside higher than in the tofu appetizer, and the vegetables were very fresh, with the jalapeño adding a bit of heat.
Another specialty of Banh Mi is their Pho, considered by some to be the national dish of Viet Nam. Pho normally consists of beef broth, rice noodles, herbs, and meat. Tetia chose Pho with meatballs. She shares, "The broth is the most important element of Pho". It had a wonderful beefy flavor, the meatballs had a good texture, and the other elements—rice noodles, green onions, Thai basil, lime, jalapeños, and cilantro—combined to give the soup a multi-layered, soft, crunchy, flavorful finish. A dash of Sriracha completed the meal.

Jo had the Shrimp Salad, another staple of the old Greenleaf, which had a generous portion of well-seasoned, perfectly cooked shrimp. In addition to Romaine lettuce, there were cucumbers, onions, tomatoes, and cilantro and all together with the Vietnamese salad dressing and a bit of borrowed peanut sauce made Jo a happy eater. Jo said "I so enjoyed Tina helping me choose my meal.  Banh Mi is so accommodating to picky eaters!"
Jerry ordered the Sauté Chicken with Rice Noodles and had licked his bowl clean before it was his turn to report on his meal. Obviously, he found it favorable. Trying to reconstruct what had been in his bowl, he said the sautéed chicken was nicely seasoned atop the noodles and the condiments on the side—cilantro, cucumbers, onions—are arranged separately. Add the sauces and mix it all together and you have lunch heaven.

Kay, always a sucker for all-day breakfast, ordered Sausage & Eggs with Rice. There are several other combinations you can order with rice as there are with the rice noodle dishes, but this seemed unusual and interesting to Kay. The sausage was a Vietnamese pork sausage link, very finely ground and a bit sweet, the star of the dish. Spiced up with the accompanying dressing and Sriracha made it satisfying comfort food.
You won't go wrong trying Banh Mi Eatery—there's something for everyone and if you don't see it on the menu, just ask!
Dive into Asian Cuisine! Check out these blogs: