The Dining Divas & Dudes had a hankering for Mexican food and visited Senor Tacos recently, located at 1803 Veteran's Memorial Parkway in Lafayette, open everyday, except Sunday, from 11 am to 10 pm. The parking lot was packed, the restaurant was full, and the server did an amazing job. Originally known for their tacos, they have a diverse menu and devoted fans. Safe to say, all in our party loved their meals and licked their plates clean. Since we could only sample a fraction of their menu, a return trip may be warranted.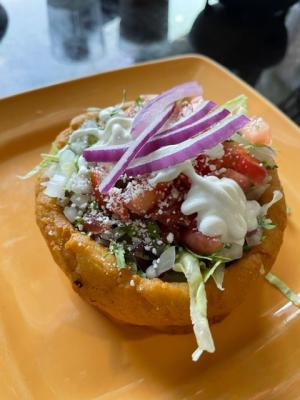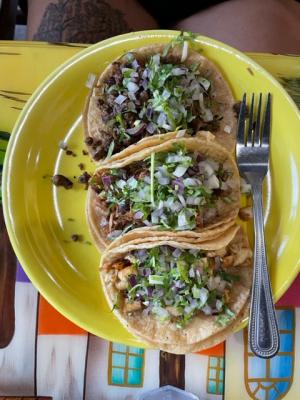 Owned by Chef Jose Garcia and his wife Anne, Senor Tacos is a family affair. The decor is exuberantly colorful with Mexican images covering all the surfaces of every chair, booth, table, wall: mariachi bands, agave (for making tequila and mezcal) farms, dancers, ranches, and more.

Lunch began with a serving of chips and salsa, which had the perfect amount of spice, as we looked over the large menu. Many of the menu items include fresh onions, tomatoes, avocados, sour cream, and cheese, with the accent on fresh.

Jo was delighted to find something on the menu she could eat with only minor modifications: the Fajita Taco Salad with Shrimp. Served in a large tortilla bowl, the salad came with tomatoes, lettuce, onions, peppers, guacamole, beans, sour cream, and cheese. Jo declared this salad "Awesome", the shrimp was tasty and they made it exactly to her specifications. Jo didn't eat the 'bowl' because she is crazy, but I can attest it was good and crispy.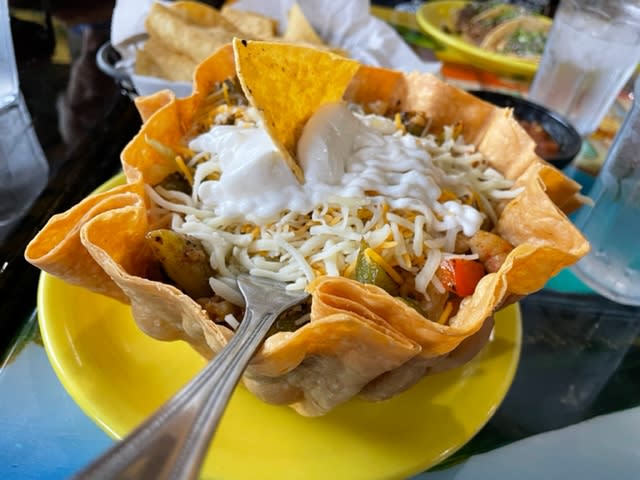 Tetia, who was excited to be able to habla Espanol when ordering, got one of the Combinaciones (2 or 3 items, accompanied by refried beans and rice). Her combo included a lengua (tongue) taco, a carnitas taco, both served Mexican style (cilantro, onion, lime), and a barbacoa enchilada. She was impressed with the unexpected smokiness of her refried beans and the barbacoa enchilada was a stand-out with hints of chocolate, mole, and a slight sweetness. The lengua in her taco was very tender.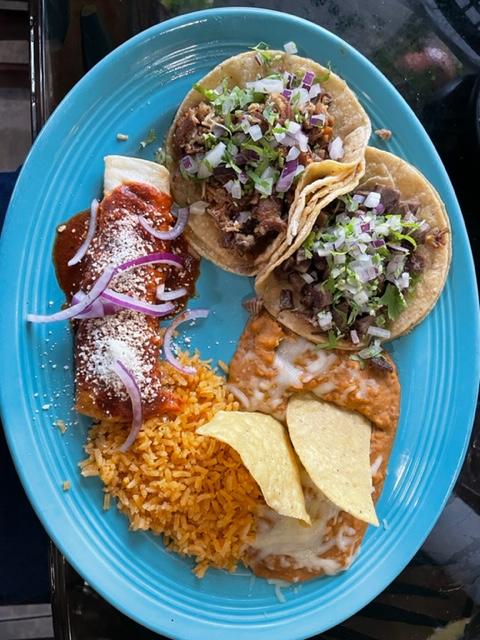 Margy got a vegetarian sope. A sope has a masa base with beans, veggies, cheese, and sour cream. Order with either meat or cactus pads. Margy skipped the meat. She appreciated the flavor and the portion size, but also loved her horchata. Horchata is traditionally made with rice, cinnamon, vanilla, and evaporated milk. Margy claims "you can't find a healthier drink", it was sweet and cinnamony.

Iseral, one of the Dudes, who is also well versed in Mexican food, chose a Torta, which is a Mexican sandwich with choice of meat (he picked steak) with onions, tomatoes, lettuce, avocado, cheese, and sour cream. It was a satisfying, filling, comforting meal. Iseral declared it would be a perfect meal after an evening of imbibing!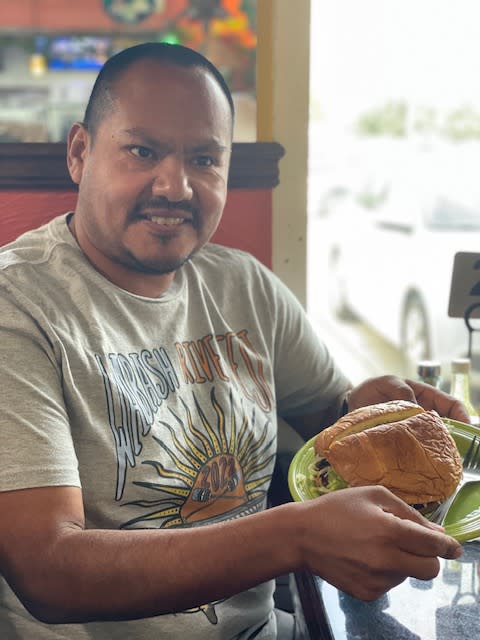 Whitney ordered 3 tacos: pollo (chicken), carnitas, and azada (steak). "Gas in the tank, money in the bank" was her assessment of the pollo taco. The carnitas taco was the second best she has ever had in her life. And the azada taco was smoky, slightly sweet, and very good. Whitney was also taken by the little spoons accompanying the sauces: the cutest things she had ever seen! Whitney is big on superlatives.

Jerry had the Cubana, one of the Mexican sandwiches or tortas. It consists of breaded steak, sausage, roast pork, Muenster cheese, with lettuce, tomato, onion, avocado, and sour cream. It's a BIG sandwich, and Jerry, who is not a BIG guy, polished it off and noted that the veggies were really fresh and that it's not a sandwich you can eat while you drive. Jerry saved room for dessert and ordered the Flan. He said it was perfect, superb in fact, exactly like a flan should be, and he'd come back just to have that again. We were all sorry we hadn't accepted his offer to have a bite.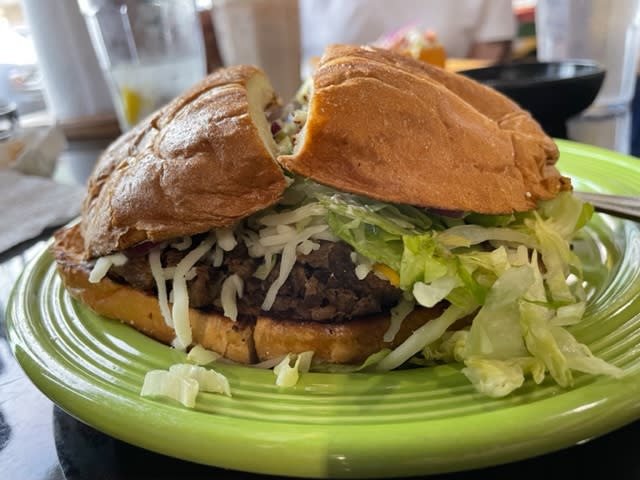 We left full and happy and the restaurant was still hopping!
Love Mexican Cuisine? Check out these blogs!