A new year and a new restaurant review.  Taste of India (211 S River Road, Unit B, W Lafayette) is not a new restaurant, having been there about 3 years, but it is new to the Dining Divas & Dudes.  And though some have been there before, this was the first group outing and we had a very pleasant experience.  Taste of India is owned by Balajit Singh and managed by his nephew, Mr Singh.  It's an attractive space with a bar (beer and wine) on one side and on the other side is additional dining space they are adding, so it will soon be twice as large.  One impetus for reviewing Taste of India was an experience our fearless leader Jo and her staff had over the holidays.  There was an inquiry to the Visitor's Center about what restaurants were open on Christmas Day.  After some searching, Taste of India responded, and the visitors dined there and were delighted.  It is worth noting, Taste of India is open every day of the year.  Also worth noting, your bill will be 10% less if you pay in cash.
A sign greeted us on the way in:  Buffet Now Open!  Covid put an end to buffet dining, but it is slowly coming back.  One of the great things about Indian buffets is that the dishes are so numerous and varied, it's fun to have a little taste of everything before going back to load up on what you loved.  There's something for meat eaters, vegetarians, and vegans.  Five of us opted for the buffet and two of us ordered off the menu.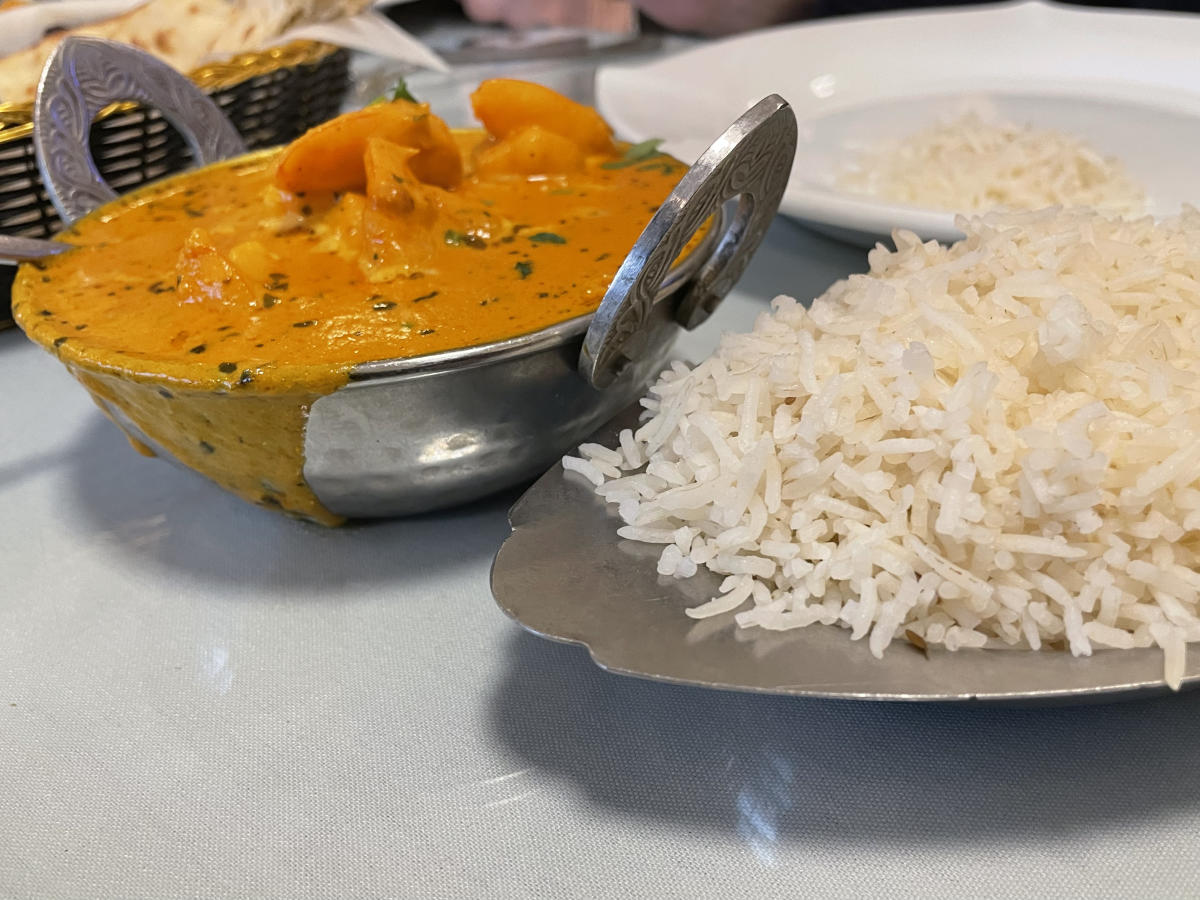 Jo and Linda ordered shrimp dishes.  I think we have a rule about everyone ordering something different, but Jo is the boss, so…. They did at least order different shrimp dishes.  Jo had Shrimp Masala, which is cooked in the same sauce used in Chicken Tikka Masala, but Jo had the option of controlling the heat.  "I relished all of the sauce. It was just the right spiciness for me, and I wouldn't have known that without the input of the gentleman who took my order.  That's the sort of assistance that is so important to be able to love your food".  Jo doesn't eat rice, but she managed to polish off her ample sauce without the assistance of rice.
Linda ordered Shrimp Makhani, shrimp cooked in the same sauce as Butter Chicken, and Paneer Naan, which is naan stuffed with homemade cheese.  "I ordered it mild, because I am a wimp, and it was perfect for me.  The naan was excellent as well, with the cheese adding a nice texture and taste."  Linda had planned to save half her meal to take home, but we noticed she polished it off with no need for a to-go box.
One of the other long-standing "rules" for our reviews is that we don't use "good" or "delicious", but instead try to use more descriptive adjectives.  However, Iseral came up with his own rating system for the buffet.  He tried 13 items on the buffet, which included 4 desserts.  Palak Pakora, fresh spinach fritters and Aloo Gobi, potatoes, cauliflower, spices & herbs earned "LOVE LOVE".  Channa Masala, curried white chickpeas, onions, tomatoes, spices & herbs and Chicken Curry, chicken stewed in a tomato-based aromatic sauce earned "LOVE". Iseral also had Peas Pulao Rice, Tandoori Chicken, Saag Paneer, Dal Makhani, and Naan.  He LIKED them all, and I noticed he made a few trips back to the buffet.  Mango Fruit Custard was his favorite of the desserts offered.
Margy, our vegan (formerly vegetarian) member says "The buffet is always my first choice!   I love to try small amounts of multiple dishes looking for new favorites.  To my surprise, I went back a second time to get more of each, so I guess that means I have 5 new favorites!". They were:  Vegetable Pakora, Aloo Gobi, Peas Pulao Rice, Channa Masala, and Mint Chutney.  "Spice level of items on the buffet was medium, except for the Chutney.  Woo!  It was perfect heat!"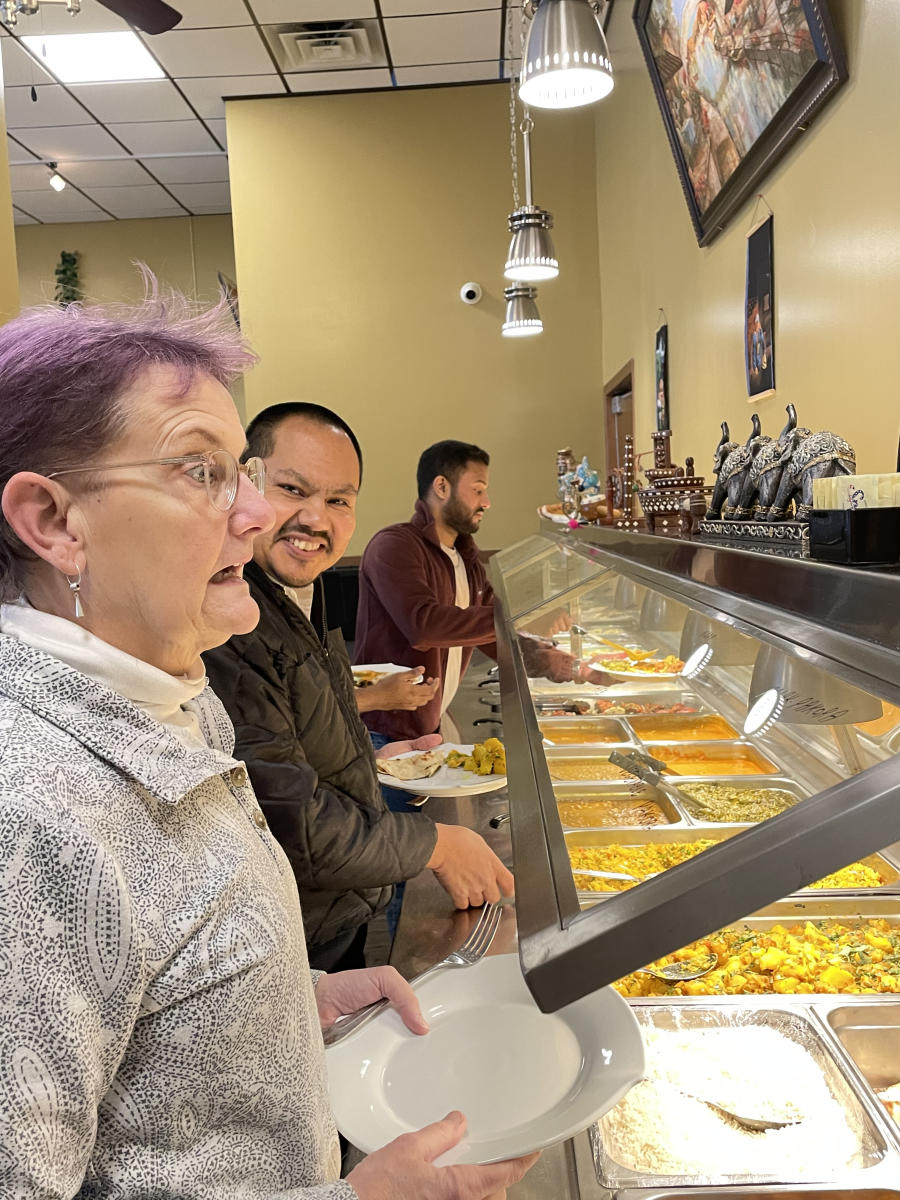 "I was very happy to see the return of Taste of India's buffet!" Tetia's observation was shared by all of us who had the buffet.  Tetia liked the wonderful variety, vegetarian and meat options, and that there was a "good assortment of traditional dishes like Dal Makhani, Channa Masala, and Tandoori Chicken, all moderately spiced".  Special kudos to the Mint Chutney—fresh herbs, spicy and creamy.   Tetia also enjoyed Rice Kheer, Mango Fruit Custard, and Seviyian for dessert.
Highlights for Jerry were Palak Pakora, Aloo Gobi, Peas Pulao Rice, Saag Paneer (homemade cheese cubes cooked in spinach and spices) over white rice, Channa Masala, and Chicken Curry, accompanied by naan.  We noticed he made several trips back to do further research on his selections, and stated "My palate left very happy!"
Kay tried a little bit of everything, including stealing a taste of Jo & Linda's shrimp dishes. Sometimes one has to use "good" and "delicious" to describe a meal and she would use both for the overall experience.  Standouts will sound familiar:  Palak Pakora, Aloo Gobi, Peas Pulao Rice, and Butter Chicken (chicken tikka cooked in a mild, rich tomato sauce).  Something new to her was Seviyian, a dessert made with vermicelli, milk, saffron, and cardamom, similar to a thin rice pudding.  "Yum!"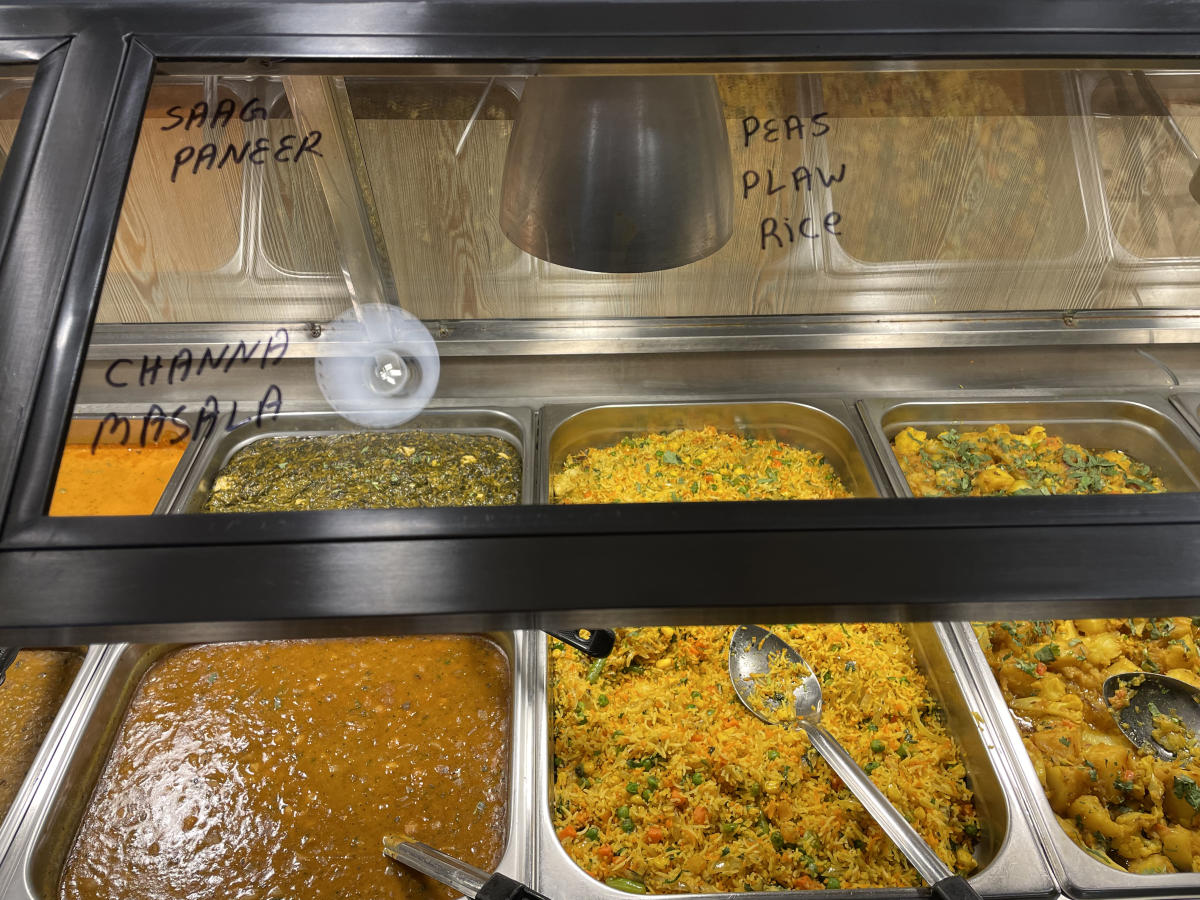 To conclude with another observation from Margy: "Our previous visits to Taste of India have always been perfect.  We appreciate the advice from staff taking our orders.  No need to be shy or make mistakes, they know what they are doing!"
DDD/s:  Jo Wade, Linda Eales, Jerry Hunley, Margy Deverall, Iseral Quintero, Tetia Lee, Kay Conner.
Dive into Asian Cuisine! Check out these blogs: