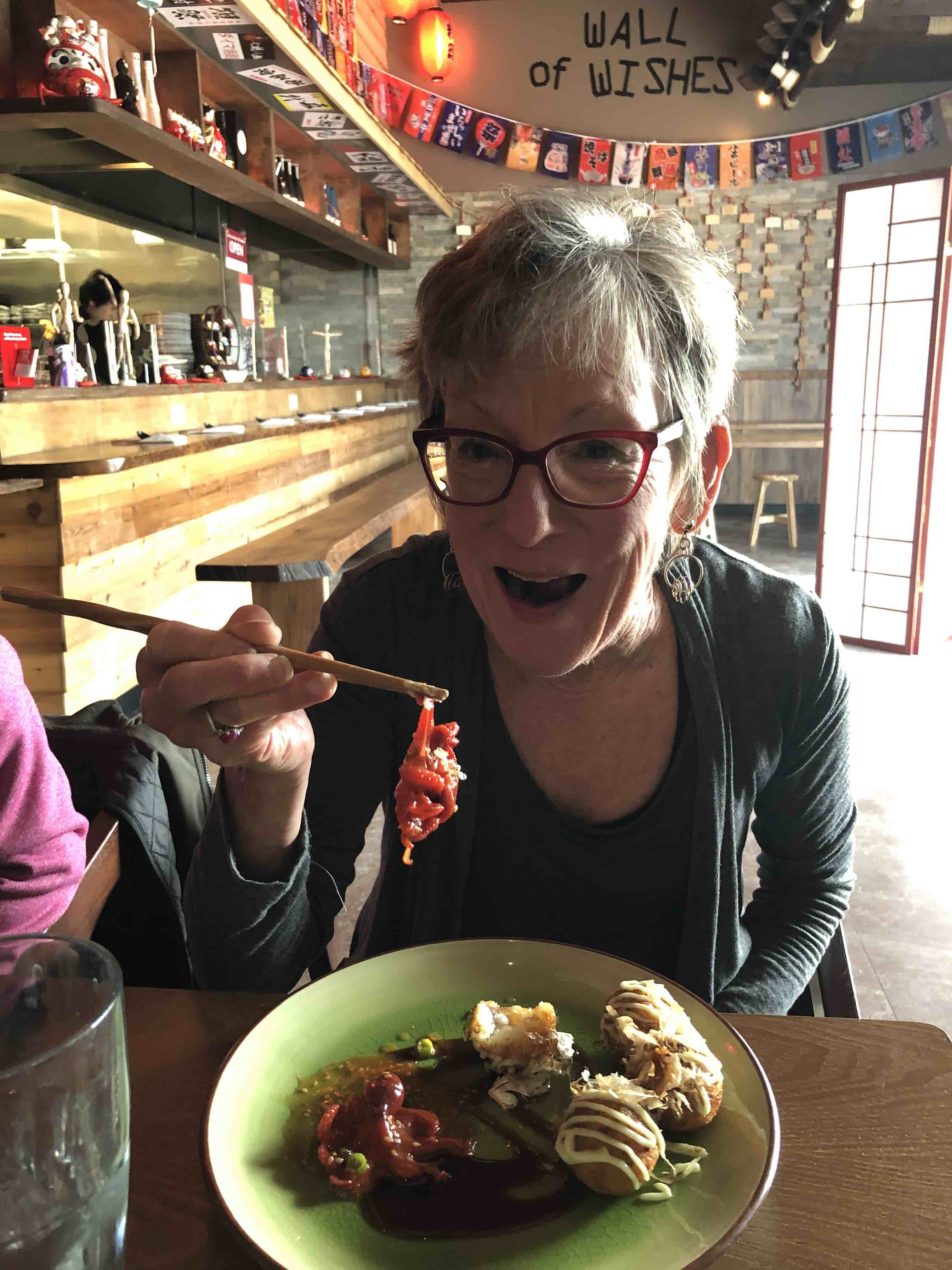 Tucked discreetly between the Verizon Store and Great Clips at Wabash Landing, it's easy to walk by the
Mukutan Ninja Chargrill and Izakaya
(a type of informal Japanese pub—think of tapas bars or Irish pubs, but Japanese) without noticing it, but you'll be sorry if you do. The Dining Divas, joined by guest eater Helen Green, met at Mukutan and were impressed by the decor, ambience, friendly service and welcome by the owner, and most of all, by the food. We had a leisurely lunch--this is not fast food-- in a space quiet enough to have a conversation, and it was obvious that everything was made to order. It was a cold day and we all enjoyed a bowl of warm, rich soup, not too salty. We added a bowl of edamame ($3.95) which had an unusual flavor. We narrowed it down to five-spice or star anise, unexpected and fresh. [caption id="attachment_11888" align="aligncenter" ]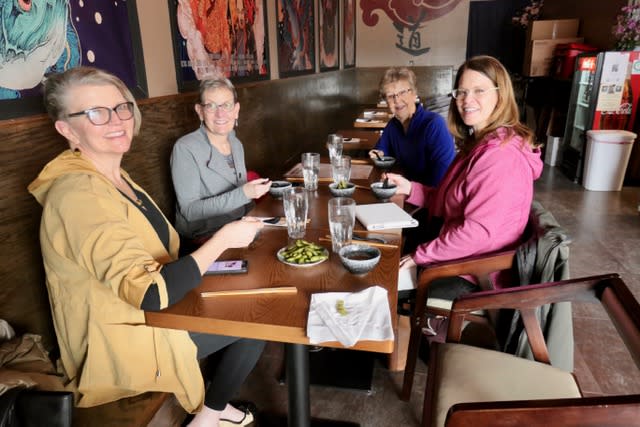 Dining Divas[/caption] Kay ordered from the appetizer menu for her meal because she is on a mission to sample every
baby octopus
in town. The dish was Tako-Takoyaki ($6.95). Takoyaki is a popular Japanese street food consisting of deep fried balls of wheat flour batter stuffed with vegetables and/or fish. The piping hot balls, with chunks of fish and green onions inside, were crispy outside and creamy inside and accompanied by several cold baby octopi, a great combination of textures, temperatures, and tastes enhanced by the two delicious sauces (JP mayo and okonomiyaki), and just right for a light lunch. The takoyaki were topped with dancing fish flakes, adding to the lovely presentation. [caption id="attachment_11894" align="aligncenter" ]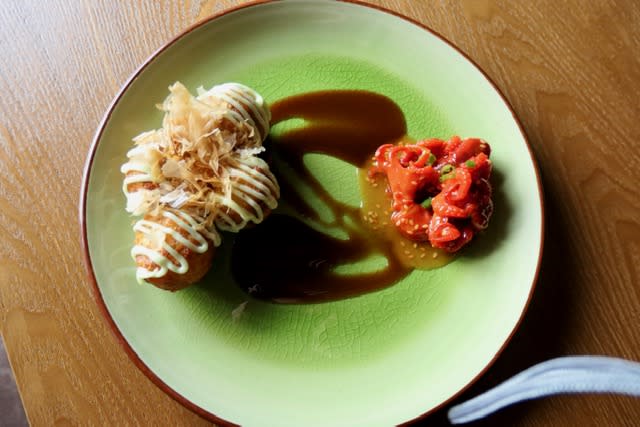 Tako-takoyaki[/caption] Jo chose the
Kinoko Mushroom Burger
($13.95) made of soy-sautéed wild mushrooms, fried shallots, pickled daikon, and truffle mayo ($13.95), with curly fries. Bacon, cheese, or avocado salad can be added for a small price. Kinoko means mushrooms or toadstools in Japanese. Jo was happy with how accommodating they were to her special requests and was impressed that the 'burger' was really lots of individual mushrooms formed into a patty rather than ground up. The combo of mushrooms and daikon was pleasing and again, the sauce enhanced the whole dish. Cheese was a welcome addition and unexpected at a Japanese restaurant. "I would have this again happily," she said. [caption id="attachment_11892" align="aligncenter" ]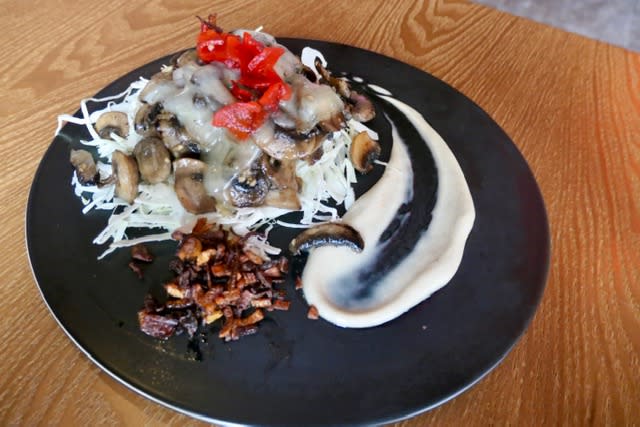 Mushroom burger[/caption] Our other vegetarian, Margy, tried the
Wild Mushroom Bowl
($13.95) featuring garlic griddle-fried wild mushrooms, an onsen egg, fried shallots, shredded cabbage, cherry tomato, marinated radish, & sesame dressing. An onsen is a Japanese hot spring where traditionally this type of slow-cooked egg was prepared. Margy noted that all the ingredients start out separate and are beautiful. The mushrooms are tender and tasty, the egg perfectly cooked, and the varied combination of ingredients made for many different tasty bites. [caption id="attachment_11891" align="aligncenter" ]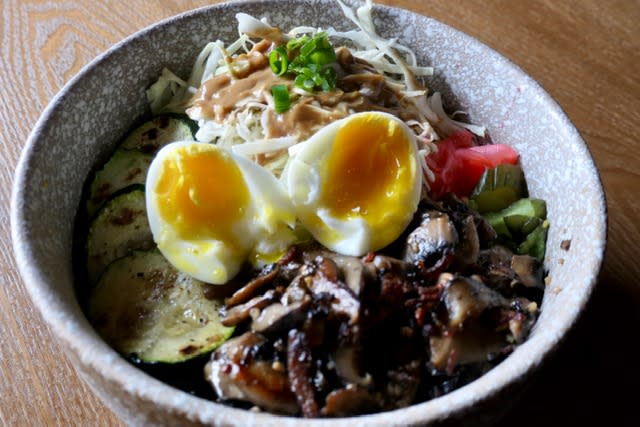 Mushroom bowl[/caption] Meat-eater Bev opted for Chashu Don ($14.95) with its griddle-seared soy braised
pork belly,
shredded cabbage, JP pickled cucumber, pork jus braised egg, tonkatsu sauce, & Sriracha mayo. Bev said the pork belly was nicely prepared and that the appeal of bowls is that you can customize the experience by picking what to combine in each bite. The serving size was hearty and she looks forward to trying the beef bowl, Gyudon. [caption id="attachment_11893" align="aligncenter" ]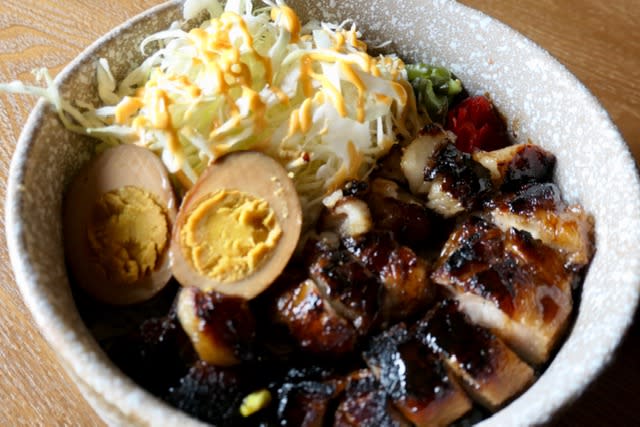 Pork belly bowl[/caption] Guest eater Helen ordered
Duck Duck Sticky
($16.95), an Asian spiced Maple Leaf farm whole duck leg confit, sticky rice, shiitake, marinated radish, fried shallots, & sun-dried shrimp. "The duck is extremely tender with perfectly cooked crispy skin. It's a challenge to eat with chopsticks because it's a whole leg, but it's a nice serving, and worth the work," she said. "The sticky rice is filled with flavor. Really tasty!" [caption id="attachment_11889" align="aligncenter" ]
Duck[/caption] The presentation of all our dishes was beautiful with pretty plates and bowls cradling food artfully arranged and sauced. The service is laid-back and friendly and there is a lot of humor among the owner and staff. Visits to the restrooms revealed surprises. Over the toilet in the women's room was a sign painted on the wall "Ninja will never let the ladies run out of toilet paper," and on the adjacent wall, floor to ceiling racks of toilet paper. The men's room, which we peeked into because we are truly dedicated bloggers, featured Subaru memorabilia. The menu has two sides-- one side is for lunch and dinner while the other side is only served at dinner which, at lunch time, serves as a perfect teaser for a future evening visit. Char-grilled skewers of vegetables, meat, and seafood including lobster, are offered at dinner and we look forward to trying them. This is not a typical
Japanese menu
so it is certain to offer something for everyone. For a group of friends with divided culinary interests, some can take the adventurous path of octopi while others enjoy the comfort of a cheeseburger and fries! Brilliant!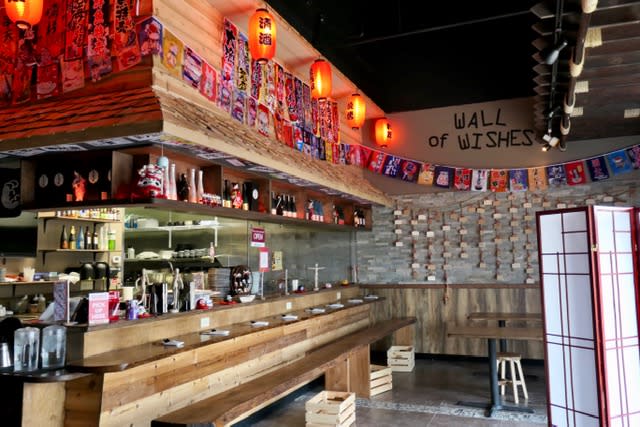 Kay Conner, author and photographer, seafood superstar Margy Deverall, author of Lafayette articles, dedicated vegetarian Beverly Shaw, author of West Lafayette articles, bring on the beef (or chicken or pork) Jo Wade, founder of this food blog, very veggie