The Dining Divas and Dates eagerly researched the offerings of the Emergency Munchie Truck (EMT) during one of its regular visits at the West Lafayette Farmers Market. [caption id="attachment_5566" align="aligncenter" ]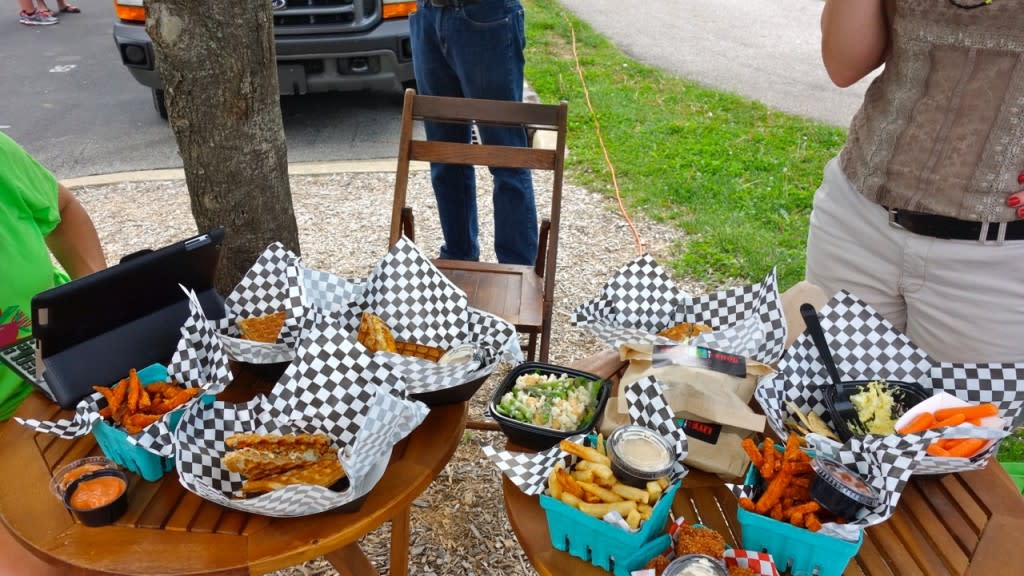 Check out all this amazing food![/caption] The EMT makes a clever first impression with the retrofitted ambulance turned into a food truck, complete with an electrocardiogram across its side. We wanted food-- stat! The charming second impression is made by owner Amber Davis, dressed in scrubs,  as she leans out the window to take your order. (She says she visits her chiropractor regularly due to the window bend she performs so often!) She's joined by boyfriend Kenny when he's not being a stuntman (Chicago PD, Drive & the latest Indiana Jones movie are all on his resume), mom Debbie, and Purdue student Susan. The tasty third impression is in the unusual array of vegetarian food featuring whole grains, organic and/or local ingredients, vegan and gluten free options, with an effort made to avoid high fructose corn syrup and MSG. Don't let the technical details get you down—this stuff is delicious and creative. Read on! [caption id="attachment_5557" align="alignleft" ]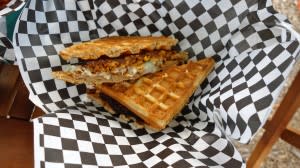 Triple B[/caption] When the votes are tallied, our favorite dish (Bev, Jeff, Jo & Jerry) is the Triple B, a black bean burger with blue cheese and spicy buffalo sauce served on crunchy, savory waffles. It sounds strange but you'll quickly adapt to the waffle concept and all their sandwiches are served this way. Those waffles provide little pockets for all the yummy sauces we loved so much. This burger has some zing to it and we enjoyed the blue/buffalo flavors. [caption id="attachment_5558" align="alignright" ]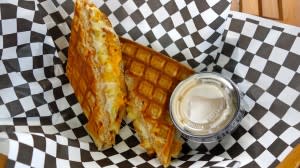 Triple M[/caption] Kay's favorite is the Triple M, a mac & cheese stuffed grilled cheese sandwich with cheddar spread and creamy Muenster. We like it even more with a dash of Sriracha sauce which they have on hand. Mac & Black blends the best of both triple burgers with a spicy black bean burger topped with mac and cheese—then there's more cheese and buffalo sauce for a good, hearty sandwich. Margy and Dan cast their votes for this one! Want something lighter? Check out the egg salad, made-to-order fries with secret munchie sauce, or the very tasty sweet potato fries. We all decided that when we rave about the EMT, which we do, we'll rave about those sweet potato fries with chipotle ketchup—and those words come from the mouths of some people who wasted their entire lives thinking they didn't like sweet potatoes! This isn't your mother's sweet potato & marshmallow casserole. [caption id="attachment_5560" align="aligncenter" ]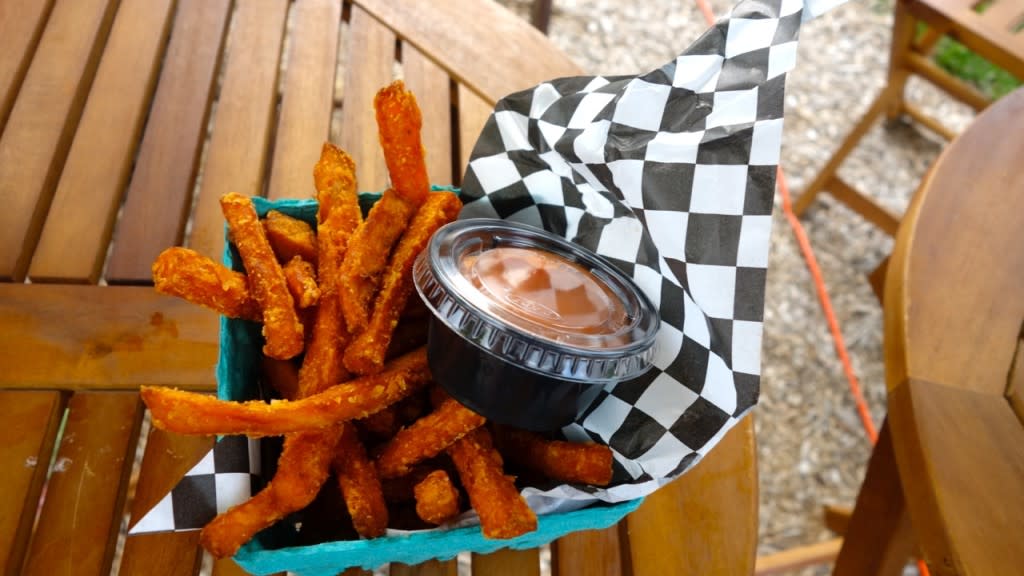 EMT Sweet Potato Fries[/caption] [caption id="attachment_5561" align="alignright" ]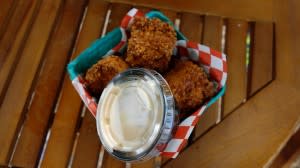 Mac & Cheese Nuggets[/caption] At this point, we're getting seriously sated but there's so much more to try. Mac Bites, fried bundles of mac and cheese with secret sauce are always popular, and poutine, beer cheese (made with People's Brewing Co. beer) and pretzel stix have us digging in for more. There are the always-changing, seasonal favorites which is where Amber gets to do what she loves best—create innovative foods-- and where local veggies from Cooley Family Farm influence that creativity.  Summer brings grilled cheese with asparagus, a chickpea and couscous salad with asparagus, eggplant parmesan served on waffles, and corn and tomato salad, while autumn brings apple fries (apples from Wea Creek Orchard) chili, sweet & spicy curry, and black bean burgers with apple slaw. [caption id="attachment_5562" align="alignright" ]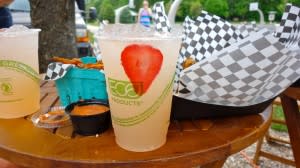 Fresh strawberry lemonade[/caption] Dining Dan isn't a vegetarian but even he's happy! And Jerry, who voted for that Triple B burger, says he'd change his vote to the freshly made strawberry lemonade-- served with the rim of the cup dusted with sugar-- if it just had a shot of vodka in it. At this point, we've fed seven people, we're all stuffed to the gills and the only thing left on the table is a few baby carrots.  As we settle in to that post-dining diva haze, we turn our brains back on and notice that the plastic cups are compostable and food items are served in paper baskets or recyclable plastic. There's no Styrofoam to be seen.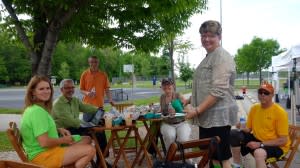 Our surroundings at the West Lafayette Farmers Market are lovely with great local music, the opportunity to see lots of friends, and pleasant weather. Jerry notes it would be a perfect spot for an online meeting/date-- very safe and casual. He quickly assures his wife, Margy, that he's not done that—he's just thinking of others. Kay is delighted with an evening sitting under a tree with live music, good friends and sweet potato fries. Jeff says it's a wonderful place to meet his wife, Bev, for a stroll, dinner and fresh local produce—plus it's the only way he gets to see her on Wednesday evenings since that's where she spends her Wednesdays. [caption id="attachment_5564" align="alignright" ]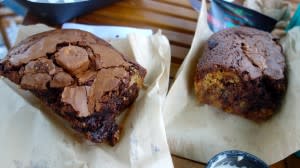 Stuffed brownies[/caption] Jo heads back up to the truck because we really must try the stuffed brownies which we declare are fabulous, delicious and sinful.  The receipt for all this goodness ($60 for seven people with dinner, dessert and lemonade) will be emailed to her, completely itemized, and she knows when she looks it over, she'll want all this goodness again. Amber got into this business as food trucks became popular around the country. "I've always loved to cook," she says, "and since I'm a vegetarian, I needed to get creative." Turns out she used to sell corrugated pipes so the Dining Divas are thrilled she changed course. She and her team cook out of the YWCA's certified kitchen and work 12-15 hour days including most weekends. About 50% of their time is spent in the truck while the rest is spent shopping, prepping, cooking, marketing, loading and unloading. She admits it can get pretty toasty in the truck. "I don't know if black was the best idea for the paint! But the exhaust fan is huge so it pulls a lot of air through." She'd like to do more special events and private events where they can customize a fun menu for people who truly enjoy quality food. A recent 'Around the World' theme was a big hit at a recent private party.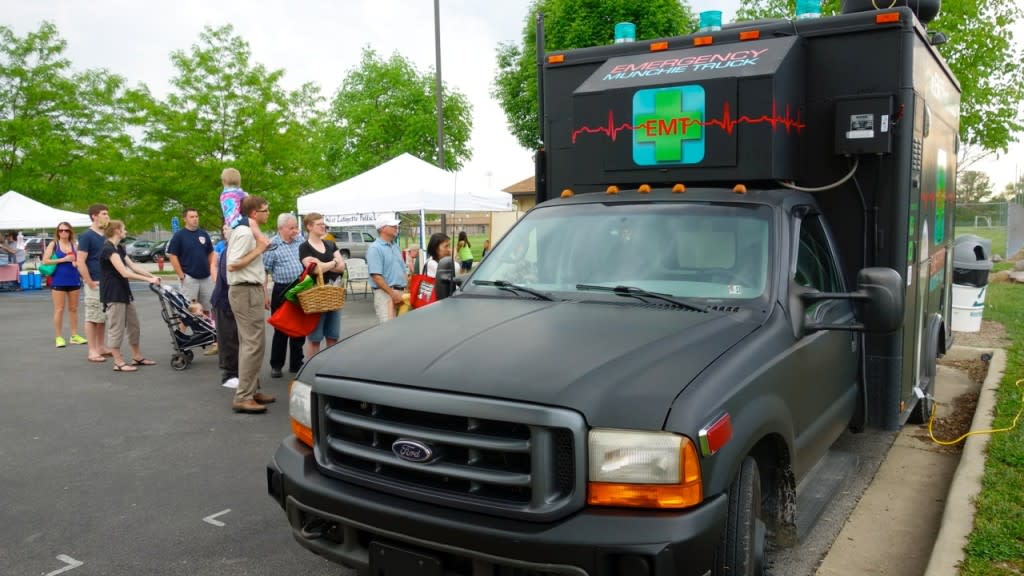 We're all EMT fans and we invite you to join us as we chase them across the community. They're at the West Lafayette Farmers Market every Wednesday from 4-7 during the market season (through October). Their other stops, including People's, Matchbox, and Harry's, can be found on their website (www. emtfoodtruck.com), Facebook or Twitter. Next up: Mama Ines