This coming week marks a full year since I made my move up here to West Lafayette from southern Indiana. I have learned so much about the area in such a short amount of time and have truly made myself at home. I've hit the majority of the main attractions and visited many parks; however, I have yet to explore the vast amount of local restaurants and shops. Although I haven't been to many restaurants, I think I started out my tasting adventure in just the right spot, the
Red Seven Bar & Grill
. I had always passed by here and thought to myself how nice and trendy it looked, and my expectations were certainly met. I ventured in to meet a welcoming hostess who guided Sara and I to a table. Once I sat down, I was really able to look around at the design of the building. It's like each section has their very own vibe to it. The area we sat in had an upbeat feel with vibrant artwork, hanging colorful lights, and open space. When I headed to the next section, there was a grand bookcase that covered two walls, and it sat directly by the windows facing Riehle Plaza. It was a very cozy atmosphere. Then the other side of the restaurant featured a bar, colored stain glass, and a view of downtown Lafayette with a lively ambiance. With this fabulous location and contemporary design, the spirited personality of downtown Lafayette is expressed through this single restaurant. [caption id="attachment_5375" align="alignleft" ]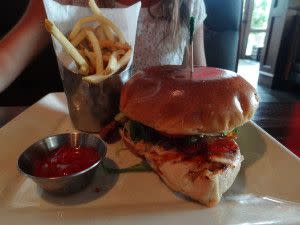 Honey Ancho Glazed Chicken Sandwich and Fries[/caption] The architecture of the building was astounding, but the most important part of course is the food, which was even better! The menu featured a good variety of foods to choose from. It had everything from salads, pastas, pizzas, and about every type of meat you can imagine.  It is a good source of just all-around good American food and more! I personally ordered the
Honey Ancho Glazed Chicken Sandwich
with a side of french fries and caesar salad. My salad came out first, and it was an excellent way to start out my meal and a wonderful first impression. Sara had mentioned that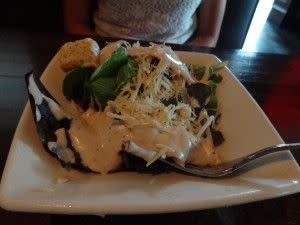 it was the
best caesar salad
she has ever had, and she was not exaggerating! The cheese and dressing they used were absolutely superb! It was just the right portion and made me anxious to taste the rest of the food that was coming, and my Honey Ancho Glazed Chicken sandwich did not disappoint. The sandwich includes grilled chicken, lettuce, tomato, bacon and housemade honey ancho chili glaze. The sauce on the sandwich was one of a kind. There was a kick of spice to it as well as a sweet taste that mixed together for the perfect combination. The bacon added a nice crispy texture to top it all off. And of course, no American meal is complete without delicious french fries. I must also say that along with the excellent food and ambiance, the service is very hospitable. [caption id="attachment_5377" align="alignright" ]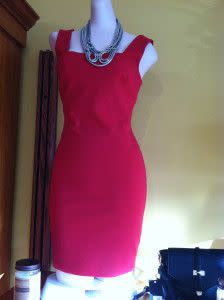 Beautiful dress from Juniper[/caption] Downtown Lafayette shopping is another unique aspect of the town that I have yet to experience.  I love clothing stores, candy shops, home décor stores, and cute, cozy coffee shops that are all featured downtown. I will definitely be making my way over there, but there are a few wonderful shops I've had the pleasure of shopping at,
Von's
and Juniper. Von's is a fantastic store that incorporates so many different crafty and creative items. In one single strip mall, Von's has a dough shop, bookstore, boutique clothing store, and a huge collection of beads (the largest collection in the Midwest)! My favorite parts of the store are the
book
and clothing sections. They carry a range of books from classics to the newest best sellers. It's an excellent store to discover a new read for great prices. The clothing section is very beautiful. The clothes are all classy, elegant, and fashionable. These are clothing items that you certainly cannot find in any ole store or shopping mall. You can find the perfect style that fits you best with these original designs.
Juniper
features similar clothing types with a variety of name brand clothing as well as new hip lines that are on the rise. The workers there are extremely nice who are always willing to lend a hand and even give you an opinion on different styles. Every woman knows how important that second opinion is when it comes to shopping for a new wardrobe, so why not get the advice from women who know retail best?! You have to keep your eye out for their amazing sales as well! You can really snag some stylish clothing for great prices. Both Von's and Juniper are in great locations. You can grab a new read from Von's and head to
Greyhouse Coffee
across the street to begin your book with a nice cup of coffee, and once you find a chic new outfit at Juniper, you can head over to Starbucks for coffee or the
Wabash Landing movie theater
to show off your newest purchase. The amounts of new experiences in the Lafayette area seem endless. There is always something new to try, which always leaves me wanting to explore more! I have started my restaurant and shopping adventures on the right foot by discovering a few great finds. I am excited to venture further and see what else the area has to offer! Kaley, Visitor Information Specialist and Purdue Student shared this blog.