[caption id="attachment_11757" align="aligncenter" ]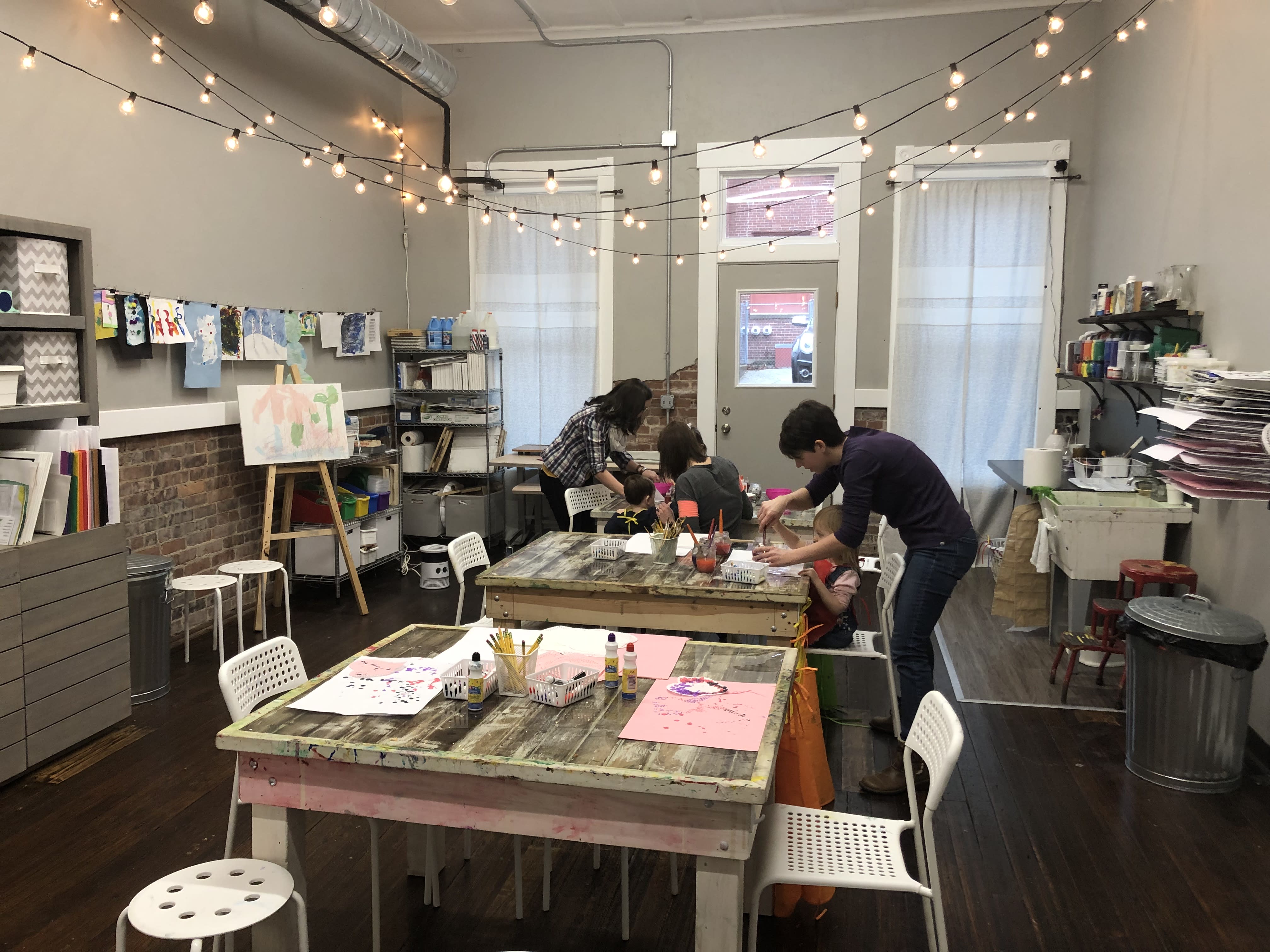 The Studio[/caption] Happening Now!  Planning a stay in Lafayette-West Lafayette, Indiana area? Whether you are looking for delicious dining, interesting attractions and shops, enticing events or home away from home lodging—a getaway to Lafayette-West Lafayette, Indiana is sure to satisfy. Right now the locals are talking about
Flourish Studio and Classroom
, offering fun and unique art classes for your little ones! [caption id="attachment_11756" align="alignright" ]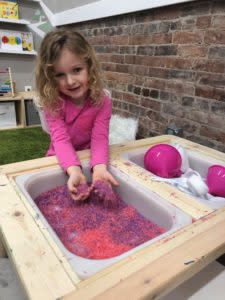 Sensory Station[/caption] My husband and I have 2 children, a 5-year old daughter and a 1-year old son. Our daughter, Charlize, loves doing art projects and our son is just starting to enjoy them (although he does try to eat the crayons, but we are working it!). We literally have art taped to door knobs all over our house. When we heard about this new kids' art studio, my husband and I were so excited. We signed Charlize and Channing up for the
"Create with Me" class
. "Create with Me" is an hour-long class in the studio designed for little artists to explore and engage their creative senses! It is for ages 1 to 4 but they welcome younger and older siblings as well.  Plus, they offer a sibling discount which is really nice! [caption id="attachment_11758" align="aligncenter" ]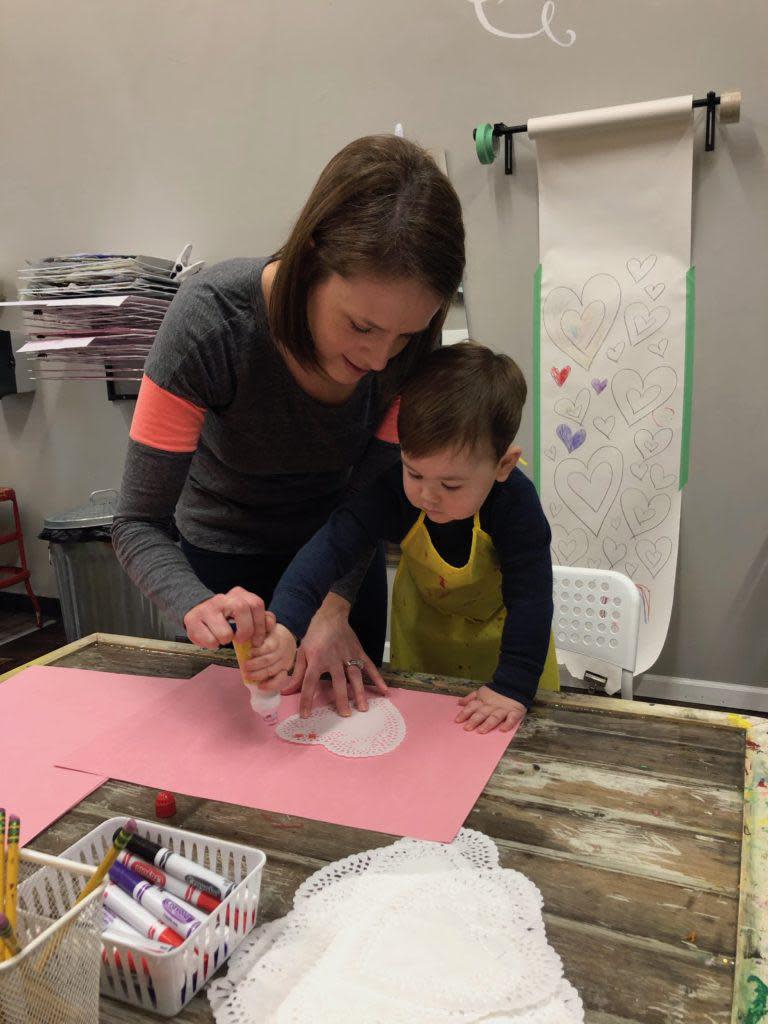 😍[/caption] When we entered the Flourish Art Studio, Charlize and Channing, lit up. There were 3 art stations set up to create different projects as well as a play area with toys and a
sensory station
. Charlize ran to the first station and started creating fun heart shaped paper letters. Channing just laughed and laughed and was delighted he had access to markers! He was a little crazy and truthfully most of the markers and paints ended up on his face or hands but he had a blast! Both kids also enjoyed pulling out toys in their play area and at the end of the class they ran through a bubble machine. We took home a bag full of art projects they created and now have more artwork on our walls! [caption id="attachment_11755" align="alignright" ]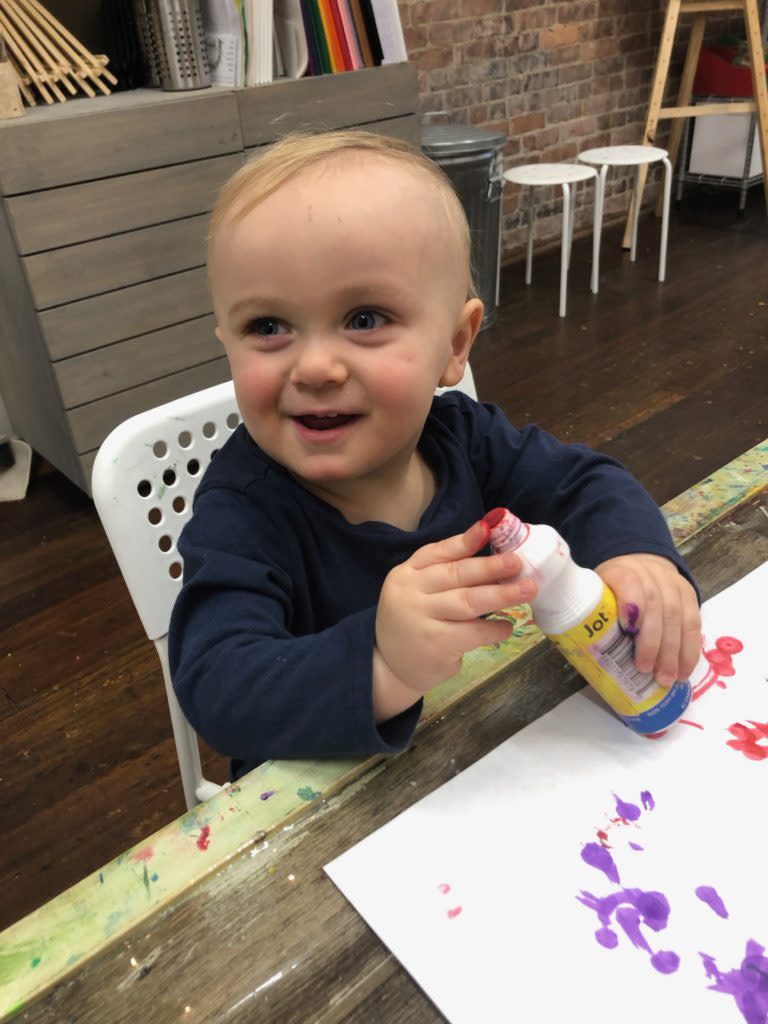 Love getting messy![/caption] Charlize also wondered into
"Bloom"
their kids clothing store attached to the studio. (Wow, this store has the CUTEST kids' clothes! The clothes are so stylish and fun!) She actually tried to negotiate with the owner into buying a few toys they offer. My plan is to go back soon and surprise her with one of the toys she had picked out for Easter! [caption id="attachment_11762" align="aligncenter" ]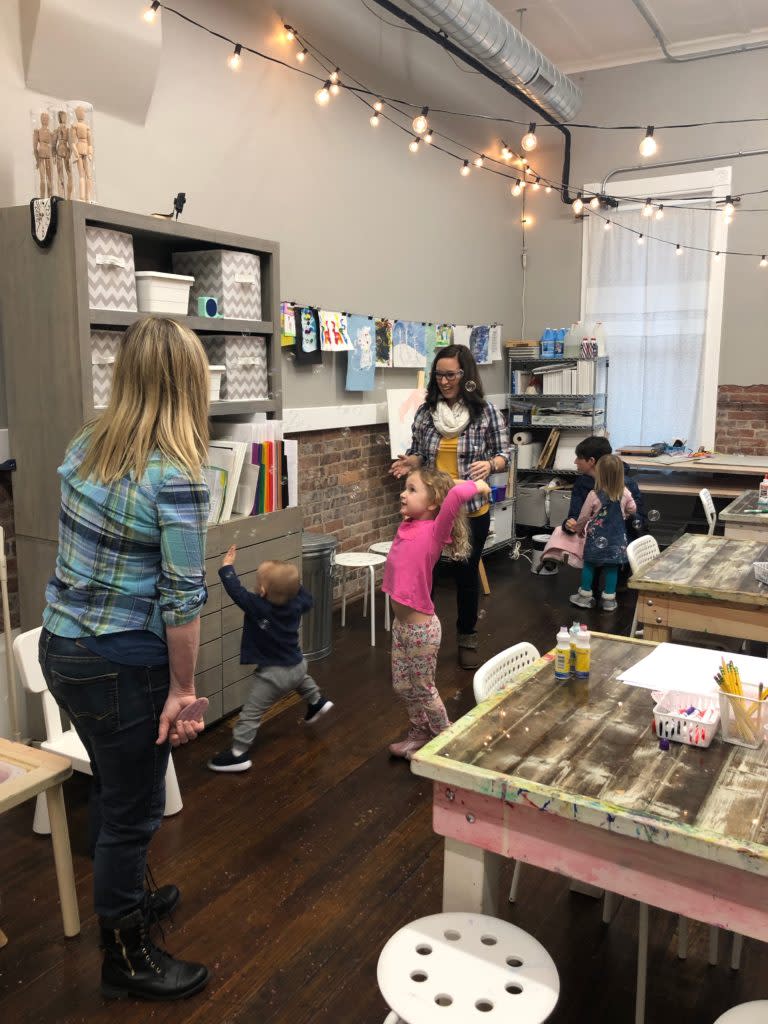 Bubble fun![/caption] The customer service at Flourish ROCKED! Amanda Kennedy, the owner and licensed art educator was wonderful. She was friendly and helpful to all the students. There were 5 kids in the class, and she knew all of their names. She shared they will be doing
summer camps
this year as well. We are so excited to learn about those for Charlize. [caption id="attachment_11761" align="alignleft" ]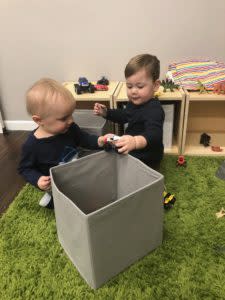 We made friends![/caption] We highly recommend Flourish for a fun filled class. They offer different
art classes
for all kids ages as well as an
adult night
! If you are traveling and just notice this studio as you are traversing our downtown, they also offer an open studio, where there is no real instruction, just various art supplies, guidance where requested, & lots of encouragement! Explore this art studio! For more information about Flourish and other art class related businesses in Lafayette-West Lafayette, visit
HomeOfPurdue.com
.