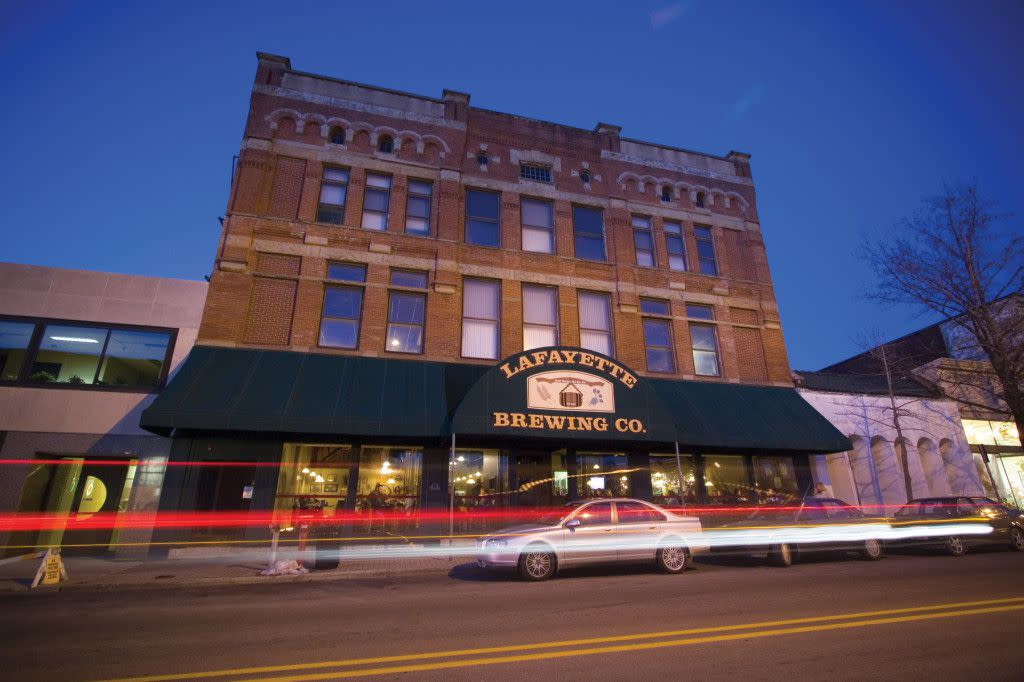 Downtown Lafayette is home to many unique family owned restaurants. Located right on Main Street next to the Lafayette Theatre is a microbrewery owned and operated by high school sweethearts Greg and Nancy Eming. Lafayette Brewing Company opened its doors in September of 1993. Locals and regulars may refer to it as "The Brew Co" or "LBC".  LBC has a family dining room, a bar, and an upstairs party venue. The upstairs hosts many private parties, comedy events, and the occasional local band or dance group. Local entertainment seen upstairs in the past few months has included One Size Fits All (an improv comedy), James Moon and the Third Floor Invention (a local band), and Cap'n Dangerous (a local DJ). The upstairs also features a pizza kitchen that is a favorite to the "Brew Crew" members.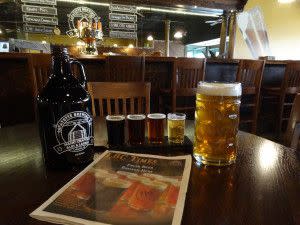 Let me tell you about the main attraction, the beer. All of the beer on tap is brewed right in house at the Brew Co. Typically 12 beers are featured at any given time. Four flagship beers are always on tap and are definite favorites. They include the Black Angus Oatmeal Stout, Star City Lager, Tippecanoe Common Ale and the 85. Something really unique about my personal favorite beer, the stout, is that it is made with 10% oatmeal. Currently featured on tap are many darker beers, as it is wintertime. (Cold weather drinkers usually like the darker and stout beers.) Something really to get excited about is the cask conditioned beers that are featured at LBC for limited times. Most recently was the Dastardly Dark with added vanilla beans and cocoa nibs put on cask. A cask beer is one that is fermented for a second time in the vessel it is served in. The results of a cask-conditioned beer are more creamy and smooth. All of those flavors are combined beautifully to create a sweet and delicious unique beer. [caption id="attachment_6131" align="alignright" ]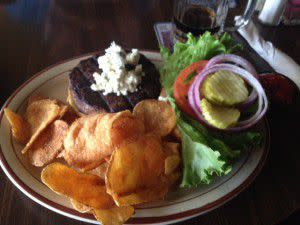 Black and Blue Burger[/caption] Amongst all of the hype around the beer, taking a look at the food menu is really important when dining at the Brew Co. The menu is in the form of a newspaper. The centerfold features the food selections. From large salads, to unique sandwiches to burgers, the menu has a little something for every palate. My personal recommendation is a sandwich called the Chicken Meltdown. Layered between two jalapeno cornbread pieces are chicken, bacon and lots of homemade beer-BQ! It was quite the explosion of flavors. Other regular favorites include the queso covered chicken nachos, and a large platter of fish and chips. They also offer three different seasoning to be put on the fries including ranch, Parmesan and Cajun. Lafayette Brewing Company is one of the most welcoming places downtown. The staff ensures that every guests leaves with great experiences. All of the servers and bartenders are extremely knowledgeable about each and every beer on tap at all times. They will work with you to find the perfect beer for each and every person, over the age of 21 of course. Next time you go out to eat, try supporting the local economy by visiting the Lafayette Brewing Company. Whether you are bringing your young family or a group of 20 friends, the Brew Co. has something for everyone. Rachel Blankenship, Group Tours and Meetings Intern for Visit Lafayette-West Lafayette & Purdue University Student, shared this blog.