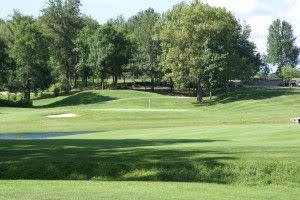 Happening Now!  This Sunday, June 17, is Father's Day!  It is a day to appreciate our fathers for everything they do for us and to say "thank you".  One way to show your appreciation is to take your father on an afternoon of golf.  One golf course that is a local hit and a favorite of our family is
Coyote Crossing
, where players are challenged yet always have fun! My father has been blessed with a wife and two daughters, who enjoy sports but have not mastered the sport of
golf
.  I joined the golf team in high school, where I improved a lot, but I realized I do not have the patience and drive to play.  My father is an avid golfer and loves to golf every weekend.  When I got married he rejoiced because he now had a son-in-law who enjoys the sport as much as he does. 
Father's Day
 in our life equals church in the morning, a homemade brunch at my parent's home and then the men head out to golf. Coyote Crossing, in my husband's words, is a "
challenging yet fair course
".  Marc explains a "fair course", as a golfer has the opportunity to do really well.  Every hole has 5 sets of tees, so if you are "beginner", you can set your tee closer to the hole.  His boss, who goes golfing a few times a week, is competitive and loves a challenge.  He always tees up the farthest from the hole.  He said some days he can shoot an 80, whereas on other days, he can shoot a 100, but the course allows a person to do well if they have the right skills. This
175 acre golf course
is noted also for its scenic landscape, as small lakes dot the course and Burnett's Creek meanders through it.  Marc said he has lost a ball or two in the natural wooded areas that line the
drives
.  Coyote Crossing offers golfers the chance to spend a day outside surrounded in beauty, while also having fun and spending time with family and friends. Whether you are looking for delicious dining, challenging golf courses, interesting attractions and shops, enticing events or home away from home lodging—a getaway to
Lafayette-West Lafayette, Indiana
, is sure to satisfy.  For more information about this golf course and others in the area, visit our website at
www.HomeOfPurdue.com
.