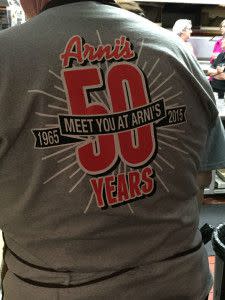 We have the winner of our "A Taste of Lafayette-West Lafayette Dining Contest 2015" worth over $500! Congratulations to Ron from Carmel, Indiana. He shares, "This is a fantastic prize!  I'm excited about all of the great places that participated in this prize package.  My friends are jealous when I mention the restaurants.  They would love to invite themselves to join me when I visit the restaurants.  I have never been to the museums.  After looking at the museums' websites, I am very interested in visiting them.   Thank you soooooo much for making this prize package available." Ron answered this question correctly and was picked at random: The question was:
QUESTION: Arni's is celebrating a milestone Birthday this year! How many years has Arni's been in business?
He answered 50 years which is correct!
Thanks to all who participated in this latest contest! Stay tuned for our next big contest/package we will be hosting in November. It is our biggest contest of the year, Holiday Shopping and Entertainment!