2 Great Cities, 1 Great University, so many great recreational facilities, parks and activities to choose from!  A visit to the
Columbian Park Zoo
will have you laughing and smiling as visitors watch the wallaby's jump and play, the monkeys relaxing in their trees, and the butterflies swirling at the Butterfly Garden Exhibit. [caption id="attachment_1992" align="alignright" caption="This goat has found a great napping spot!"]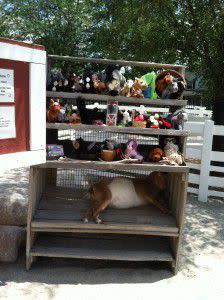 [/caption] There are a number of reasons why I think Columbian Park Zoo is great.  First, there are over
190 animals
within the zoo.  Visitors can literally walk through many of the animals habitats and get an up close and personal view of their life.  One of my favorite parts of my last visit to the zoo was walking through the
animal farm
.  I found it so funny to see the goats (who truthfully, are not one of my favorite farm animals) curled up in any area of shade to nap and get out of the heat.  They just looked so peaceful and sweet, two words I have never used for goats before in my entire life! [caption id="attachment_1993" align="alignleft" caption="Boxie resting in the shade!"]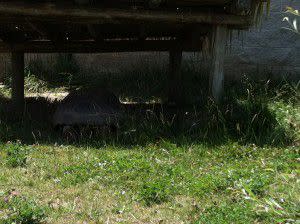 [/caption] The second reason I would recommend Columbian Park Zoo to my friends and family is the diverse animals that inhabit this zoo.  
Waxy monkey frogs
, an umbrella cockatoo, a Mexican red-knee tarantula, a North American porcupine, and
legless lizards
are just a few residents of the zoo.  How often do you get to see a
Galapagos Tortoise 
 without driving all the way down to Florida?  The zoo was thrilled when Boxie, who was born in 1951, was loaned to them from the Gladys Porter Zoo in Texas years ago.  I think she is one of the loveliest tortoises I have ever seen.  There is just something interesting about tortoises.  In our lives we run here and there and we are always just so busy.  Tortoises just relax, and slow is their mode.  The park officials share that her favorite thing to do is relax in her pond.  What a life! And last but not least, the third reason I think Columbian Park Zoo is fabulous, is it is
free
!  In today's world, there is a fee for everything.  Visitors can enter all the different areas of the zoo from the
Bird Aviary
, the Butterfly Sculpture Garden, to the Farm for no cost.
Do not miss visiting Columbian Park on your next visit!  For more information about this park and other outdoor recreational spaces in Lafayette-West Lafayette, Indiana, visit our website at
www.HomeOfPurdue.com