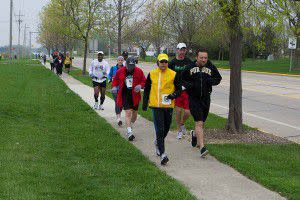 Race Day!  On Saturday, March 23, 114 individual marathoners from 18 states (including Massachusetts, Florida, Texas, and California) and Canada will run in the
Circular Logic Marathon
, a 26 mile course that consists of a one-mile loop on the West Lafayette Trail system.  This marathon was such a success in its opening year in 2012 that it is back with more marathoners ready to take on its challenges. When I hear the word "
marathon
", instantly what comes to mind is 26 miles of never ending exercise.  I personally am not a long distance runner, but the Circular Logic Marathon gives those who are not trained to run or walk 26 miles an opportunity to work in a relay team to complete the marathon.  22 marathon relay teams, with over 100 individuals on these teams will compete this year.  There will be runners from ages 16 to 76 years old who have the chance to take on this mammoth marathon. [caption id="attachment_3143" align="alignleft" ]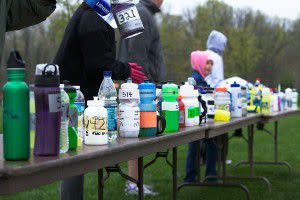 Litter Free Hydration![/caption] This marathon offers a few fun details that make it unique.  First,
litter-free hydration
; all the runners will bring their own water bottles, marked with their bib number.  The water bottles are all lined up on a table in numerical order so they can grab it each time they run around the course.  Second,
personalized bibs
; all the marathoners will have their names on their front and back, so visitors can greet them personally. All marathon relay teams will have their clever team names on their bibs. All the marathoners have provided a "fun fact" about themselves, which volunteers will have at the water stop...this will trigger fun comments each time around! Joe Ely, race organizer shared, "Amazing what a simple thing like this has brought to the race--it really made it personal and let people connect much better with each other." More exciting news is Olympian,
Benji Durden
, from Boulder, Colorado, who placed 2nd in the US Olympic Marathon Trials in 1980 will be competing. He placed third in the Boston Marathon in 1983. Benji and his wife Amie are both running.  World record holder, Larry Macon of San Antonio, Texas is back again. Larry set the world record for the most official marathons run in a calendar year by running 157 in 2012, which included the CLM! The weekend of February 23, Larry finished his 1,000th lifetime marathon at the Cowtown Marathon in Fort Worth. Larry will proudly wear bib 157.  Last year's men's winner, Bryce Carlson, is back to defend his title. Bryce will wear the coveted bib #314, which we will doctor to read 3.14, the perfect mathematical constant for a race in a circle. Come out and watch this exciting event on March 23!  It will be a day full of perseverance and strength.  For more information about this event and more in the area check out
www.HomeOfPurdue.com
.