Happening Now!  Right now, the talk around town is about a locally owned restaurant,
Christos New City Grill
, serving hot, delicious breakfast, lunch and dinner in a family friendly atmosphere. My Mother In-Law and Father IN-Law are "regulars" at Christos New City Grill.  What do I mean by "regular"?  They walk in the door and the hosts' know and greet them.  They are seated and await a menu full of diverse food selections ranging from fresh omelets to turkey bacon club sandwiches, to
center cut pork chop
dinners. With such a large menu, I would like to focus on their breakfasts to share with my readers.  First, they serve their breakfast all day long (which maybe it is just me, but isn't it fun to eat breakfast for dinner?).  Growing up, on Sunday nights, my mother would make
breakfast for dinner
 and as a child it was something special.  At Christos, something special can be eaten all week long!  My family has tried a little bit of everything on their breakfast menu, and over all, diners will leave happy and satisfied with their selection. My favorite breakfast dish is simple yet oh so good!  It is their
pancakes
; three fluffy cakes served with whipped butter and maple syrup along with a side of crispy bacon.  It may be the child in me remembering my Mother's homemade pancakes, but Christos serves them right off the grill and they are dense, light and airy.  My husband, Marc, recently tried their 
pepper jack and spicy sausage omelet
, which took him out of his comfort zone of ordering his normal scrambled eggs, bacon, and toast meal.  He tried to be adventurous with his taste buds and came away happy as can be.  Marc shared the green peppers and onions, spicy sausage, pepper jack cheese and eggs all mixed together and created into this master piece of an omelet was hot yet not too fiery.  He said he will definitely be ordering it again in the near future. Christos New City Grill has been voted as the "
Best Breakfast
" place in Lafayette and also "Voted Best Meal Under $10" by the Lafayette Journal and Courier in years past. They serve excellent food along with great service in a fun, hip and trendy environment. [caption id="attachment_2689" align="alignleft" ]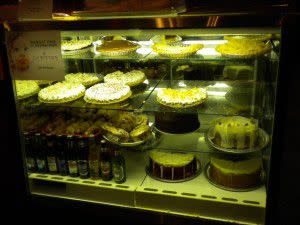 Check out these decadent desserts![/caption] Also, I would be remiss not to mention their pies and cakes. Every day they have a case of homemade desserts to choose from; pecan pie to chocolate cake to carrot cake and much, much more! Whether you are looking for delicious dining, interesting attractions and shops, enticing events or home away from home lodging—a getaway to
Lafayette-West Lafayette, Indiana
, is sure to satisfy.  For more information about this restaurant and others in the area, visit our website at
www.HomeOfPurdue.com