[caption id="attachment_6296" align="alignright" ]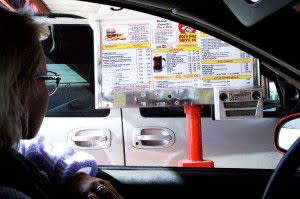 Ordering at Dog N' Suds[/caption] There are moments in life where we sit down, take a deep breath and wonder what it would have been like to grow up in the same decade as our parents or grandparents and experience the same little things that they did. It's funny how we seem to take advantage of the fact that we were able to actually experience little things that can bring us back to our childhood days or even our parents childhood days. Little things like drive in movie theaters, roller skating rinks, and the best of all, drive in restaurants are just a handful of some of those bittersweet opportunities that we don't explore enough in our lifetime.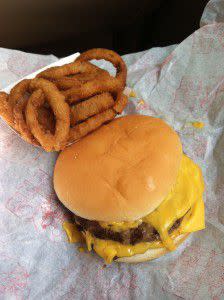 One of my all time favorite places to go that brings me back to being the tiny little brown haired girl sitting in the back of my parents van is the infamous restaurant, Dog N' Suds. The restaurant always caught my eye, (I mean, who wouldn't love someone coming to your car to take your order without having to get out of your car seat?!). Going there with my mom and dad was always a special treat, not only because of their divine root beer floats, but also because of how the tradition of pressing that red button to order has carried on so well and how nice the customer service has stayed throughout the years.  Fortunately, I had the treat of getting to eat there once I moved to West Lafayette and carry on the tradition with my new college friends.  It seems to attract just about anyone and every spring when that opening weekend comes, there's always a police officer escorting cars into the parking lot to avoid the inevitable traffic jam caused by the hungry customers craving their first spring hot dog and root beer from Dog N' Suds that they've been waiting for all year long.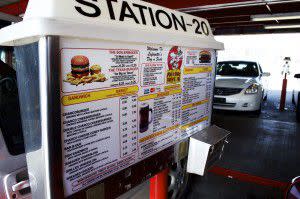 My newest experience (I visited opening week in February!) at the restaurant as a 20 year old hasn't changed a bit since I was a child.  I still received that giddy feeling as I reached out my car window to order into the old-fashioned metal speaker-looking thing and then pigging out in no longer the back seat, but the front seat as the driver of my own car.  It may have still been in the low negatives because of Indiana's interesting weather but leaving my window down to prop my tray onto the edge was well worth the little bit of shiver that came with my meal on the side.  I had a chance to try something I've never tried before which just makes me want to travel back there as soon as possible! A melt in your mouth, addicting drink called a "Root Beer Freeze" appeared in my hands one second and what seemed like 10 seconds later it was completely gulped up into my stomach.  Yeah, you're probably thinking it's just like a root beer float, which I've mentioned a couple of times already but think again. You know at the very end of your root beer float when you have that perfect amount of melted ice cream and root beer mixed together to create what seems like the best concoction your mouth has ever tasted? Did you ever think you could get an entire drink of that magical flavor that you're able to drink out of a straw? Well guess what, YOU CAN. I never thought I would see the day come where I could taste something better than the original root beer float but I was completely and utterly wrong.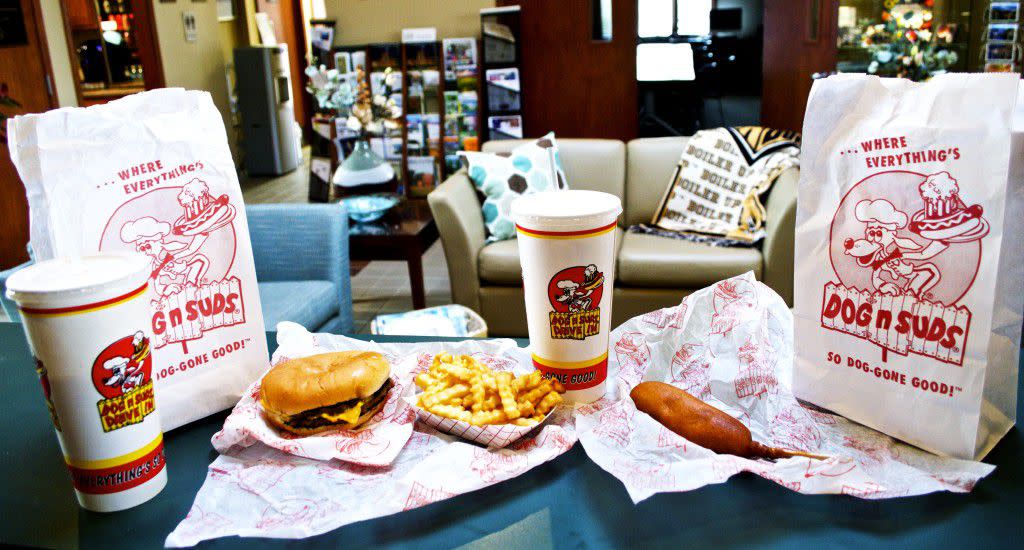 Don't worry; the cheeseburgers, hot dogs and other menu items haven't changed a bit.  There's just something so tasteful about an experience coming with your meal that makes it so much better. Dog N' Suds never fails me and I never come home upset after sitting in their parking lot and time traveling back to when drive-in restaurants were popular and everything seemed a little more simple in this crazy hectic world of ours. Maddie, Visitor Information Specialist and Purdue University Student, shared this blog.