As many of you probably didn't know, today is National Girls & Women in Sports Day! February 3
rd
, 2016 marks the 30
th
anniversary of this national celebration. This day is held to honor the achievements of women and girls in the world of sports. This brings up the perfect opportunity to commemorate all of the wonderful girls and [caption id="attachment_7484" align="aligncenter" ]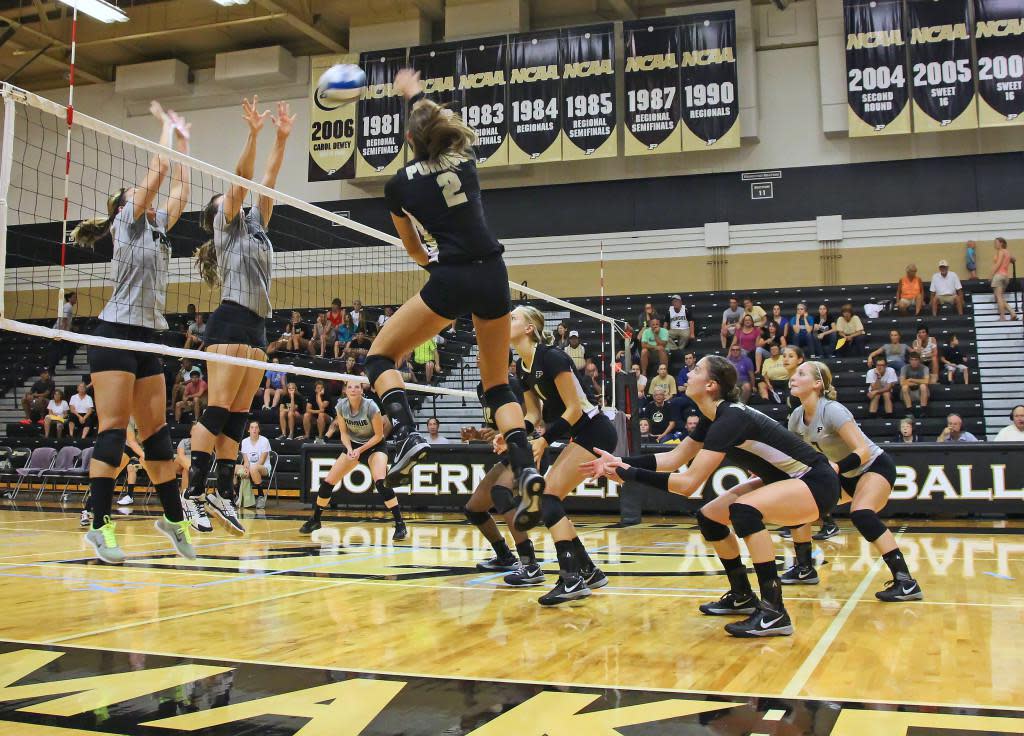 Purdue Women's Volleyball[/caption] women who have contributed to the sports industry at
Purdue
and in the
Lafayette – West Lafayette
community. So many amazing women have walked on the same streets that we take everyday. I wanted to take some time to share a few of their stories, so we can look back at all of their accomplishments throughout the years.
Stephanie White:
Stephanie White was born on June 20, 1977. She graduated high school from Seeger High School in West Lebanon, Indiana. After graduation, White continued her basketball career at Purdue University. In 1999, she led the Purdue Women's basketball team to the NCAA Women's National Championship. After graduating from Purdue, White played for five years in the WNBA. During this time, she played for the Charlotte Sting for a year and with the Indiana Fever for 4 years. She retired from the WNBA in 2004. She began her coaching career as an assistant coach for the Chicago Sky in 2007. After serving as an assistant coach for the Indiana Fever for a few seasons, White was named head coach on September 23, 2014. This made her the youngest active coach in the WNBA.
Gertrude Billhuber:
Gertrude Billhuber served as the head of the Department of Physical Education for Women at Purdue University. During her time at Purdue, she stayed involved in the lives of female students. In 1928, she started the first club for female athletes at Purdue. This club was known as Gamma Alpha Eta. She was also involved with a committee to look into residence halls for women students. Billhuber retired from her position as the head of the Department of Physical Education for Women in 1929.
Rosemary Anne Murphy:
Rosemary Anne Murphy was one of the first, prominent female athletes at Purdue University. During her undergraduate years at Purdue, Murphy was very involved in the Women's Athletic Association. She played soccer, basketball, and baseball. She also participated in the coed track meets. In 1927, Murphy became the president of the Women's Athletic Association. She traveled to New York to represent Purdue at the Athletic Conference of American College Women.   [caption id="attachment_7482" align="alignright" ]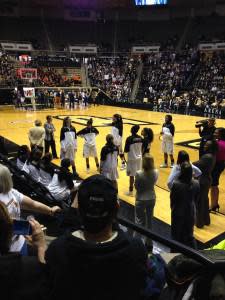 Purdue Women's Basketball[/caption]
Katie Douglas:
Katie Douglas attended Purdue University. In 1999, Douglas helped lead Purdue to a NCAA Women's Division I Basketball Championship. She was named the Big Ten Player of the Year in 2001. In the same year, she also received the Big Ten Conference Suzy Favor Award. This award is given to the top female athlete of all sports for the year in the conference. She was drafted by the Orlando Miracle in 2001. Douglas played for various teams, including the Indiana Fever, before she retired in 2015 after 14 seasons.
Amy Ruley:
Amy Ruley was a member of Purdue's first Women's Varsity Basketball Team. She even scored the program's first points. Ruley was the women's head basketball coach at North Dakota State University where she led the team to over 600 wins and to five NCAA Division II championships. She was inducted into the Women's Basketball Hall of Fame in 2004.
Joan Rosazza:
Joan Rosazza competed in the 1956 Summer Olympics in Melbourne, Australia. She swam for the United States and won a silver medal in the women's 4x100-meter freestyle relay. She also placed fourth in the women's 100-meter freestyle. In 1960, she graduated from Purdue University with her bachelor's degree in education.
Lauren Sesselmann:
Lauren Sesselmann attended Purdue University, where she played soccer from 2001 until 2005. While on the Women's Soccer Team, she set six records in points, goals, assists, game-winning goals, multiple-goal games, and shots on goal registered. In 2003 and 2005 she was named First Team All-Big Ten. After graduating, Sesselmann stayed in the Lafayette area where she played for F.C. Indiana. She played for a variety of teams in the Women's Professional Soccer League until joining the new National Women's Soccer League in 2013 for the FC Kansas City.
Beth Whittall:
Beth Whittall was only 17 years old when she won a silver medal in the 1954 Britsih Empire and Commonwealth Games. She swam the 4x110 yard freestyle relay for Canada. Whittall attended Purdue University where she studied Pharmacy. Over the years she acquired numerous medals and awards. She was awarded the Lou Marsh Trophy for being Canada's top athlete in 1955 and inducted into Cana's Olympic Hall fo Fame. Other noticeable athletes include Jeanne Wilson-Vaughn and Kara Patterson. This blog was shared by Megann Kramer, Purdue University Student and Visit Lafayette-West Lafayette Intern.