I'm a huge farmers market fan, but sometimes I just need some fresh produce or meat on a day or time when the farmers market isn't operating, or it is out of season. We've got you covered with three great local markets in the Lafayette-West Lafayette area! The newest one is The Weathered Plow. Located on Schuyler Ave., just west of Sagamore Parkway, you will find a little shop with a big front porch. We really encourage you to stop! They always have seasonal flowers out on the porch, and inside, you are sure to find something delicious! More than anything, I love stopping here for their ham salad and potato salad! I think their ham salad is the best in town! It is made fresh every day, and you can buy it by the pound or buy it as a sandwich and side. It's a great place to grab a quick dinner to take home. They also have a variety of pre-packaged dry goods, and of course produce, eggs, meat, and a few breads. Try the cinnamon rolls if they have them! Oh my! They are delicious! Many items in the store are local and a lot of it comes from the owner's own farm. The Weathered Plow is a great addition to our community! [caption id="attachment_6799" align="aligncenter" ]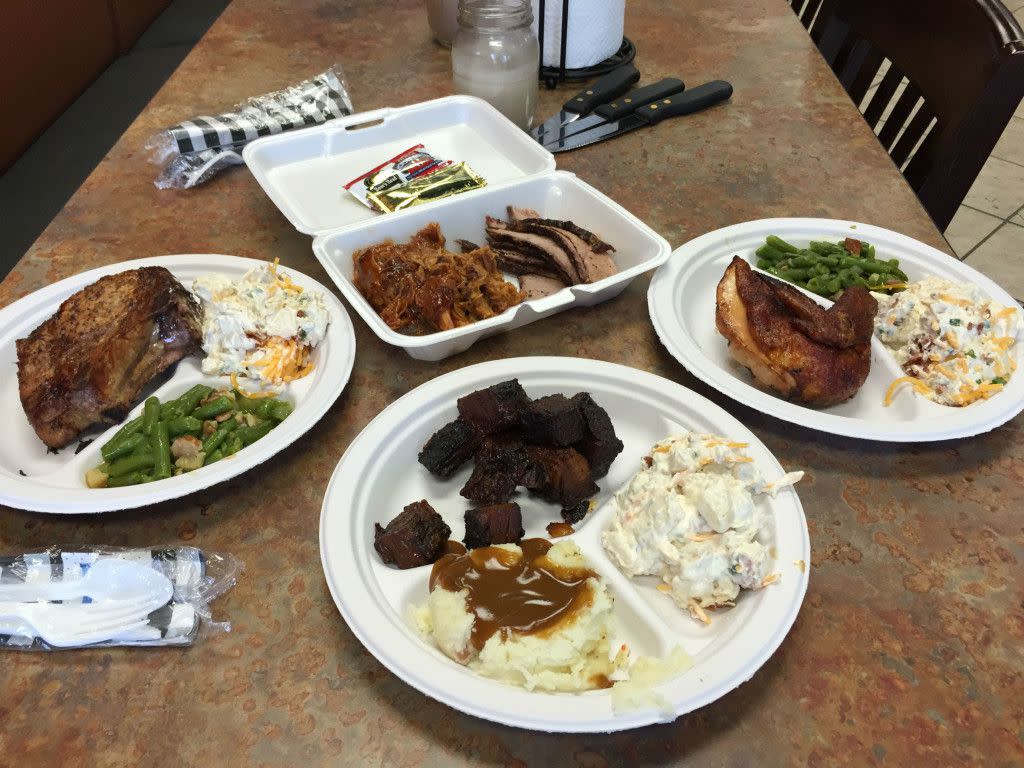 D&R BBQ[/caption] The second local market is
D & R
.  They are located at the corner of South Street and Creasy Lane just across the street from Lowe's, in a little strip mall with Dollar General and Pizza King. If you are looking for great meats, especially pork products, this is the place to go! They have awesome bacon, sausages and pork chops. We also love their
tilapia
; they have one that is pre-seasoned that is a quick and easy meal! We just pop it in the oven and serve with some asparagus or some other vegetable, and we are done. It's so delicious too! D&R also carries produce, eggs, cheese and some jams, jellies, BBQ sauces, etc. It's a great place to just hop in, get what you need and get out quickly. If you have a chance, be sure to walk a couple doors down to the D&R II, the restaurant! Oh, my! If you love BBQ, you will love this place. Huge pork chops, fall off the bone ribs, pulled pork, smoked chicken, not to mention all the wonderful sides! The smells alone are worth popping in! The third location is a long time favorite of the Lafayette area,
Beutler Meats
! They are pro's! Beutler's has been serving the Lafayette-West Lafayette area since 1953! It is located off of Wabash Avenue in Lafayette, not too far from St. Ann's Catholic Church. Beutler Meats is known mainly as a butcher and processing facility; some may not know that the general public can purchase meat here as well. People from all over the region bring their meat here to be processed. I have a farmer friend in Anderson, Indiana that drives his meat here to be processed,so it's not just a Lafayette area thing.  All the beef they sell is dry aged for 14 days, and they grade their beef following USDA guidelines and sell only choice grade or better beef. They also do custom butchering and smoke meats. They have a great retail store where they sell all of their meat, and let me tell you, you will not get it any fresher than this! The selection changes a bit, but they have a fantastic variety of beef and pork. For those of you who bake out there, they also carry lard. I know my Grandma was always wondering where to buy lard for her pies.  They also have had a limited number of frozen vegetables and fruit, local cheese and Triple XXX Root Beer.  Our favorite is always the
pork burgers
! They are great on the grill throughout the year. We love their steaks and bacon too! For a listing of their current meats, you can visit their
website
. You walk right into the cooler to get the fresh meats, while it's not super cold, you might want to have an idea of what you would like before walking in there. They also carry their own blends of spices! A great pairing with the meat! Stop by some time and try some of their meat; you really can taste the difference! The Weathered Plow, D&R and Beutler's are all open year round, so in the middle of winter, when you are dying to go to the Farmers Market and can't or on that weekday when a market isn't available… check these places out and support the local businesses! Group Tours & Meeting Manager, Ashley Gregory, shares this blog.