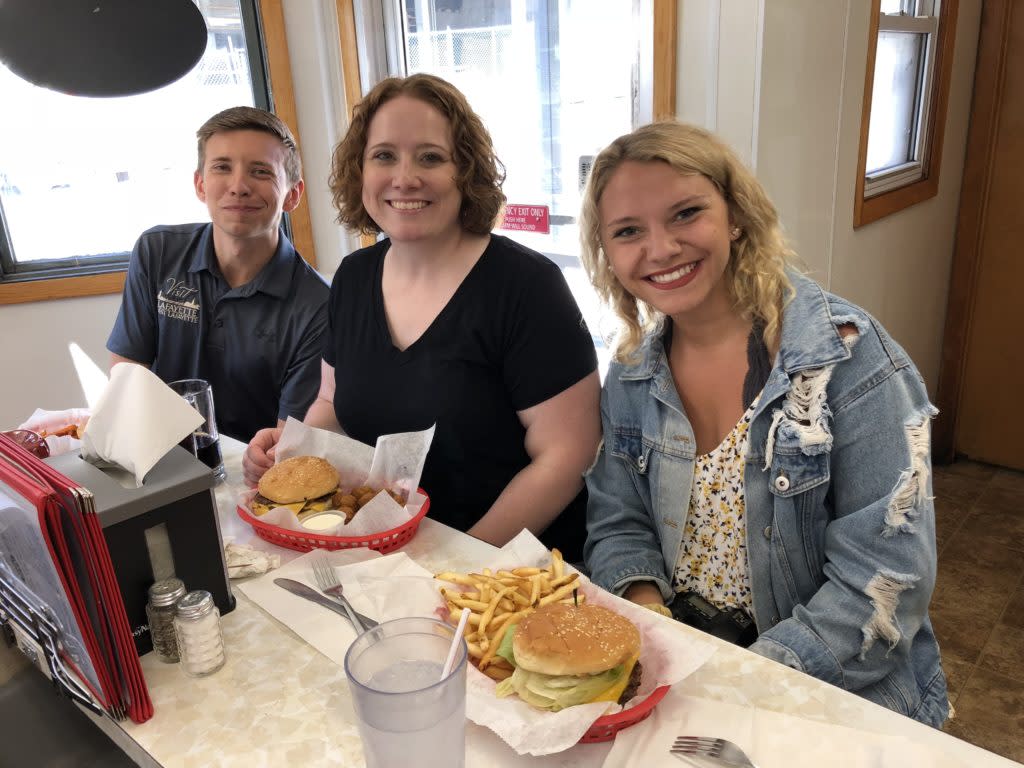 The Burger! We have ventured out around Lafayette-West Lafayette, tasted, explored and tried to conquer the mighty burger! Our last stop on this burger exploration is
Triple XXX Family Restaurant
, home to so many fabulous burgers. Their saying is "Don't be nervous, try the Purvis," and we took on this challenge. Here are our feelings about their unique burgers: [caption id="attachment_11155" align="aligncenter" ]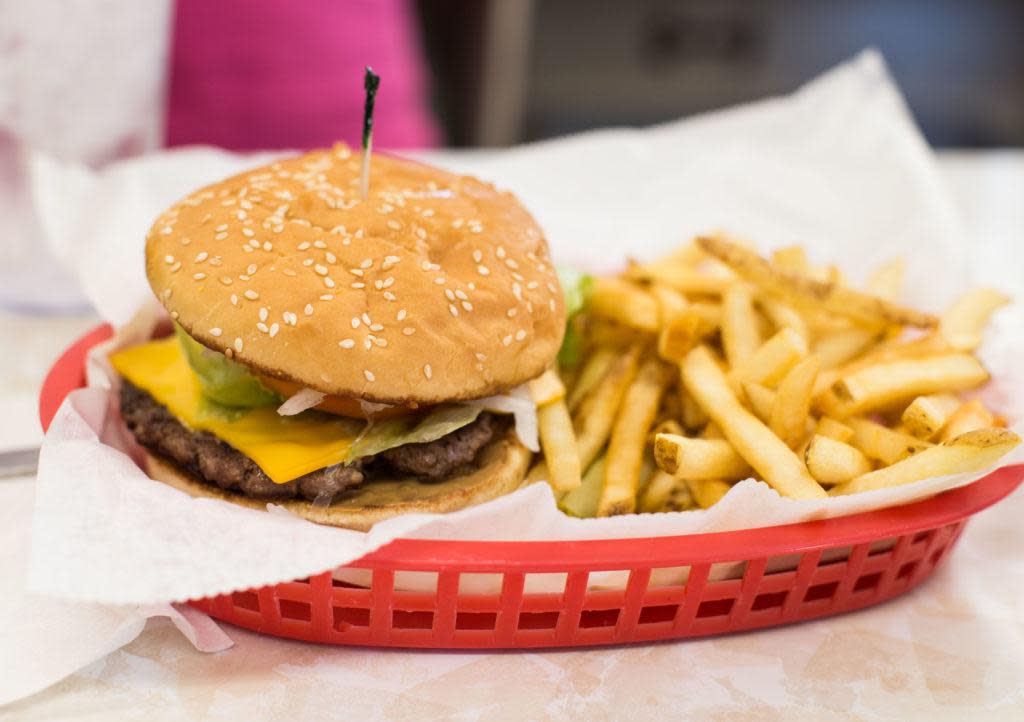 Duane Purvis All American[/caption] Emily truthfully was nervous, but guess what? She tried the
Duane Purvis All American Burger
! Here are her thoughts, "I am not a huge peanut butter fan and peanut butter on a burger has never sounded very appetizing. After trying it for the first time, I'm disappointed I didn't try it sooner. I am so glad I ordered it and gave it a try. This burger was delicious and now I know why everyone loves it. It has the perfect amount of peanut butter on it and is jam packed with flavor. I will most definitely be ordering this burger again!" "The Boilermaker Pete Burger is my favorite," Ashley proclaims! "I prefer it without the grilled onions so it's just a basic cheeseburger but it's the perfect cheese burger. You can actually taste the cheese and the meat. The cheese gets into all the nooks and crannies of the burger and just meld together. The smoothness of the burger and cheese mixed with the toasted sesame seed bun makes for a tantalizing mixture of textures for your taste buds." [caption id="attachment_11157" align="aligncenter" ]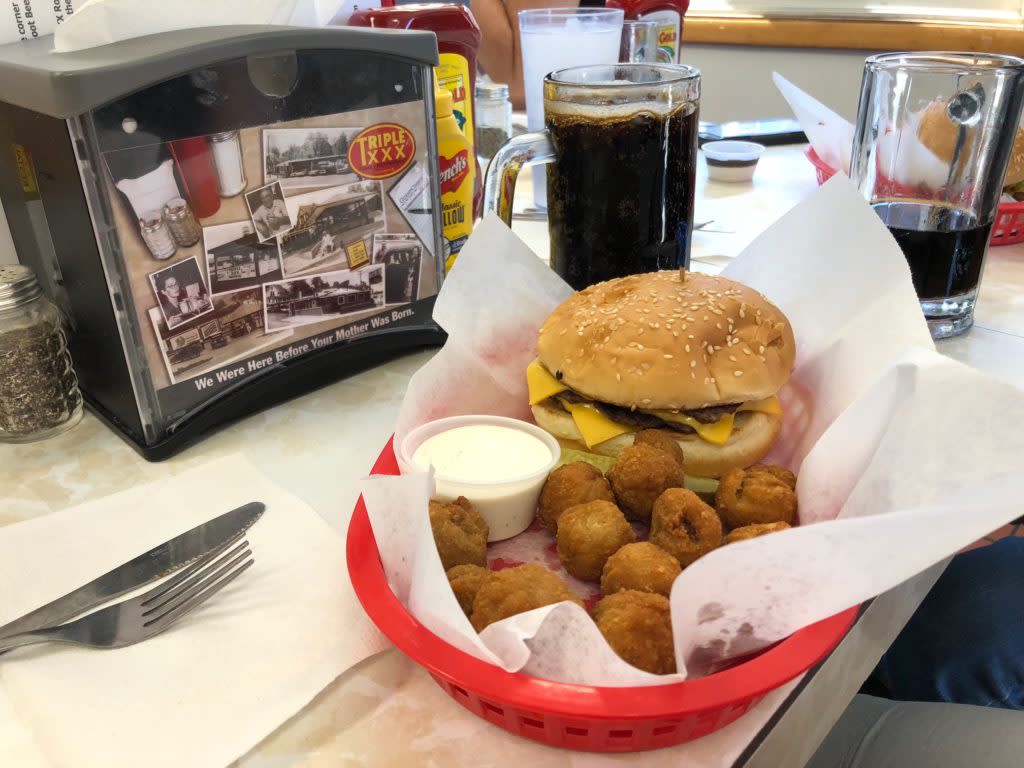 Burger....[/caption] Corey shares, "The
Bert Burger
at Triple XXX is grilled and sizzled to perfection. Biting into the ¼ pound burger, you get mouthwatering crispy bacon, melted American cheese, a crunch of onion. I add my personal touch by adding spicy ketchup. The Bert Burger, along with a Triple XXX Root Beer of course, will leave any burger enthusiast craving for more." [caption id="attachment_11154" align="aligncenter" ]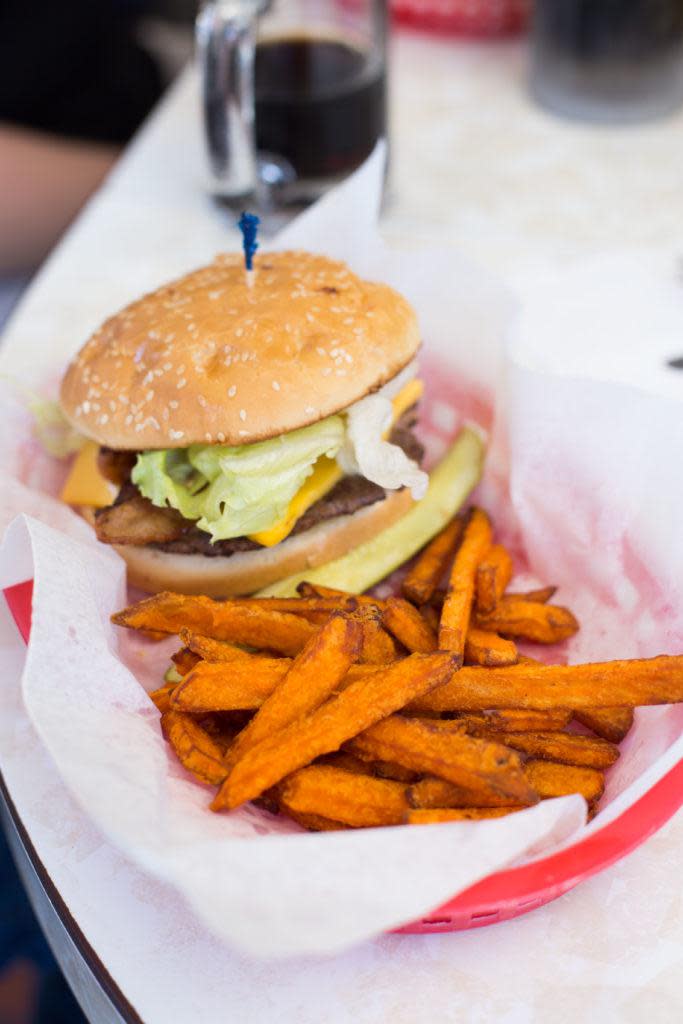 Bert Burger[/caption] I tried the
Boudia
,
(Boe-Dye-Uh), a t
riple cheese sensation! American, Swiss & Philadelphia cream cheese, 2 slices of bacon, & tomato on a toasty sesame bun. Add in a 1/4lb. chop steak and you have the

quintessential

burger creation! I have tried many burger combinations at Triple XXX as my family has been visiting this local eatery for years. I have to say this is officially my new favorite burger Triple XXX serves. I love cheese and the 3-cheese combination is stringy, smooth and delicious. The chop steak is juicy and the bacon crisp and flavorful. As a bonus it is served with my favorite side, hash browns and gravy. Their hash browns are the best around. Perfectly cut and cooked! YUM! To those that enjoy eggs, our waitress recommended a fried egg as well to complement this burger. 
[caption id="attachment_11156" align="aligncenter" ]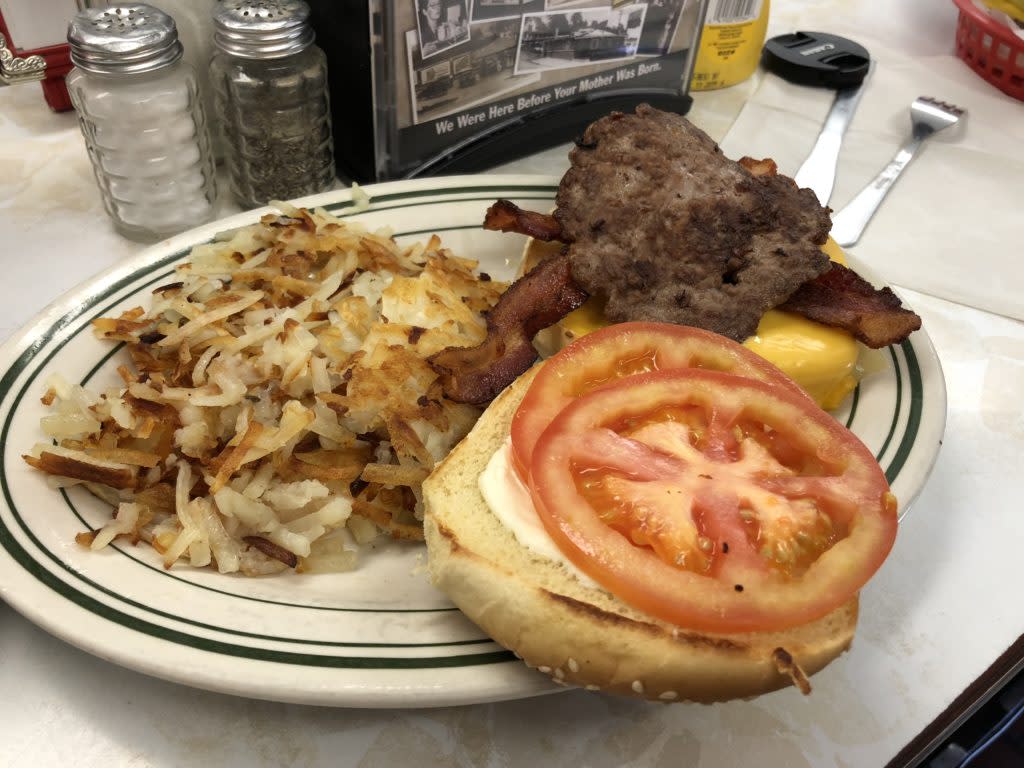 Boudia[/caption] Burgers, burgers, burgers! We love burgers! We want to hear from you and what your favorite burger is from Triple XXX Family Restaurant or another restaurant in Lafayette-West Lafayette!
Leave any fun burger comment and enter to win a unique gift basket including a VLWL cooler, Purdue shirt, thermos and more! (Please note only positive comments will be eligible for entry.)  A winner will be picked in November.
This fall we have showcased 5 burgerlicous restaurants. We want to hear about your favorite local Lafayette-West Lafayette burger joint and we will happily start adding to our trail! Share, share, share! For more information about this fabulous restaurant and others in our area at
HomeOfPurdue.com
.