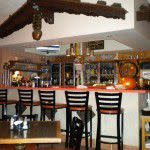 2 Great Cities, 1 Great University "Midwest Hospitality".  Living in Lafayette-West Lafayette, Indiana, one thing we value is customer service and appreciating the times we receive great customer care.  Midwest Hospitality is Lafayette-West Lafayette, Indiana.  We are proud of our local businesses that provide gracious and friendly service.
To experience "Midwest Hospitality" at its finest visit
Bruno's
Restaurant.  You will receive not only great customer service at this local establishment, but eat some of the best pizza around!
My husband and I are creatures of habit.  We can be spontaneous if the moment hits us, but overall we like the simple things in life.  We like to go to local restaurants and shops and we love it when they know our name.  I think it is being from a small town.  In the town we grew up in, everyone knows everyone, and where some people would be annoyed by this, we think it is comforting.
Since moving to Lafayette-West Lafayette, we have eaten at many establishments, and Bruno's has became our comfort.  When we arrive at Bruno's the waitress shows up with our drinks.  She knows we always order breadsticks with both cheese and meaty marinara sauce.  We do change up our main course order though.  It is hard not to order their pizza every time (it is so delicious!), but they offer so many wonderful culinary creations from homemade manicotti to fried catfish to strombolis!  My husband and I share a meal every visit and sometimes we still have left-overs.  A little tip when ordering a sandwich that comes with fries...they make a homemade blue cheese dressing (which I have begged for the recipe) that is the perfect dipping sauce.
Bruno's is a comfort to many from locals, Purdue college students and alumni and visitors.  I would say it is a Lafayette-West Lafayette trademark.  If a visitor wants authentic Midwest Hospitality, delicious food and a true local experience, he or she needs to visit Bruno's Restaurant in West Lafayette, Indiana.
For more information about Bruno's and other great restaurants in the area please visit our
website
at
http://homeofpurdue.com/dining.html
.