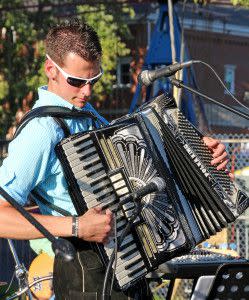 Brats, Sourkraut, beef goulash, potato pancakes, potato salad, pretzels, lederhosen, Polka Music and more, are we in Germany? No, not today, we are just dreaming of the St. Boniface German Fest! St. Boniface was founded in 1853 to serve the needs of the German speaking Catholics in the Lafayette area. On this day they celebrate that heritage once a year with their German Fest! Come on out and enjoy the festivities! This family friendly event has free admission so you can sing along and dance to the great polka music all night long. Visitors do have to buy tickets for food and kid's rides.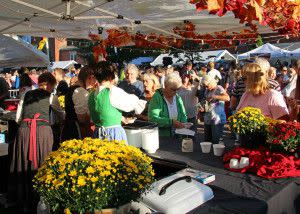 You can enjoy foods such as beef goulash with buttered noodles, Rollbraten pork sandwich, schnitzel beef sandwich, potato pancakes and chicken tenders, homemade lentil soup, brats, pretzel with cheese and don't forget the German potato salad! For those 21 and over you can also partake in the beer and wine, what kind of German Fest would it be with out beer? For those who prefer non-alcoholic drinks there is also soda, water, Igloo Fruit Drink and Triple XXX Route Beer available. Don't miss out on the desserts at the Mama Ines Bakery booth too!
The kids will be occupied for hours with all the activities available too! Rides and activities available are: a moonwalk, a 26 foot high jumbo slide, laser tag, Ferris wheel, giant swing, merry go round, jousting, rock climbing wall, rope-a-phobia, giant slide, candy roulette, face painting, and more! Wristbands that provide unlimited play beginning at 4:30pm are available at any ticket booth so the kids can play all night long.
This year's German Fest will take place Saturday, September 12, 2015 from 4-11pm at St. Boniface Catholic Church.  Plan to check it out! We are sure you will have fun, or at very least get some good food! Wir sehen uns! (See you there!) Ashley Gregory, Group Tours & Meeting Manager, shares this blog.