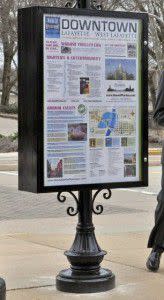 Black Friday.  It is a pretty strong word to those who know what it is.  It is a
shopping
day some people look forward to and plan for each year, while others make it a day they stay as far away as possible from retails stores!  It is a day where folks can get amazing retail prices from everything from electronics to the most popular children toys.
Thousands of people storm (another strong word, but don't you agree it totally fits!) the stores to purchase holiday gifts at great prices.  It can be chaotic, busy and all-consuming, but the wonderful part about shopping in Lafayette-West Lafayette is our Midwest Hospitality!
We are proud of our businesses that provide gracious and friendly service.  On a day such as this, people get anxious and excited for their purchases and lines may be long with the number of people shopping.  But when the shoppers reach the register and there is a smiling face greeting them, it makes the day worth it.  And to top it off, the purchase savings are incredible!
For more information about Lafayette-West Lafayette, Indiana, check out our website at
www.homeofpurdue.com
.