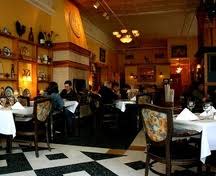 Happening Now!  Right now the locals are talking about
Bistro 501
, where guests enjoy the flavor and style of the French countryside at this downtown eatery.
Valentine's Day
is right around the corner.  This holiday is a day to celebrate love and make your special someone feel unique and appreciated.  Bistro 501, with its romantic ambience and provincial cuisine, is perfect for an evening of romance and delicious food. I am a great lover of
international food
.  In college, I spent a semester abroad in Europe and have traveled to Europe a few times throughout my life; each visit I came back a good 10 pounds heavier from the delicious food!  Bistro 501 is a local restaurant that matches my foodie experience abroad and exceeds every expectation of high-end French cuisine and exceptional customer service. The sandwich that makes my mouth water with cravings is their
croque madame
, a classic French sandwich consisting of hot ham and Swiss cheese, served open-faced with Dijon mustard and topped with a fried egg and mornay sauce.  They take a simple ham and cheese sandwich, add a French twist to make it a culinary delight! We have it straight from the Chef that Bistro 501 is offering a special Valentine's special, stuffed lobster tail that will make your taste buds soar!  We recommend making reservations! Whether you are looking for delicious dining, interesting attractions and shops, enticing events or home away from home lodging—a getaway to
Lafayette-West Lafayette, Indiana
, is sure to satisfy. For more information about Bistro 501 and other wonderful
restaurants
in the area visit our website at
www.HomeOfPurdue.com
.