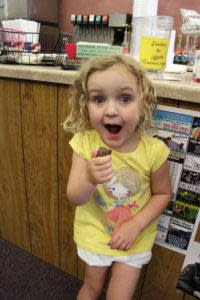 Sweets and Treats! You can never go wrong with a box of chocolate for your loved ones over the holiday season! Lafayette-West Lafayette is home to not one, but four candy stores. These stores offer all of the favorites including chocolate caramels, truffles, butter cream chocolates and much more.
Kathy's Kandies
showcases a wide variety of "sweets" that will make your family feel special this holiday season. Artisan chocolates, chocolate covered pretzels, gourmet popcorn, novelty suckers, brittle and toffee are just a few decadent options. The
nutella chocolate truffles
are a specialty-handcrafted truffle filled with nutella that offers a hint of nuttiness and smooth, rich chocolate. Yummy! For the special man in your life, a great gift idea is their chocolate bacon pizza. This pizza has 1 whole pound of bacon on it! Can you imagine?! (My husband is a hog farmer, and this would be his dream gift!) Please note it has to be special ordered so call ahead. [caption id="attachment_9880" align="alignright" ]
Kathy's Kandies[/caption]     Another specialty candy store is
McCord Candies
. This store opened its door in 1912 and has been serving the Lafayette-West Lafayette community since this date. The most popular draw to McCord's is their
homemade candy canes
, which they make on average 34,000 canes during the month and a half holiday season time. They sell them locally in the store, ship them globally, and always keep people coming back for more. Also, you can hand select from a wide variety of chocolates and bagged candies that include hot cinnamon bears (my favorite), Boston baked beans and chocolate covered peanuts. When visiting, I suggest ordering a
chocolate sundae
from their old-fashioned soda shop. They make a homemade chocolate sauce that is amazing! [caption id="attachment_9879" align="aligncenter" ]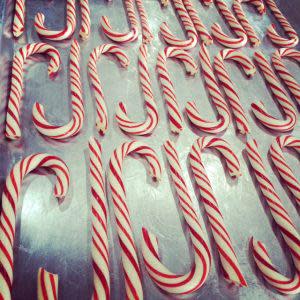 McCord Candy Canes[/caption]
Wolf's Fine Chocolates
boast their chocolate is made with love and a tasteful touch of wonder, care, spice and tradition. A box full of this specialty candy will be sure to make your family member(s) smile! I highly recommend their
Smitty's
, a peanut butter center covered in fresh roasted peanuts and milk chocolate. The chocolate is rich in flavor and the saltiness of the roasted peanuts and creamy peanut butter make it a simply delicious! Also, make sure you add some of their homemade fudge, which is creamy and melts in your mouth! [caption id="attachment_4704" align="aligncenter" ]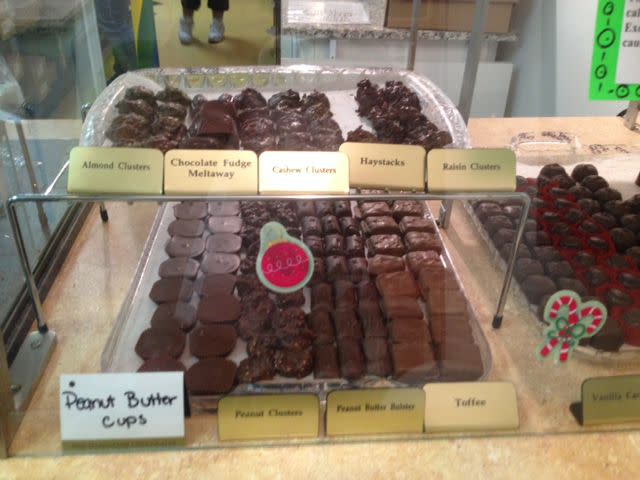 Wolf Candies![/caption] [caption id="attachment_9878" align="alignleft" ]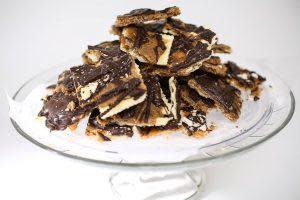 Richelle in a Handbasket Peanut Brittle- YUMMY![/caption] Lafayette's newest candy shop is
Richelle in a Handbasket
! This shop features chocolates, coffee, gift baskets, caramel popcorn, custom gifts and more. Located at Market Square, it is steps away from Interior Objects, the Handmade Market, Legendary Games, Camera Outfitters, Arni's and more if you want to make it an afternoon of fun! One of the best part about Richelle in a Handbasket is the
baskets
! There are so many items to choose from to add to your basket including sweets and food items, but also gift items like wall art, baby bibs, body care products, etc. For more information about these wonderful candy shops and other specialty stores in our area, visit our website at www.HomeOfPurdue.com.