Sweets and Treats! You can never go wrong with a box of chocolate for your loved one on Valentine's Day! Lafayette-West Lafayette is home to not one, but four candy/sweet stores. These stores offer all of the favorites including chocolate caramels, truffles, butter cream chocolates and much more.
Kathy's Kandies showcases a wide variety of "sweets" that will make your sweetheart feel special this Valentine's Day. Artisan chocolates, chocolate covered pretzels, gourmet popcorn, novelty suckers, brittle and toffee are just a few decadent options. The nutella chocolate truffles are a specialty-handcrafted truffle filled with nutella that offers a hint of nuttiness and smooth, rich chocolate. Yummy! For the special man in your life, a great gift idea is their chocolate bacon pizza. This pizza has 1 whole pound of bacon on it! Can you imagine?! (My husband is a hog farmer, and this would be his dream V-Day gift!) Want to be a bit funny this holiday as well? Check out their cupid poop! We won't tell you what's in it...you will have to try it yourself!
Hand dipped chocolates from Kathy's Kandies

Kathy always greets with a smile!
Another specialty candy store is McCords Candies. This store opened its door in 1912 and has been serving the Lafayette-West Lafayette community since this date. This V-Day you can hand select from a wide variety of chocolates the perfect box of deliciousness for that special person in your life! Not only do they have handcrafted chocolates, but also bagged candies that include hot cinnamon bears (my favorite), Boston baked beans and chocolate covered peanuts. When visiting, I suggest ordering a chocolate sundae from their old-fashioned soda shop. They make a homemade chocolate sauce that is amazing!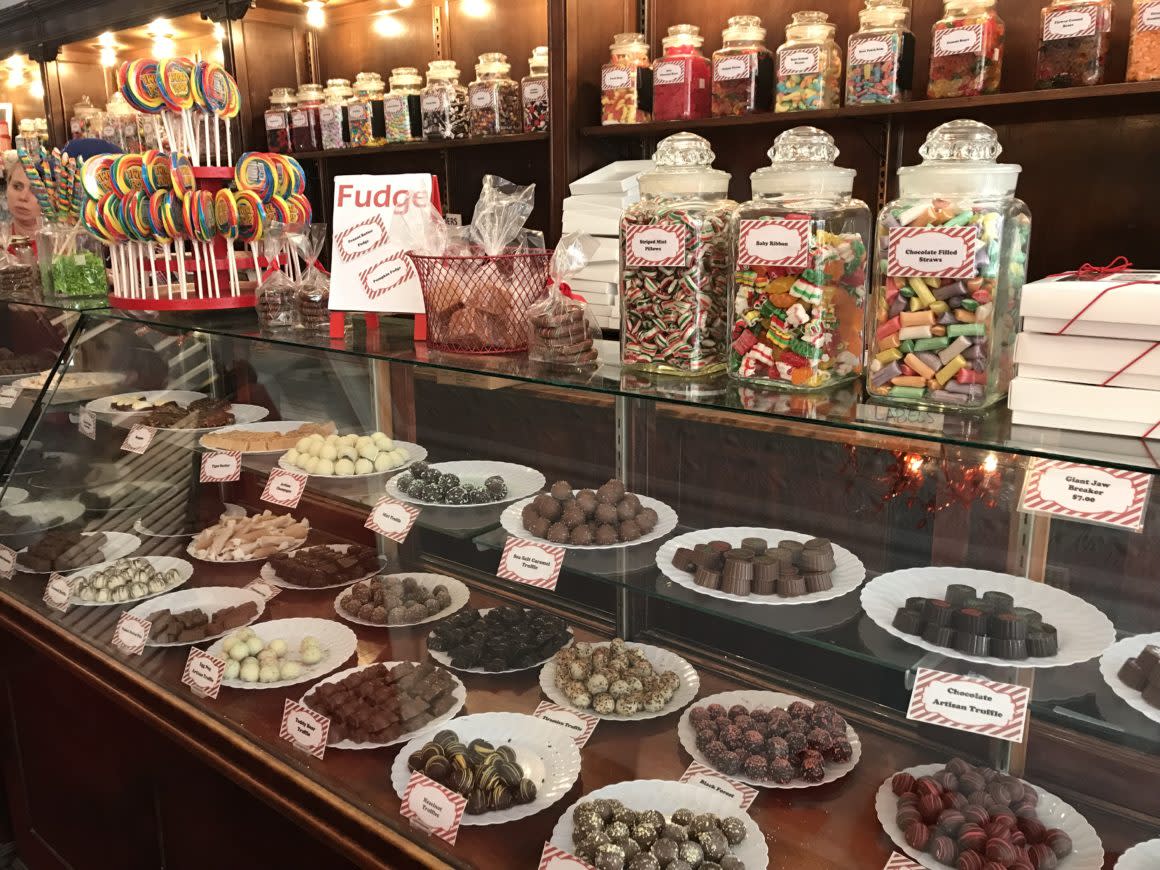 Wolf's Fine Chocolates boast their chocolate is made with love and a tasteful touch of wonder, care, spice and tradition. A box full of this specialty candy will be sure to make your Valentine smile! I highly recommend their Smitty's, a peanut butter center covered in fresh roasted peanuts and milk chocolate. The chocolate is rich in flavor and the saltiness of the roasted peanuts and creamy peanut butter make it a simply delicious! Also, make sure you add some of their homemade fudge, which is creamy and melts in your mouth!
Box of Wolf's Fine Chocolates - delicious!

Wolf's Fine Chocolates also offers Purdue gifts!
Want to sip a glass of wine while you taste decadent desserts? Richelle In A Handbasket and Just Desserts just moved and is now a Dessert Bar where you can come and enjoy a glass of wine, beer, coffee, or fountain drink while relaxing and eating desserts made in their shop and from around the community. Some of their sweets include truffles, chocolate bark, s'mores, buckeyes, pretzel squares, caramel pecan patties, and amazing caramel corn. They also have specialty mixes like scone mix, shortbread mix, biscuit mix to take home and enjoy. Love coffee? They have their own coffee blend! With Valentine's Day almost here, a great gift idea is one of their themed handcrafted gift baskets. So pick out the treats your loved one would enjoy, and have them make a lovely Valentine's Day basket! Want to dine in? A full line of desserts from Chocolate Cake to Cheesecakes to milk and cookies, macaroons and more are available! They also have food for a light meal and beer and wine.
Macarons and coffee!

Enjoying chocolate cake!

Gift baskets at Richelle's

Be My Valentine! Cookie from Richelle's!
For more information about these wonderful candy shops and other specialty stores in our area, visit our website at HomeOfPurdue.com.