[caption id="attachment_4439" align="alignright" ]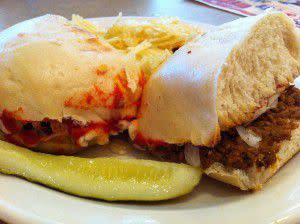 Stromboli! (And this only a 1/2 sandwich!)[/caption] 2 Great Cities, 1 Great University, "Hoosier Hospitality".  To experience "
Hoosier Hospitality
" at its finest visit Arni's where the food is delicious and the service is exceptional.  Arni's is a staple in the Lafayette area.  This restaurant which offers pizza, sandwiches, salads and more has been serving the community since 1965. "Hoosier Hospitality." What does this mean?  I (a true Midwesterner born and raised in Indiana) feel that "Hoosier Hospitality" is a friendliness and openness people from this area show to one another and to others from other parts of the states and world.  We wave.  We smile.  We say hi.  In essence, we are just friendly to everyone.  Every visit to
Arni's
I feel this.  (And we visit Arni's almost once a week for lunch or dinner!).  Arni Cohen, the founder of Arni's (who sadly passed in 2002, but whose sons have taken over the business with the same philosophy), had a philosophy that if you take care of your employees, they will take care of you.  This mantra has resulted in Arni's Restaurants having a turnover rate that is a fraction of the national average.  Every time we visit Arni's we have the same waiters/waitresses that have worked there for years.  They are wonderful!  Their friendliness is genuine and they are knowledgeable about the menu, the history, and always go the extra mile to make sure we have a great experience. As I've shared, we visit Arni's almost once a week. We enjoy the great customer service, but we love the food!  We have tried pretty much everything on their menu and my family has their favorites.  We usually order one or more of the following: their
pepperoni pizza
(with extra tomato sauce), Arni's junior salads (loaded with cheese, deli meats, and veggies), garlic bread, and submarine sandwiches (minus the onion)!  This past year we started ordering their loaded cheese fries, which are amazing!  They are not greasy and are loaded with different cheeses, bacon, and chives.  They are even good heated up later (which never happens with French fries!).  Their wings are some of the best we have ever had.  They are really meaty and are offered in two different sauces, buffalo or BBQ.  My husband and I always debate on the sauce, but they have been so accommodating and split them up 1/2 and 1/2 so we can both enjoy them. One more item that I have to address is the ambiance.  Arni's at Market Square offers something for everyone.  Their bar, "The Loading Dock", (21 and older) is the perfect place for those who want a more quiet space to eat.  The decor is warehouse style, which sounds odd, but has neat old trucks on display, decorative lit signs, and license plates.  Another room that is perfect for a family is the "
Toys in the Attic Room
", where tons of toys are on display including dollhouses, trains, airplanes, and more.  The front room at Arni's has recently been renovated and is perfect for all visitors as it offers a serene, up-scale feel. There are many additional Arni's locations throughout Central/North Central Indiana.  The Market Square location is the original and one of the most unique with its ambiance! Living in
Lafayette-West Lafayette, Indiana
, one thing we value is customer service and appreciating the times we receive great customer care.  Hoosier Hospitality is Lafayette-West Lafayette, Indiana.  We are proud of our local businesses, including Arni's, who provide gracious and friendly service. For more information about this restaurant and other
fun activities
in the area, visit our website at
www.HomeOfPurdue.com
.