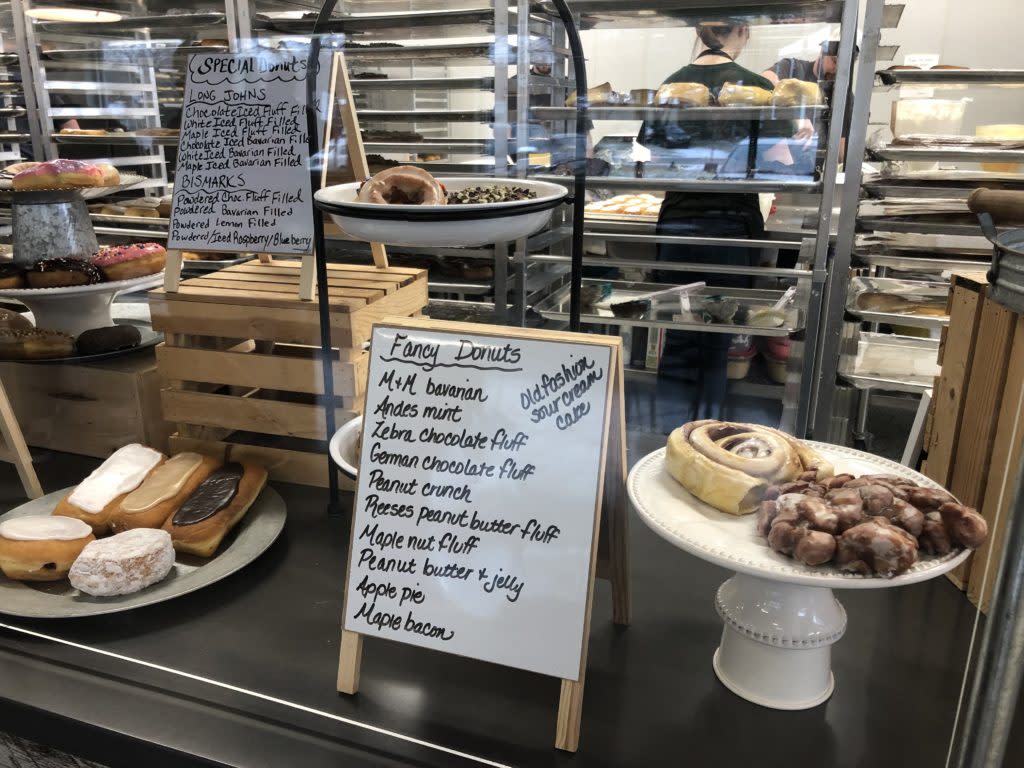 Donuts, cookies, espresso, ice cream, cafe sandwiches and salads, pies, noodles and more! Where can all of this deliciousness be found?
Flour Mill Bakery,
Lafayette's newest bakery located in the Northend Community Center on Elmwood Avenue. The smell of sweet donuts and rich coffee hit you as soon as you step foot into the Flour Mill. The aroma alone makes the taste buds soar.  And then when you see the dozens and dozens of donuts your stomach will say "you must feed me now!" The hardest choice is choosing what to pick. The options are endless with choices from the apple pie donut (homemade apple pie filling rolled in cinnamon/sugar) to their
PBJ donut
(peanut butter fluff and raspberry filling on the inside with peanut butter icing) to the classic yeast donut. They have specialty donuts they feature on special days like the Chocolate Chip Cookie Dough-nut. YUMMY! [caption id="attachment_11776" align="aligncenter" ]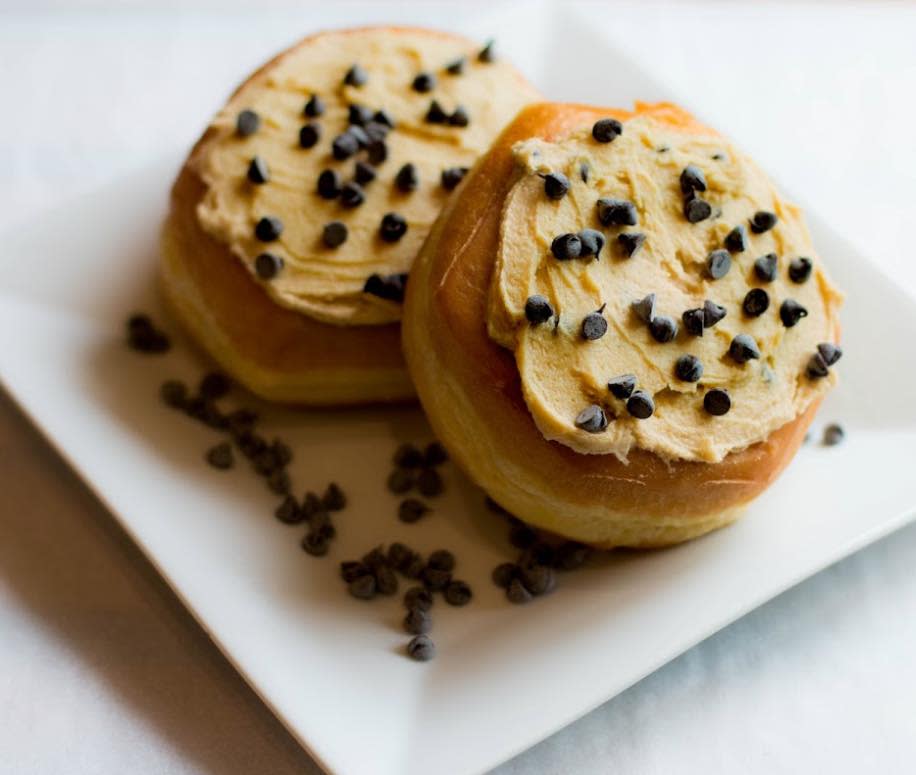 Chocolate Chip Cookie Dough-nut[/caption] Sweetness explodes even more with their cookies. Their varieties are the following: chocolate crinkle, chocolate chip,
snickerdoodle,
peanut butter, monster, Mexican wedding cake, and iced sour cream. When visiting we tried their iced sour cream cookies. The cookie was buttery and soft, and the icing was perfect with its blend of sour cream and sugar. The cookies were a huge hit in our office and lasted about an hour before every last one was eaten! Flour Mill Bakery also offers sandwiches and salads. They crazy, fun part is they make their
sandwiches
on donuts. At first, we were totally thrown back and weren't sure if we would like the combination. We thought it would make the sandwich too sweet. But the sandwiches are made with yeast part of the donut without all the sugar coating, which make it more of a bread like bun. It's a bit hard to explain, but we highly recommend you try it and let us know your thoughts!! Director of Sales, Ashley Gregory, shares, "I tried the "Miss Dainty" which is a chicken salad sandwich. It also has lettuce and tomato. I was hesitant about the long john as the bread, but it was amazing! Almost like a croissant but better. Still flaky and springy, but not as messy as a croissant and just slightly sweet. It really complimented the creamy chicken salad nicely. I can't wait to go back to try more of their sandwiches on the donuts! Yum!" [caption id="attachment_11779" align="aligncenter" ]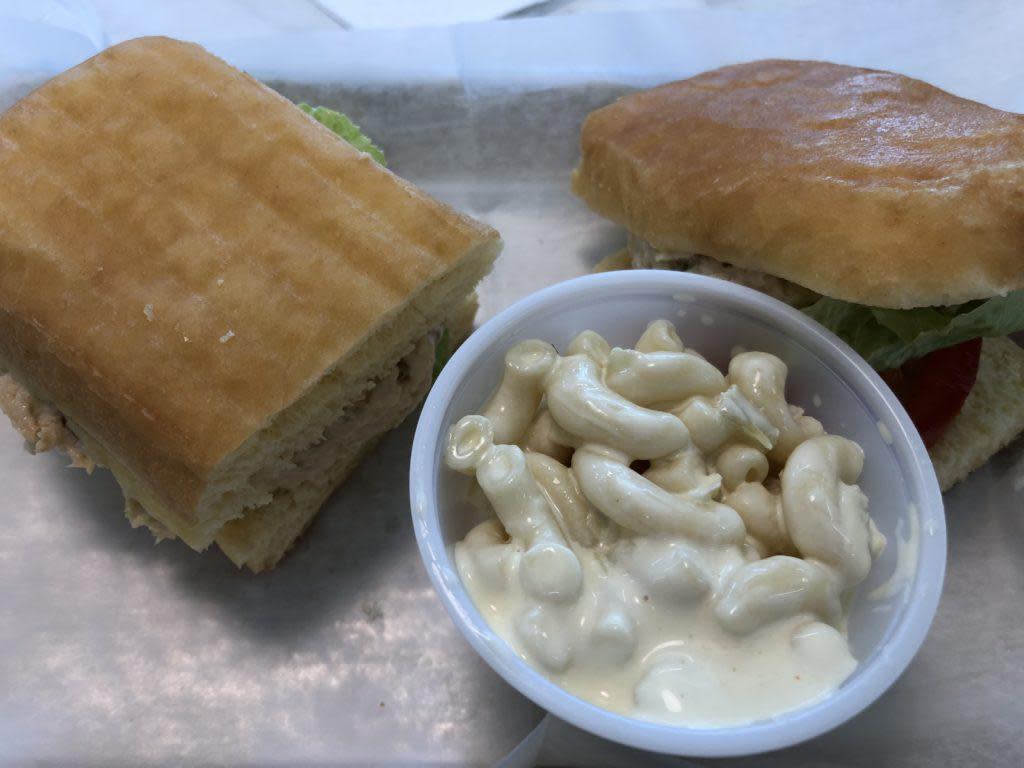 Miss Dainty - a hearty portion of chicken salad, lettuce and tomato on two halves of a long john donut! And pasta salad.[/caption] Wow! There is so much to say about the Flour Mill! Onto the coffee! They have a huge expresso machine that creates coffee magic. Lattes, iced coffee, or just a cup a joe and you will be set. Personally, I would recommend their iced mocha. It is the perfect blend of coffee, ice and chocolate!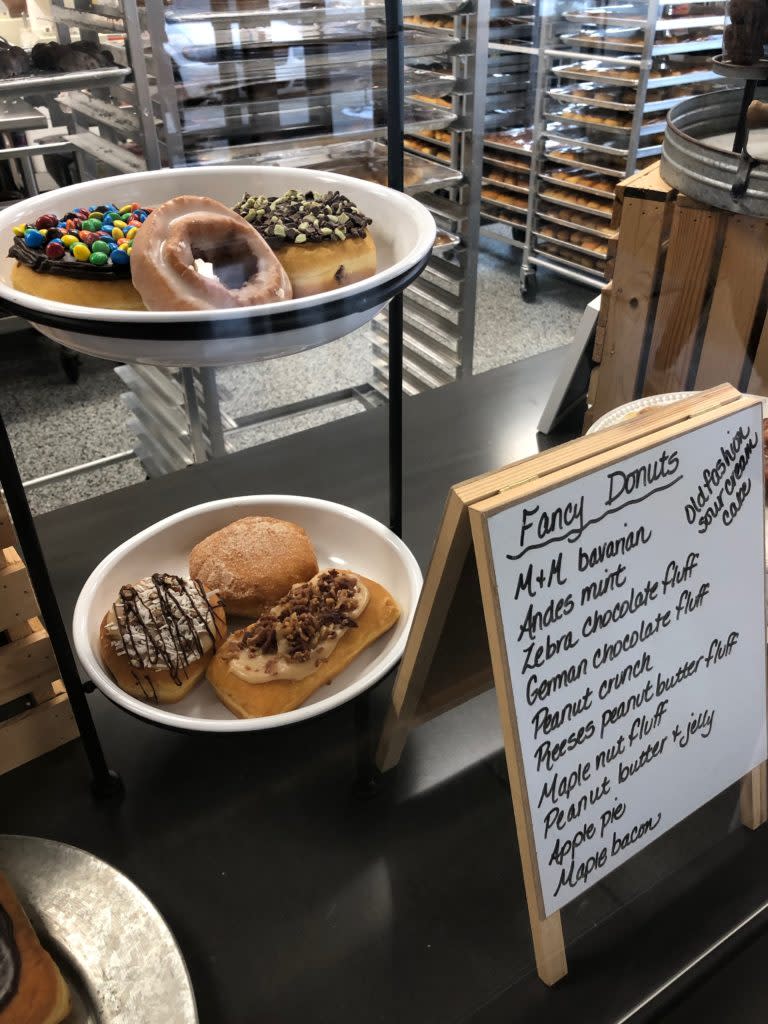 The Flour Mill Bakery also has a unique location. It is located within the Northend Community Center. This center offers a swimming pool, a kids
PlaySpace
, a rooftop hockey court, basketball courts, meeting and group space, and more. Every few weeks, a group of friends and I meet up with our kids and go to the kids' PlaySpace. It is 2,000 square feet of fun! Our kids ages range from 1 to 5 and they all love it. it is also very inexpensive. it is $1 per hour per child, which is so nice to have a fun place to go, and not cost an arm and a leg! I always grab my coffee first at the Flour Mill and then take off with the kids for some fun exercise. Next time you visit and/or if you live in the area, visit Flour Mill Bakery!  For more information about this bakery and others in our area. visit
HomeOfPurdue.com
.