[caption id="attachment_1191" align="alignright" caption="Logo from www.allfiredupwestlafayette.com"]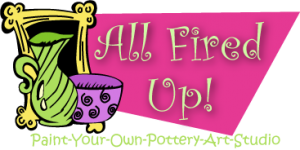 [/caption] 2 Great Cities, 1 Great University "Midwest Hospitality".  To experience "Midwest Hospitality" at its finest visit
All Fired Up
in West Lafayette, Indiana, where visitors can create their own master pieces of colorful pottery! Looking for a fun,
creative activity
for your child that is
inexpensive
and constructive?  Or are you searching for an event where you can get a group of your friends together to do an activity that is laid-back and relaxing?  All Fired Up is an art studio where visitors select a piece of unfinished
pottery
(there are literally hundreds of options), choose from a selection of over
100 beautiful paints and glazes
, and then can use their artful eye to paint their selected piece.  The staff at All Fired Up is present to assist, encourage and provide advice when needed.  Once the pottery is painted to perfection, the staff will coat the piece and fire it in the studio.  And voila, within a week it is finished!  If for example the artist chooses to paint a bowl, he or she can not only decorate his or her home with the artwork, but it is
microwave, oven and dishwasher safe
so it can be used as dinnerware. Personally, the whole experience at All Fired Up is worth a visit.  Take away the fact that visitors walk away with a piece of their own
hand-painted pottery
, because to me the
memories
of the visit are the most important.  The atmosphere is bright, cheery and just plain fun. 
Laughter
and creativeness abound from patrons painting and the staff is all smiles while they provide direction and advice.  And best of all is the giggles coming from children as they use their creativity and imagination to paint wonderful artwork they will cherish forever! Living in
Lafayette-West Lafayette, Indiana
, one thing we value is customer service and appreciating the times we receive great customer care.  Midwest Hospitality is Lafayette-West Lafayette, Indiana.  We are proud of our local businesses, including All Fired Up, that provide gracious and friendly service. For more information about this business and other
fun activities
in the area, visit our website at
www.HomeOfPurdue.com
.