[caption id="attachment_4799" align="alignright" ]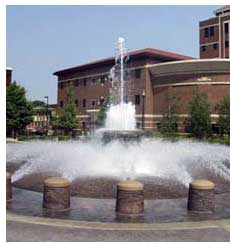 Loeb Fountain at Purdue University[/caption]
Visit Lafayette-West Lafayette Intern, Caitlin, shares her excitement for spring at Purdue University.
With the cold winter we experienced, the springtime seems to be the only thing
Purdue students
can focus on. Walking to class without a bulky jacket or snow boots seems so simple yet so exciting. During the spring, there are many activities to do on campus. If you are the fitness fanatic, you can take a run up the trails in Horticulture Park utilizing the 35 acres of what nature has to offer through the different trees, small creek, and the return of the insects. If running or hiking are not your cup of tea, you can enjoy the large area the trails have to offer for a great picnic with friends or a quite area to read a book under a big oak tree.  With the very many traditions Purdue has to offer, the fountain run is one of my favorites. When the fountains turn on you know warm weather is near. Whether you are running through after getting a good grade on an exam or just having fun with friends, Purdue has many fountains for you to cool off in including Loeb Fountain,
Purdue Mall Water Sculpture
, Memorial Fountain, Lion Fountain Memorial, and the Discovery Park Fountain. The Lion Fountain Memorial has a held a ritual that if you drink out of all four spouts before an exam, it is a good luck charm. (I am definitely going to have to take advantage of this for my accounting final!!)
The Den
(Discount Den), famous for their amazing Den pops, is a hot spot for Purdue students. Students can come up with their own famous creations of combining different drink flavors. Orange Leaf and Red Mango also become popular spots with their delicious frozen yogurt options they have to offer. My favorite is the cheesecake frozen yogurt with toppings including strawberries and cheesecake bites. If you are having a sweet teeth craving throw on some gummy bears and sprinkles too! With breaks in between classes during the winter, students are usually rushing to the nearest building to sit and wait for the next class to begin, but during the springtime it is a different feel on campus with many people sitting next to the fountain with laptops or books or using their break time to educate themselves with the different monuments and sculptures Purdue has on their diverse campus. [caption id="attachment_4801" align="alignleft" ]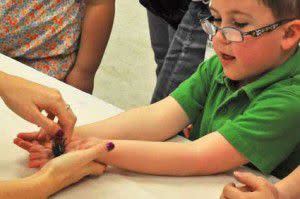 Bug Bowl![/caption] Another spring activity that Purdue has held and I have attended since I was little is the
Bug Bowl
(Bug Bowl is part of Purdue University's Spring Fest, April 12 and 13, 2014..check the whole calendar here: https://ag.purdue.edu/springfest/Pages/default.aspx). It is a great experience and something everyone enjoys while educating themselves about bugs and also seeing if one of their newfound talents includes how far they can spit a bug or how many chocolate covered bugs can they can digest. (Sounds like a key aspect to put on resumes!) The Farmers Market, which is held on Memorial Mall, has many local foods to offer. With the flowers blooming and our squirrel population taking over, spring is near and Purdue students have never been more ready. Let the springtime begin!