[caption id="attachment_6111" align="alignright" ]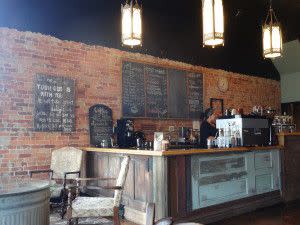 Sacred Grounds Reclaimed Coffee Shop[/caption] Spring Break Season is here! Many people head south on their travels, but there are so many wonderful places to visit right in our own backyard. Last March we had family visit from Michigan and we spent a day visiting a host of great attractions and restaurants in the area. Let me share my day in a life as a Lafayette-West Lafayette Spring Family! 8am - Wake up early to catch the sunrise! Head to
Sacred Ground Reclaimed Coffee Shop
for a smoked sausage and cheese wrap, hash browns, and delicious light roast Ethiopian coffee. Rich, smooth hot chocolate is the perfect refreshment for the kids. [caption id="attachment_6114" align="alignleft" ]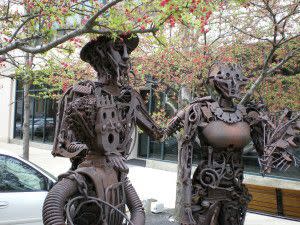 Farm Family[/caption] 9am - With over
80 pieces of outdoor art
pick a few that interests the group and traverse the area to find them.  We picked the Family Farm Sculpture, Farmers Market Mural, Boarrister, and Envisioning Tomorrow as they are all located downtown Lafayette (and we only had an hour!) 10am - Take the kids to
Imagination Station
, Lafayette's only science center designed to provide the opportunity to explore space, science, technology, and engineering in our community. 11am - What is more exciting to a kid than imagining to be a firefighter?! Call ahead for an appointment to visit the
Five Points Fire Station Museum
, a 93-year-old building where you can see what it was like to be a firefighter in the 1930s as well as try on firefighter coats and helmets. [caption id="attachment_6115" align="alignleft" ]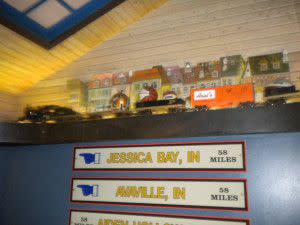 Arni's Train![/caption] 12pm - Lunchtime has arrived! With over 250 restaurants, there is something for everyone! We chose
Arni's Pizza
for its delicious food and charm.  Sit in the Toy Room where you are surrounded by dolls, trains, trucks and more. Our little daughter can always find Mickey Mouse and gets so excited to see the train run and eat thin crust pizza! 1pm - It may be spring break, but a little bit of learning keeps the mind fresh! Explore the site of
The Battle of Tippecanoe
. Visit the grounds, take in the the vivid museum displays and discover the history of a time when two Shawnee brothers, Tecumseh and The Prophet, had a dream of uniting many tribes into an organized defense against the white settlers. Walk the battleground where Native Americans and settlers clashed and a conflict of cultures was resolved. Do not miss the Wah-ba-shik-a Nature Center which features natural history exhibits and has a wildlife observation window and small taxidermy animal displays. 2:30pm - Enjoy a little recreation and competition at
Monster Mini Golf
, an indoor glow in the dark monster themed 18 hole course and arcade. The winner in our family gets to brag and be king or queen for the day, whereas the rest of the family has to suffer the nonsense. My husband won last year to my dismay! [caption id="attachment_6113" align="alignright" ]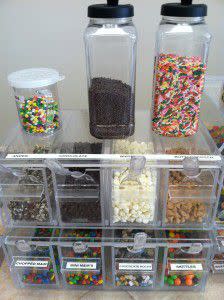 Which toppings are your favorite?[/caption] 4pm - Snacks!!  It may still be chilly, but what is more refreshing than a cold treat! Yogurt reTREAT, a locally owned and operated
self-serve frozen yogurt shop
welcomes guests to grab a cup, fill the cup with the flavor(s) of frozen yogurt and the portion you desire, add topping(s) from the topping bars, and weigh and pay for your delicious creation! My family loves their Very Berry Sorbet, which is refreshing and gluten-free! 5pm - Choose Your "Canvas" at All Fired Up! With a wide array of pieces to choose from and weekly specials that offer something unique for all ages,
All Fired Up
is the perfect destination for family fun. [caption id="attachment_6112" align="alignleft" ]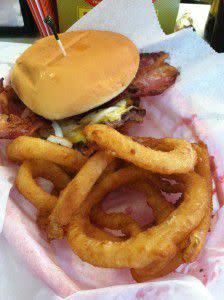 We love Triple XXX burgers and onion rings![/caption] 6:30pm - Let the feasting begin! Our family loves a good burger joint and one place that is always on our lists when we have family visit is Triple XXX! Have you ever craved a burger so bad your taste buds are literally salivating? After trying a
Triple XXX
burger you will be feeling this way all the time! Add in fries, chili and root beer and you may never leave the restaurant! 8pm - Bowling fever! Visit
Mike Aulby's Arrowhead Bowl
, where you can find great bowling and great family fun in a smoke free environment! Take part in billards, arcardes,
cosmic-bowling
, and a full service snack bar! This Spring Break day is only a small sampling of everything in store when you visit Lafayette-West Lafayette! Check out all our family friendly activities at http://www.homeofpurdue.com/whattodo/familyfriendly.html.  I hope you have as much fun as my family had when they visited!