[caption id="attachment_6274" align="alignright" ]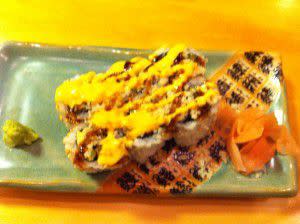 Heisei Jose Crunchy Roll[/caption] My husband and I have many favorite places around town (we eat out a lot more than we probably should!) but my favorite date night includes sushi at Heisei Japanese Restaurant, a walk around Cumberland Park (visiting the farmers market if it happens to be open during the warmer months) and Silver Dipper Ice Cream for dessert. [caption id="attachment_6275" align="alignleft" ]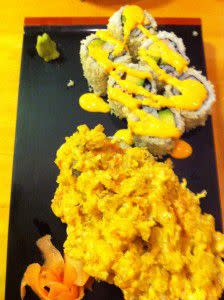 Heisei New Spider Roll and Ocean Roll[/caption]   First dinner,
Heisei
is one of our very favorite restaurants! Lately you can find us there almost once a week.  It is different as they actually have floor seating. You sit in a room on the floor but they do a nice job dividing the tables so it still feels private. If you prefer, they also have tables and you can sit at the sushi bar. We recently sat at the sushi bar and it was very interesting watching them make our food and chatting with the sushi chefs about different things, it was a more personal experience. Besides the experience, we love their sushi! We aren't too adventurous and don't really get any with raw fish in it but what we do get is delicious!  My very favorite is the
Jose Crunchy Roll
. It's asparagus, cucumber, kampyo, and avocado with both a spicy and a sweet sauce. A new favorite of mine is the New Spider Roll, it's soft shell crab tempura, masago and a spicy sauce.  It comes out and has all kinds of yummy crab like what's in the filling piled on top. It probably stands at least three inches tall!  If you are looking for something a bit different, try the Boiler Maki; it's a large, deep fried roll with eel, crab, avocado and masago with their amazing sweet sauce drizzled on top.  A couple of our other favorites are the Asparagus Roll and the California Roll. Lately we have also tried and really enjoy the pork dumplings and I love the mushroom miso soup. We are always so full when we leave but it is oh so good! [caption id="attachment_6276" align="alignleft" ]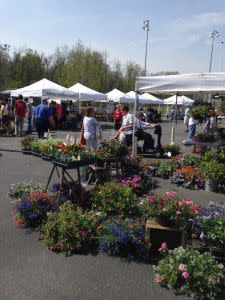 West Lafayette Farmers Market[/caption] After dinner we need to work off a little bit of dinner so we go around the corner to
Cumberland Park
for a short walk. I like Cumberland Park because it has a mix of walking trails. You can walk around the outside of the park watching people play basketball, baseball/ softball or sometimes soccer, walk through the neighborhood or you can walk in the woods if you'd prefer or a mix of all. I especially like going May-October on Wednesdays when the weather is nice as the
West Lafayette Farmers Market
takes place there. It's great to get some of our grocery shopping out of the way while supporting local businesses and farmers! [caption id="attachment_6268" align="alignright" ]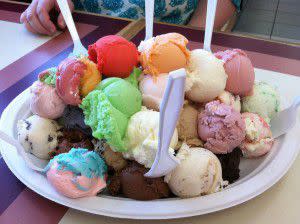 Mini Monster[/caption] After a walk, we go to our favorite Ice Cream spot,
Silver Dipper
. There are two Silver Dipper stores but we always go to the campus store because the owner, Dave is usually at that one and we are there on a regular basis and we like chatting with him. He of course knows all our favorites too, he can practically scoop our ice cream before we walk in the door. My husband loves the Praline Pecan and we both love the
Zorreo ice cream
. He usually gets one or both of those. I on the other hand like to switch things up a bit and get a little more adventurous with my ice cream.  The Zorreo is for sure my favorite; it's a rich, deep dark chocolate ice cream (what they call Zanzibar Chocolate) with chunks of chocolate, brownie pieces and marshmallow swirled through it! I can just taste it now!  I also like to vary between the Peanut Butter Cookie Dough, Black Cherry, French Silk, Ultimate Oreo, Salted Carmel, Zanzimint, Raspberry Italian Ice, Haley's Comet and seasonal flavors especially the Root Beer Float and Egg Nog flavors.  There are over 40 flavors and if you are like me and can't make up your mind, don't worry, they have mini scoops (3 mini scoops make up one regular scoop) so you can try several flavors. I really love their waffle cones as well. Plus, when you order your ice cream in a cone you are being earth friendly as you reduce the amount of waste you have, right? That's what I tell myself anyway, it's enough to put me over the edge and splurge. They only accept cash or checks. When you are looking for something to do with your friends or significant others I hope you will consider doing these, some of my favorite things. Enjoy! (And leave some for me!) Group Tours & Meeting Manager, Ashley, Gregory, shared this blog.