5 Fabulous Venues for Small Weddings
Ross Camp Chapel
Tippecanoe Battlefield Chapel at Tippecanoe Battlefield Park
Rush Pavilion at Columbian Park
Big Four Depot Community Room at Riehle Plaza
The Fowler House Mansion
Located at Ross Camp on South River Road, 11 miles West of the State Street and River Road intersection in West Lafayette, the
Ross Camp Chapel
offers a historic venue in a wooded area for 120-140 guests. The Chapel was built in 1881 and features dark wood pews set up in three sections with two aisles, stained glass window and pressed tin ceiling. After the ceremony, guests can enjoy a reception in the nearby Dining Hall which can seat up to 350 people. Contact the Tippecanoe County Parks Department for rental information. History buff? Want to have your wedding near a National Historic Landmark? Check out the
Historic Chapel at the Tippecanoe Battlefield Park
. The park is a National Historic Landmark and the location of the Battle of Tippecanoe that took place on November 11, 1811. The Chapel has a capacity of 80 and is heated and air conditioned. A restored pioneer cemetery called the Harrisonville Cemetery is located next to the Chapel. A small, intimate space with wood floors and white pews inside. Outside there are beautiful flowers and a white picket fence. Contact the Tippecanoe County Parks Department for rental information. Need a family friendly location? Check out the
Rush Pavilion
located at Columbian Park. The park offers a wonderful playground and seasonal zoo, aquatic center, train and other children's rides for guests to enjoy before or after the event. Rush Pavilion is listed on the National Register of Historic Places and was dedicated in 1899. The indoor room can accommodate up to 50 people and the outdoor veranda can accommodate up to 50 more. There is also a full service kitchen available on site. The building overlooks the Columbian Park lagoon and offers many opportunities for lovely photos. Contact the Lafayette Parks Department for rental information. [caption id="attachment_11022" align="aligncenter" ]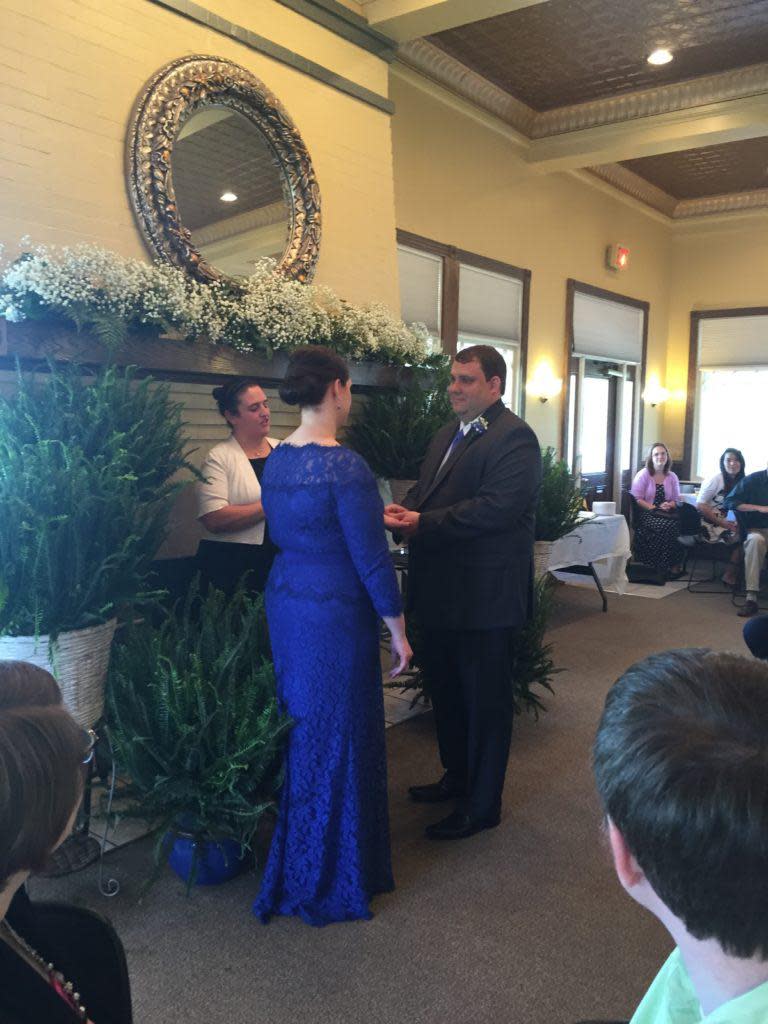 Wedding at Rush Pavillion[/caption] Love trains? Be sure to check out the
Big Four Depot at Riehle Plaza
. The depot was built in 1902 for joint use by the Cleveland, Cincinnati, Chicago and St. Louis Railroad (Big Four) and the Lake Erie and Western Railroad, both controlled by New York Central. The building was moved to the current site as part of the Lafayette Railroad Relocation Project in 1994 and is now the centerpiece of the James F. Riehle Plaza. The brick exterior opens into wonderful wooden walls and benches, a hard stone like flooring in the main room that can accommodate 80-90 guests, studded with ticket windows and baggage areas of the past.  Weddings can also be held outdoors in Riehle Plaza or on the John T. Myers Pedestrian Bridge. Contact the Lafayette Parks Department for rental information. The
Fowler House Mansion
is one of the finest surviving examples of Gothic Revival architecture and was built in 1852. Originally a private residence, it is now strictly a rental facility. The location is wonderful for indoor or outdoor weddings with beautiful architecture throughout. Inside can accommodate up to 110 guests and features 18 foot ceilings, arched windows and amazing woodwork. Outside can accommodate 180 guest in the outdoor garden ceremony area and features exterior house uplighting, seasonal patio string lights and an operational Italian patio fountain. Combined space (indoor and outdoor) with a custom layout can accommodate up to 280 guests. Contact the Fowler House Mansion for rental information. Find more information on these and other Tippecanoe County venues at:
http://www.homeofpurdue.com/meetings/venues.html
.  Ashley Gregory, Director of Sales for VLWL, shares this blog.