5 Fabulous
Indoor Wedding Venues
in Lafayette-West Lafayette
The Rat Pak Venue
Thomas Duncan Community Hall Inc.
The Lahr Atrium
Ross-Ade Pavilion
The Trails Banquet Facility
Looking for an indoor wedding venue for your upcoming
wedding reception
or ceremony? Try starting with these great venue options. The
Rat Pak Venue
is located in Downtown Lafayette, on third street just across from the Tippecanoe County Courthouse. It features a beautiful second floor ballroom with wonderful exposed brick walls and large windows that overlook the courthouse. They also offer wedding planning services, lighting and sound services, making it a one stop shop for your wedding needs. For parties up to 200 people. Built in the 1920's as a community meeting space, the
Thomas Duncan Community Hall Inc.
is a great choice for weddings up to 310 guests when utilizing the entire building. It also works for smaller weddings as small rooms are available as well as the large ballroom. The ballroom offers a curtained stage with a grand piano, hardwood floors and elegant windows. Other features of the hall include fireplaces, chandeliers, antique furniture and antique paintings. Rooms with varying styles ensure everyone can find a room they like. There is even a small secret garden for the smallest of small weddings, seats 2 to 4 people. Varying service packages are available, some include kitchens, dishes and serving dishes. Looking for a grand entrance to your reception? Try the
Lahr Atrium.
It was built in 1833 as part of the Lahr Hotel, now apartments, in the heart of Downtown Lafayette on 5
th
Street between Main and Columbia Streets. This venue features a grand staircase made of white marble and natural light from the atrium style ceiling. Host your reception where people of history have walked. When this was a hotel people such as Mark Twain, President Ulysses S. Grant and John Purdue stayed and/or dined here. [caption id="attachment_11291" align="aligncenter" ]
Lahr Atrium wedding[/caption] Purdue Sports Fan? Check out the
Ross-Ade Pavilion
, that overlooks the football field at Ross-Ade Stadium. It can host your wedding reception up to 500 people. Some people even decide to split the venue and have their ceremony on one side and the reception on the other. The pavilion has beautiful views of Purdue's campus and sunsets that really help to set the mood. Varying packages are available and wedding consulting is offered. Voted Best Wedding Reception Venue and Best Buffet by the Journal and Courier's Readers Choice Awards, several years, the
Trails Banquet Facility
is a great choice when looking for an easy one stop shop for your reception. They offer 4 banquet rooms with a maximum capacity of 325 guests. An outside ceremony venue is also available. The staff will walk you through every step and make the planning process very easy. [caption id="attachment_11290" align="aligncenter" ]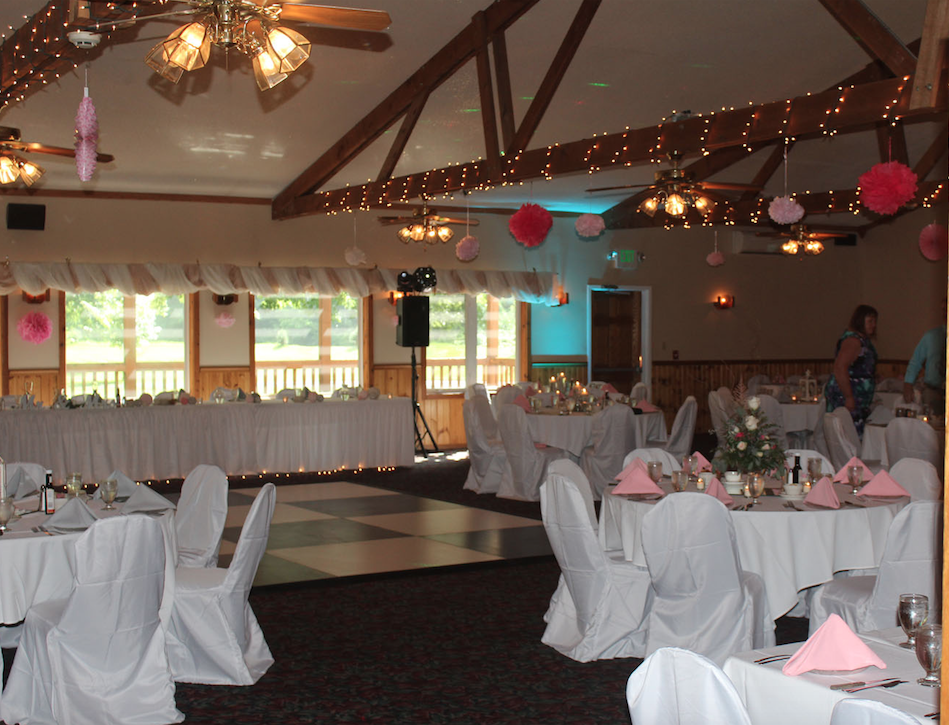 Trails wedding[/caption] Whatever your choice, we are sure you will have a beautiful wedding at any of these venues. For a complete listing of venues in the area, check out:
http://www.homeofpurdue.com/meetings/venues.html
Ashley Gregory, Director of Sales, shares this blog.