[caption id="attachment_3817" align="alignright" ]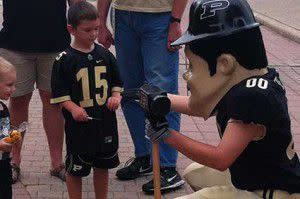 Boiler Bridge Walk[/caption] When you have an evening to spare definitely take a stroll on the
John T. Myers Pedestrian Bridge
and through Riehle Plaza. The John T. Myers Pedestrian Bridge and Riehle Plaza are two iconic structures in our area. Functioning as a walking path between Lafayette and West Lafayette, this bridge connects the cities and their own recognizable structures. With Purdue's Bell Tower, standing 160 feet tall, in West Lafayette and the Tippecanoe County Court House located in the heart of downtown Lafayette, it's the John T. Myers Pedestrian Bridge that links our two great cities.
Riehle Plaza
, built at the foot of the Pedestrian Bridge during the Railroad Relocation Project in 1914, is an adjoining feature of this bridge that you'll pass through as you step out over the Wabash River. In the warmer months this bridge stays lively with some big name events in our community. The Taste of Tippecanoe,
Boiler Bridge Walk
, and Beers Across the Wabash all take place right on the bridge. If you can't make it to one of these outdoor festivals we suggest you lazily enjoy watching the sun set over the Wabash. Wait for nightfall and see how the arm rails of the bridge light up in a multi-colored spectacle. The bridge also has its own Millennium Sundial and fountain, perfect for taking photos by. [caption id="attachment_3818" align="alignleft" ]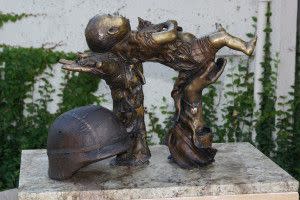 Most Precious Offering[/caption] Continue walking east from West Lafayette and you will reach Riehle Plaza. Riehle Plaza is home to two outdoor pieces of art. The piece "
Most Precious Offering
" is a carving of two hands, each representing a father and mother, hoisting their child up out of the marble slab. The other sculpture "
World Split Asunder
," dedicated as a 9/11 Memorial, is a long, cylindrical stone jutting out from the ground, splitting the world in half. After you take a moment to contemplate the meaning behind these pieces step out into the open air to admire another fountain gushing straight out of the ground. Kids love jumping around in the plaza's fountain when the weather gets really warm too! Visitor Information Specialist, Kristine, shares this blog to showcase the beauty, history, and significance of the John T. Myer Pedestrian Bridge and Riehle Plaza.